I woke up starving this morning.
Starving for a breakfast cake and an apple cinnamon one, at that.
But I somehow put it off so I could get in some lower body/ab work.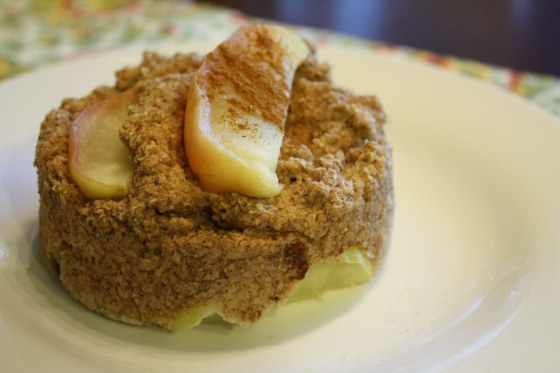 And you know what they say about delayed gratification…
Apple Cinnamon Breakfast Cake (serves 1)
1/2 cup oat bran
2 Tbsp. egg white (or one egg white)
1/2 apple sliced
1/4 tsp. baking powder
1/8 tsp. sea salt
1/2 tsp. cinnamon + more for sprinkling on top
1/4 tsp. nutmeg
1/4 cup almond milk*
7 drops NuNaturals Stevia (or 1-1 1/2 tsp. sweetner of your choice)
oil or cooking spray
Microwave apples for 1 minute (or bake in a small pot for 5 minutes with a 1/4 cup of water).  Mix oat bran, baking powder, salt, and spices well.  Add almond milk, egg white, and sweetener stirring well.  Coat a ramekin with oil or cooking spray.  Place a few apple slices in the bottom of the ramekin.  Pour half of the batter on top.  Place the remaining on top of the batter, saving one for garnish.  Pour the remainder of the batter on top.  Garnish with the remaining apple slice.
Microwave for 1 1/2 minutes or bake on 400 degrees for 20 minutes.  Sprinkle more cinnamon on the top, if you wish.
*I actually doubled the amount of almond milk I used this time and I think it turned out nicely.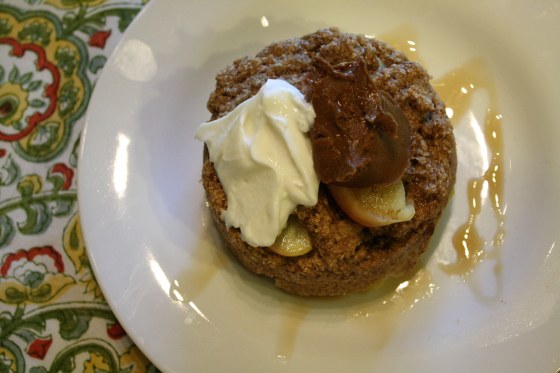 Highly suggested toppings: Greek yogurt, sunflower seed butter, and maple syrup.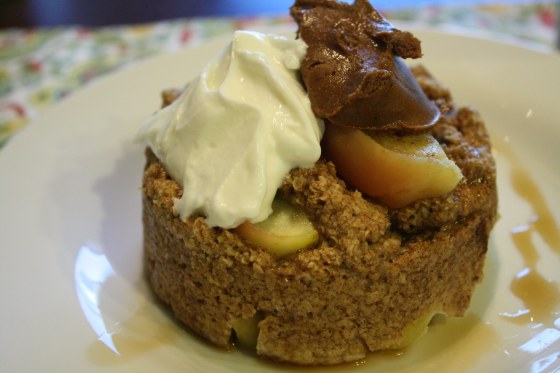 This morning, I made a breakfast cake for both Brad and I.  I think he was a little surprised about the texture.  He was expecting cake-y and although I call this a breakfast cake, it's much more dense and dry because I make it with oat bran.
Just FYI, in case you think it might actually taste like cake.  It's cake-like in shape, but that's where the similarities end.  I still think it's pretty delicious and a nice change to traditional oats or oat bran.