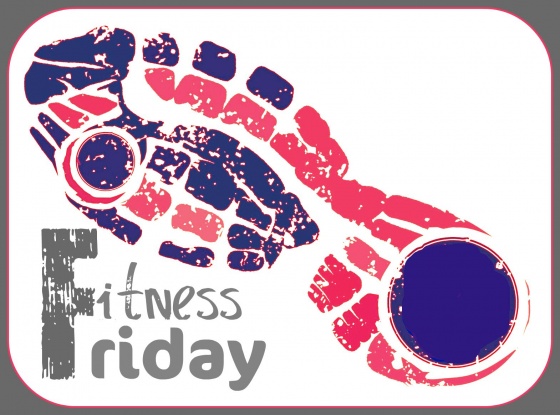 It's Friday! Hallelujah!
Even though it's a four day work week, I am still so happy to see Friday.  When it comes to the weekend, distance doesn't make the heart grow fonder.  My love for the weekend is constant.
I have done almost nothing active outside of running all week.
I took all this running energy and used it to sign up for the Savannah Rock 'n' Roll Marathon.  I ran my first marathon back in January earlier this year.  I signed up for a second marathon right after, then ended up deferring because I was burned out.
But now, I feel like I'm really ready to tackle a second one.  And what better place than a city I love so much! It also does hurt that I have a friend or two running it, that the course is basically flat, and it's within driving distance.  There is a lot to consider when choosing a marathon and I think Savannah is the race for me.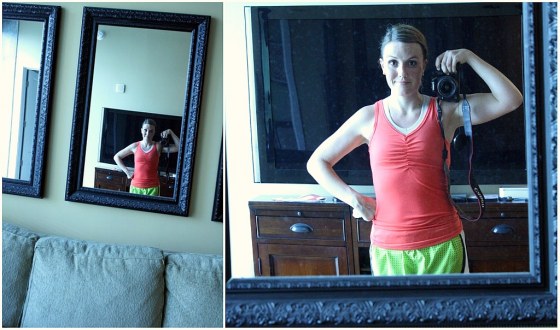 Now, let's get to those workouts.
Friday – I rested while we drove 8 hours from the NC state line to New York City.
Saturday – Ran 6.67 miles with my friends Megan and Riley in New York.
Sunday – Ran 4.5 miles solo in New York.
Monday – Rested while we drove the 11 1/2 hours back from NYC to the QC (Queen City).
Tuesday – Ran 6 miles (not timed) after work.  Boy, was it hot!
Wednesday – Snoozed my alarm, worked late, but still made it outside for a 2 mile run with Brad, who finally got a knee brace thingy to help with his knee issues.  He kept up with me just fine and had no knee issues.  I'm hoping that's a good sign!
Thursday – Snoozed my alarm again and ended up making it a rest day since I had a book club meeting after work.  Gosh, I'm  bad at working out in the mornings lately!
Friday (today) – Finally, I made it out pf bed a little early to get in an arm + ab circuit exercise.
I did each circuit twice, which took about 30 minutes.
Pushups X 20 (mostly girly style)
Tricep Kickbacks x 20 – 8 lb. dumbells
Bicycles X 50
Chair/Bench Dips x 20
Shoulder Press x 20 – 8 lb. dumbells
Reverse Crunch x 20
Front Raise x 20 – 5 lb. dumbells
Upright Row x 20 – 8 lb. dumbells
Want to know my favorite upper body workout?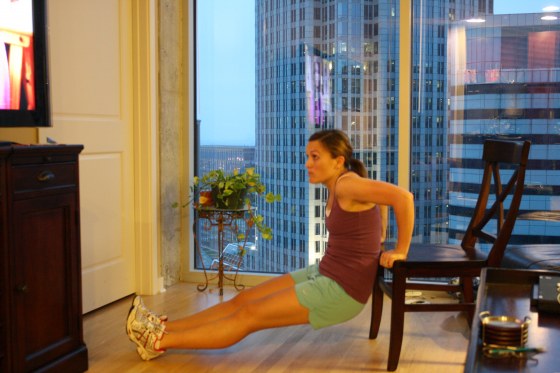 It's chair dips! They're great for your triceps.  You can make them easier by bending your knees or you can make them harder by elevating straight legs.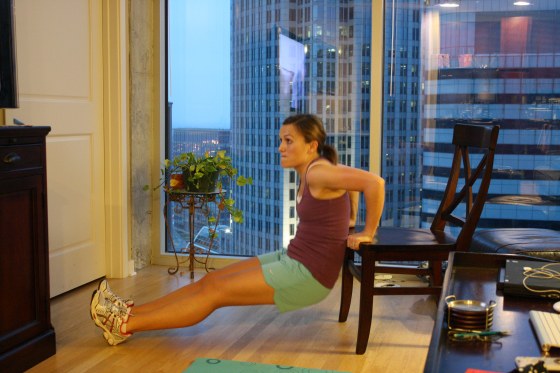 It really helps if you make this face, while doing them. 😉
Want to know my least favorite upper body exercise?
It's pushups.  They own me every time.
Want to know the best part of morning exercise?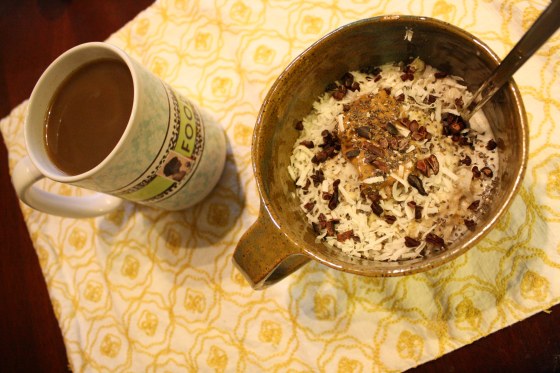 By the time you're done, you will be super hungry and you can really enjoy your breakfast.
Even though this is a Fitness Friday post, I have to share with you the delicious oatmeal concoction I made this morning.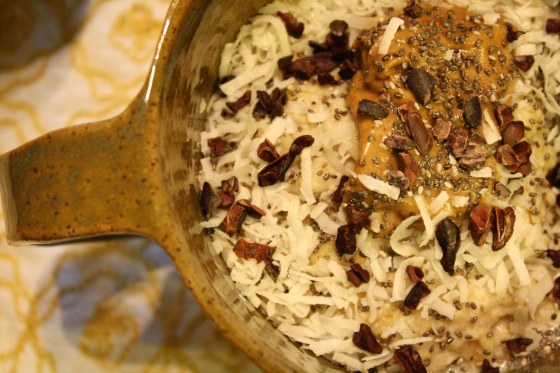 1/4 cup oat bran
1/4 cup rolled oats
1/2 cup water
1/2 cup light coconut milk
Bring the above ingredients to a boil, then reduce to a simmer.
1/4 cup egg whites
1/2 banana, sliced thinly
Add the above ingredients.  Stir and continue to simmer until oats are desired consistency.
1 Tbsp. almond butter
1 tsp. chia seeds
1 tsp. cacao nibs
1 Tbsp. unsweetened coconut flakes
Top with the above ingredients and enjoy!
Want to know what else was waiting for me after my workout besides a delicious breakfast?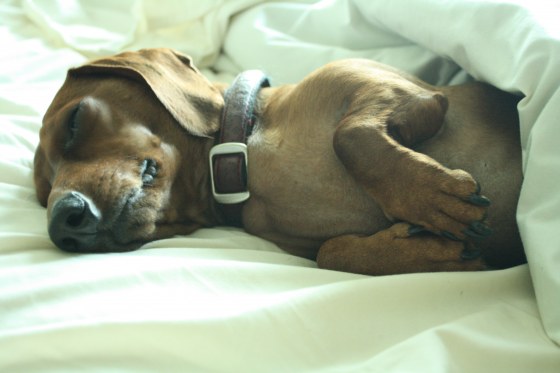 This sweet snuggly-ness.  He's such a little person! Brad and I often joke that Rascal thinks he's a little boy, mainly because he is so human-like in everything from the way he sleeps to the way he nods along when you talk to him.
***
My marathon training begins Monday, July 18th and I'll be posting my training plan here next Friday.
Are you training for a race or working towards a fitness goal?  
Does your pet also think that its human?