I haven't updated you guys on the progress of our new house (our new "old" house) for quite some time.  We closed on the house this past September and have been dreaming of renovating it ever since we saw it last summer. My lack of details have been mostly due to the lack of progress on the house, which made me a little sad to discuss it both on the blog and in real life.
In case you haven't seen these before, you can see the architectural plans for our kitchen here and some photos we used for inspiration here.  These plans were finalized in January.  Our ultimate plan is to completely renovate the kitchen, then move in.  Over the next few years as our family grows, we plan to renovate further and put an addition on the back of the house.
Back in September, when we first bought the house, this is what the kitchen looked like.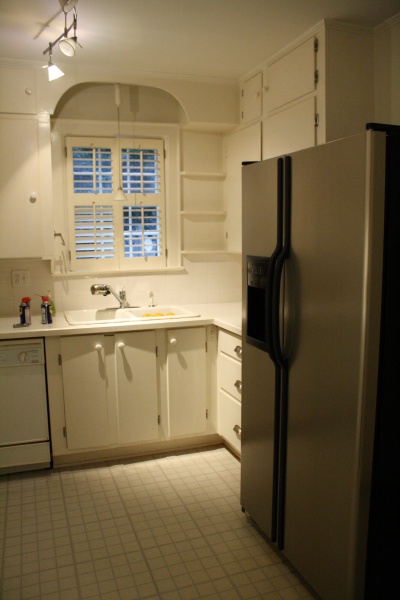 Old cabinets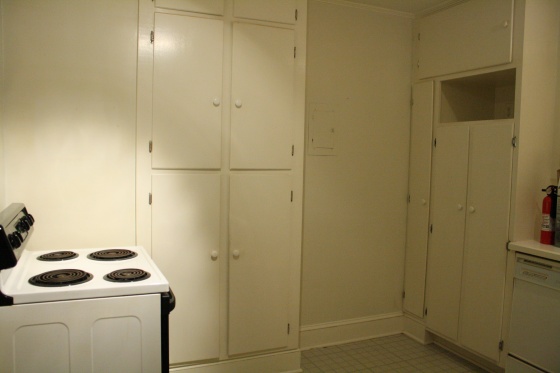 Old appliances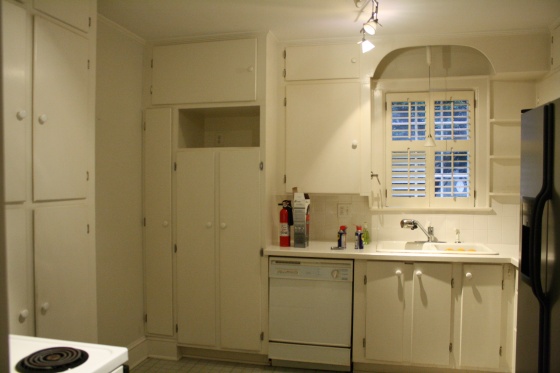 Overall a very closed-in feeling in the kitchen…and look at that lack of counter top space!
This is the den adjacent to the kitchen leading to the back yard.
Some of my first words when we bought this house were, "I love it! But those kitchen walls have got to go."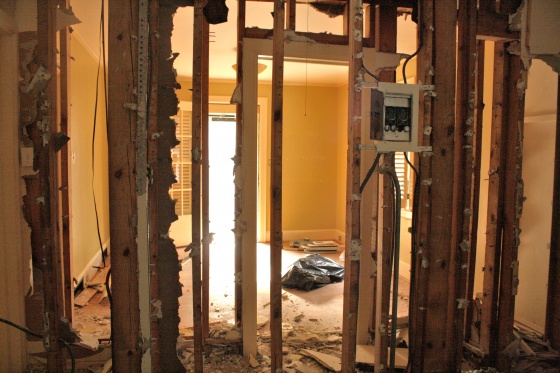 So the walls came down.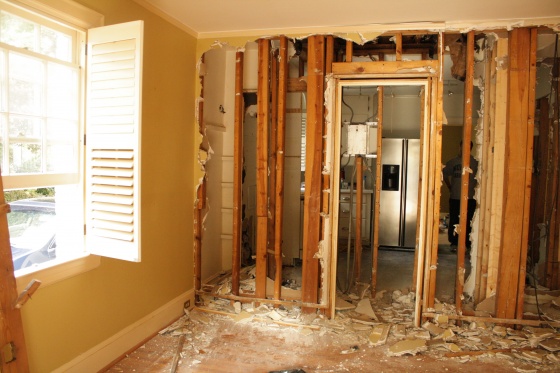 Brad and I did most of this demolition work ourselves, with the help of a few good friends.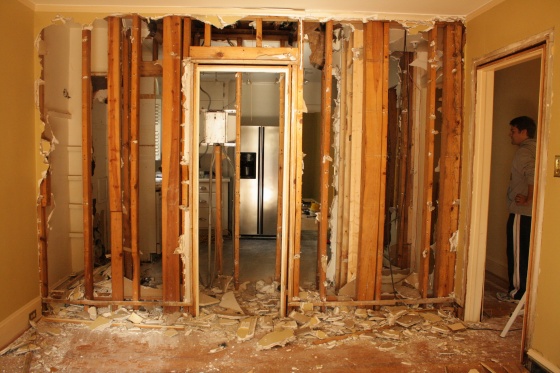 But we couldn't tear the frame down ourselves because this is a load bearing wall.
Bring in the professionals.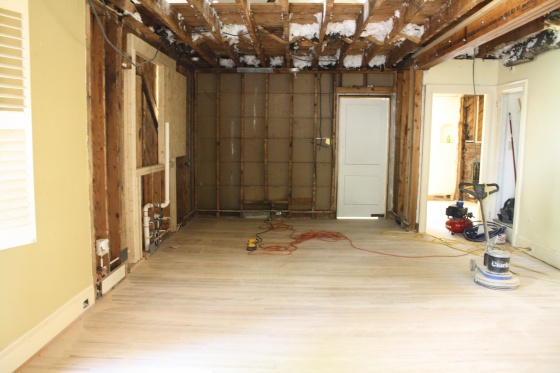 Now, the walls are completely gone.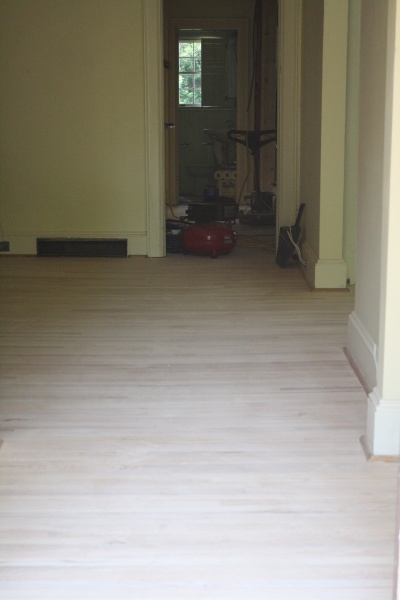 The floors have been stripped and although not pictured, have received their first coat of varnish.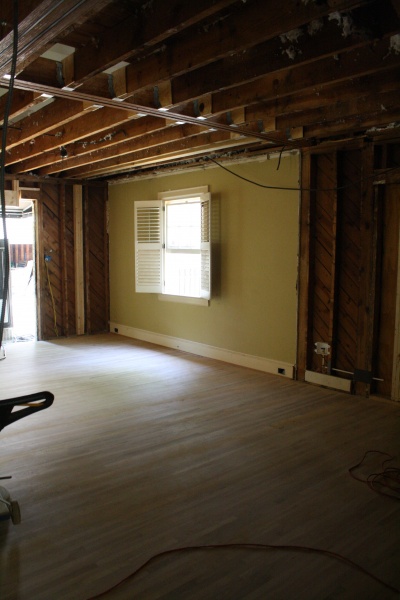 Don't mind our lack of ceiling.  It's all apart of our plan. Plus this was necessary so that the electricians could rewire the entire house.
Our back yard is quite a mess.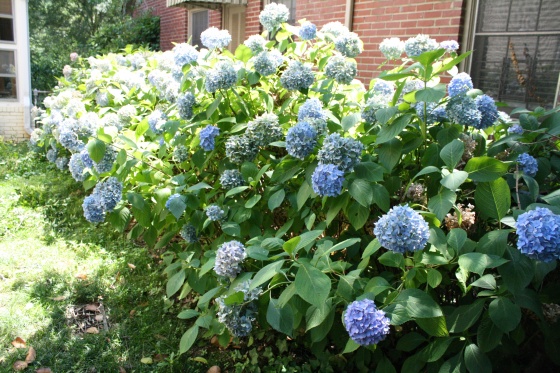 ]
It's only redeeming quality right now are our beautiful hydrangeas. 🙂
I can't wait until we move in and I can start learning how to actually take care of plants and do some landscaping.  The only thing I can successfully do right now is mow the lawn, weed, and bag leaves.
Other progress has been made on our kitchen that you can't see.
– We purchased all of our appliances.
– I picked out a sink, but haven't actually made the purchase yet.
– We chose and purchased our kitchen cabinets, which are ordered and are on their way!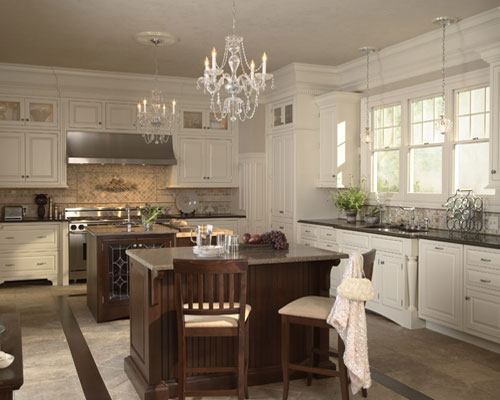 Here is a photo of the cabinets we chose.  We chose to go with inset instead of overlay cabinets and we also chose to go with the morel vintage finish.
We also just (as in five seconds ago) chose this pull and this knob for the kitchen cabinets.  They're oil brushed bronze, which I think will go well with the granite counter tops I'm picturing in my head, although we haven't even began looking.
And there you have it.  What I've been avoiding is now something I love to talk about.  We are making really good progress now and expect to be moving in this August.  Being in our new home will be the best one year wedding anniversary present that I can imagine.
Now that we're making progress, I'll be sure to share more of our kitchen renovation plans here.  If you have any tips for newbie renovators or any questions, I'm more than happy to answer them.
Happy Sunday and more importantly, Happy Father's Day!