You guys like quick and easy (and healthy) meals right?
Of course you do! Who doesn't love it when being healthy is quick AND easy.
I've often hear from readers and friends that tofu is kind of labor intensive or intimidating.  I also have heard that people just don't know what to do with it.
I'm going to go on record saying that tofu is super easy to make.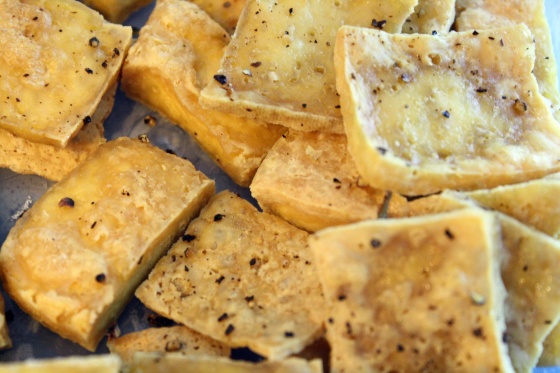 My salt and pepper tofu can be made in three steps (or in kind of tofu, in fact).
1 – Press
2 – Cube
3 – Bake
Realistically, each of these steps takes time: press – minimum of 15 minutes; cube – 5 minutes tops, bake – 25 t0 35 minutes.  However, I like to do these steps at my convenience so that my tofu is ready whenever I'm in the mood to use it.
Here's how:
1 – Press – When I first purchase the tofu or when I notice that I really need to eat my tofu or it's going to expire, I simple open the package, drain out the water, and wrap the tofu in a dish cloth.  Paper towels work too but dish towels work best.  I set something heavy on the tofu to get all the water out (as pictured here).  I do this at minimum, for 15 minutes, but if I don't plan to eat it anytime soon, I might do it for 30-45 minutes while I'm getting ready in the morning. Tofu is supposed to be kept in water, so I try to bake it by the next day after I press it.
2 –  Cube – I cube my tofu based on the consistency I want.  If I want it chewy, I cube it so that they're a 1-2 centimeters wide.  If I want a really crispy tofu, I slice it thinly.  Baking will also determine the texture of your tofu so it's best to make your cubes as uniform as possible if you're picky about texture. The following day after pressing the tofu, I cubed it, and then it was ready to bake while I got ready for work.
3 – Bake – Baking is the most time consuming part of making tofu, but it requires little to no effort on your part.  Simple oil a large baking sheet.  Heat an oven to 425 degrees F.  Season tofu*.  Then, bake.  I seasoned my tofu with only salt and pepper (plus I sprayed it lightly with a bit of extra virgin olive oil).  I cooked my tofu for 20 minutes, then flipped the tofu, turned the oven off, and allowed the tofu to set in the oven for an additional 20 minutes.  I cut my tofu thinly enough so that after 20 minutes, they were good to go.  But I wanted a really crispy tofu, so letting them sit on a low temperature allowed them to continue to cook (and dehydrate) without burning.  If your tofu is cubed more thickly, you might need to cook up to 30 minutes.
*I season my tofu only with salt and pepper when I have no idea what I want to do with it, same as when I pre-cook chicken to be used throughout the week.  At this step feel free to season or add a sauce to your liking.  You can add it to a stir-fry, a pasta dish, or even dunk it in some barbecue sauce.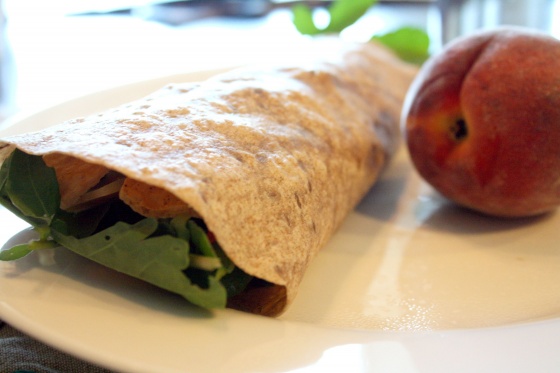 When I came home for lunch the same day, I decided to make a wrap inspired by Italian flavors, using my salt and pepper tofu.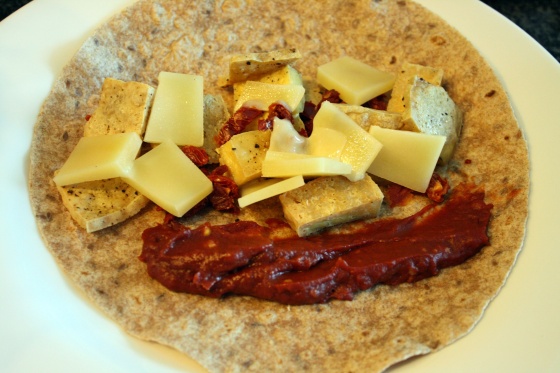 To make my wrap, I took a whole wheat tortilla then added:
– about 1/3 of my salt and pepper tofu
– 1 oz. Parmesan cheese
– sun-dried tomatoes
– smear of my spicy balsamic tomato spread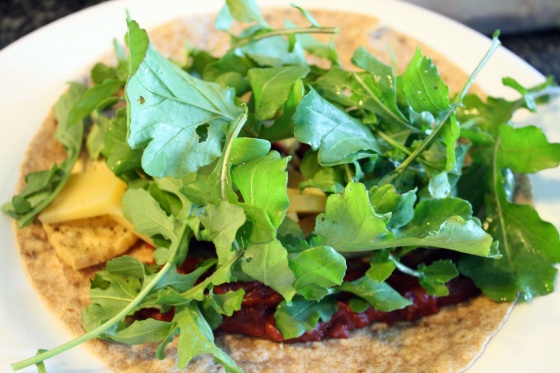 I topped it all with copious amounts of spicy fresh arugula from my CSA.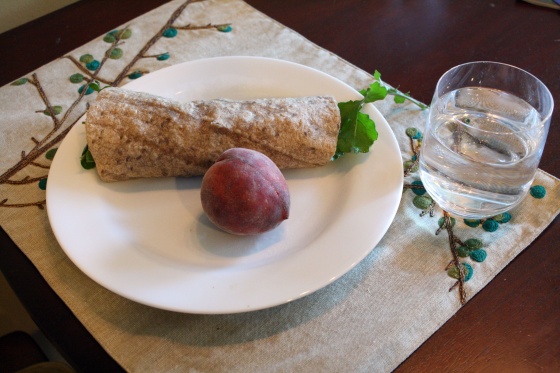 Getting that wrap to actually wrap and close was quite a challenge.  But I'll go to great lengths for a delicious lunch.
Are you a fan of tofu?  Do you find it intimidating to make?