I've done it before.
Mainly here, here, here, and let's not forget about here.
But never have I ever made it with peaches.
It was kind of a necessity.  My peaches were screaming to be eaten with all their bruises, soft spots, and fragrance that draws fruit flies if left too long.  That's what I get for going to the farmer's market on a Sunday afternoon.  The early bird catches the worm gets the peaches that are going to last more than two days.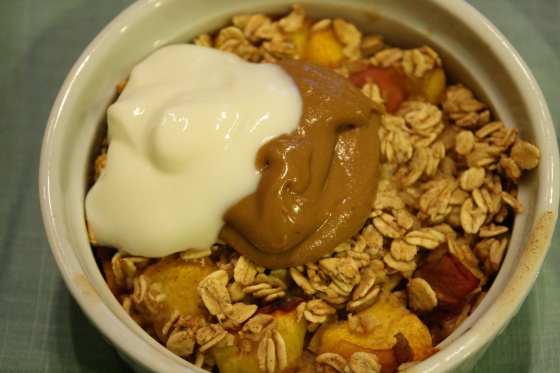 One girl's almost-rotten-peaches is another girls just-perfect-for-baked-oatmeal-peaches.
Baked Peach Oatmeal (serves 2)
-1 cup rolled oats
-2 small peaches or 1 extra large peach, sliced into bite-size chunks
-1/2 cup almond milk*
– Stevia, I used 6 tiny spoonfuls of my TJ's Stevia (~1/3 tsp.)**
-1/4 tsp. cinnamon
– 1/4 tsp. vanilla extract
-1/4 tsp. salt
-1/4 tsp. baking powder
Combine dry ingredients: oats, Stevia, cinnamon, salt, baking powder.  Add almond milk and vanilla and stir well.  Add peaches and stir.  Spray two ramekins with cooking oil (I used olive oil as usual).  Spoon mixture equally into the two ramekins.
Bake at 350 degrees for about 20-25 minutes.
*Substitute any milk of your choice.
**Can use 1-2 tsp. of sweetner of your choice depending on your sweetness preferences (examples: organic sugar, agave, honey, etc.)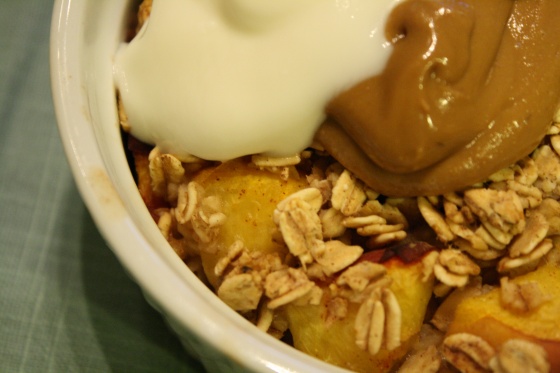 Get creative with the toppings!
I used 1 Tbsp. sunflower and a big dollop of yogurt.
Other suggested toppings: any nut butter, jam, walnuts, pecans, dried cranberries, raisins…or maybe even butterscotch chips.
Butterscotch chips would take it to another level for sure. 🙂
What are you favorite breakfast toppings? You know how I feel about jam.