I have the best husband!
He woke up on Sunday morning and declared that he was going to make me breakfast.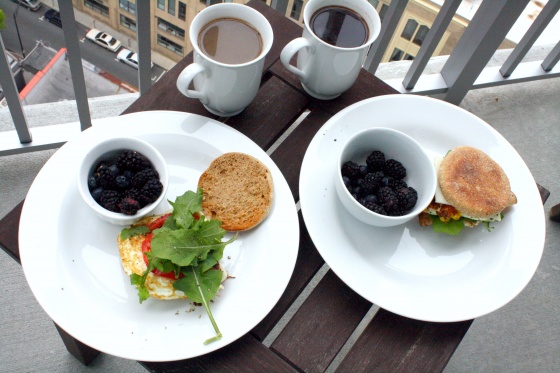 And look at the beautiful spread he put together!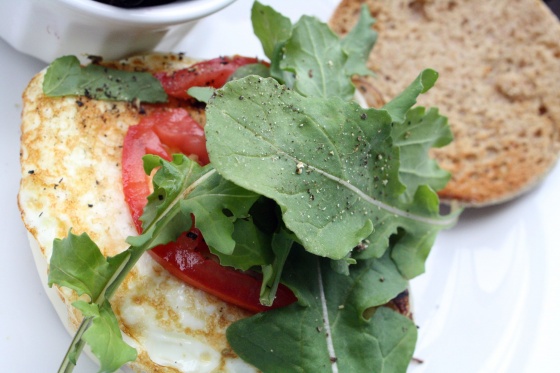 This may be my new favorite breakfast sandwich.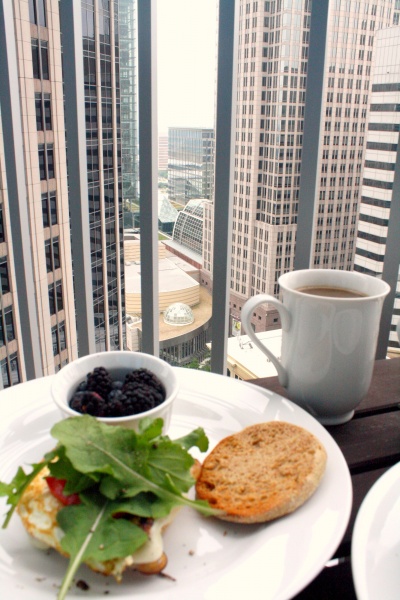 It also didn't hurt that our view was so lovely as we ate.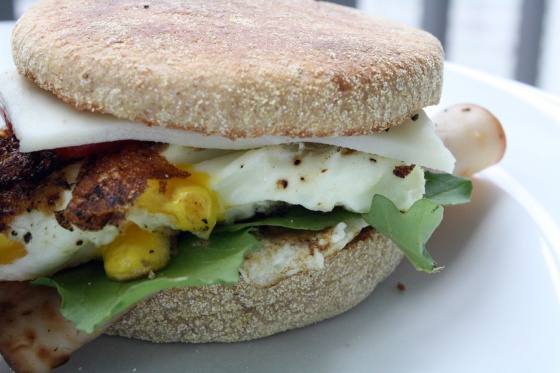 Turkey Havarti Breakfast Sandwich (serves 2)
2 whole wheat English muffins
2 eggs
2 slices lite Havarti
2 slices turkey deli meat
1/2 cup arugula
2 slices vine ripe tomato
extra virgin olive oil
fresh ground pepper
Lightly toast the English muffins in a toaster or under the broiler.  Spray a pan on medium high heat with olive oil or use about 1 tsp. to coat the pan.  Cook each egg to desired consistency (I prefer over easy).  Once eggs are done cooking, remove from pan and lightly sautee turkey until the slices start to turn slightly brown (~1 min. each side). 
Assemble sandwhich: on one half of each English muffins place havarti, turkey, egg, tomato, arugula.  Crack some fresh ground pepper on top of the arugula and cover with the second half of the English muffin.
You'll notice that the above photo (Brad's sandwich) was not assembled just like mine, but I can only attest to what I've eaten and mine was delicious.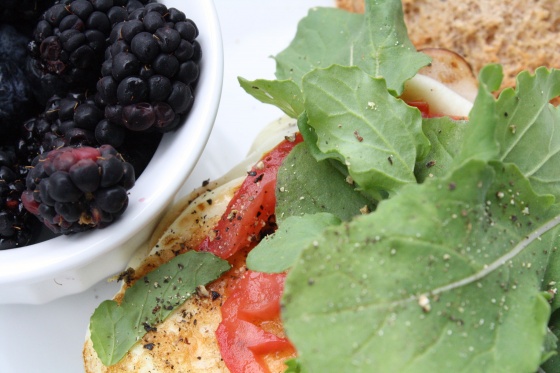 We also had some blueberries and blackberries on the side.
Other Sunday highlights:
– A long walk with Rascal
– Weeding my garden and finding carrots the width of baby pinkies
– My first trip to the Charlotte regional farmer's market
– White sangria (more on that later!)
– A bike ride with Brad through our favorite neighborhoods to get ideas for landscaping
-A trip to the new Charlotte Menchies (It blew my mind, in case you were wondering. :))
-Putting my fancier homecooked dinner in the fridge in favor of a hotdog dinner and potato chips…yes, that does happen sometimes in my house
What was the highlight of your Sunday?