I love making breakfast on Sunday mornings, especially when it's a lazy Sunday morning and I have no particular place to be.
Yesterday, I decided to try my hand at something, I've never made before but always enjoy eating.  What might that be?…
Crepes! 🙂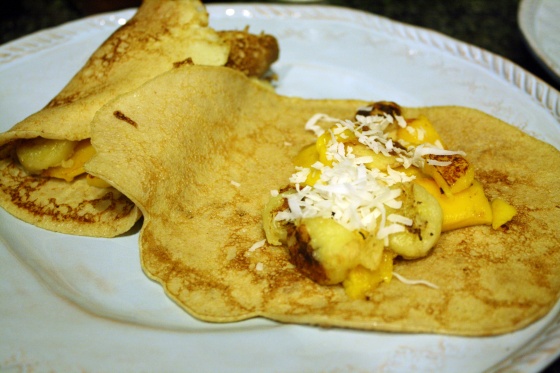 Tropical Crepes (makes 8-9 crepes)
adapted from this recipe
Crepes:
1 cup whole wheat pastry flour
1 tsp. Dermura sugar (natural brown sugar)
1/4 tsp. sea salt
3 eggs
2 cups skim milk
2 Tbsp. butter, melted
Tropical Filling: (makes enough for 3 crepes)
1 mango, sliced
1 banana, sliced
1/4 cup shredded unsweetened coconut
Coconut Honey Sauce (for 3 crepes)
1/4 cup plain yogurt
1 tsp. honey
1 tsp. coconut butter, melted
Turn a oven burner on medium low heat and place a well oiled pan on the burner.  Mix first three crepe ingredients together.  Slowly add each egg, whisking after each addition.  Add milk and butter stirring well.  The batter will be very thin.  Using a 1/2 cup measuring cup, dip cup into the batter and pour onto a well greased pan.  You will know they are almost ready to be flipped when the outter circumfrence of the crepes start to slightly darken, appearing to cook faster than the center.
I found it easier to slide my spatula under the center of the crepe and flip quickly.  If you well-oiled the pan, you will have no problem with the crepe sticking and won't have a need to go around the crepe with the spatula before flipping.  Each crepe side should take about one minute if pan is already hot when you begin cooking your crepes.  The second side may take less time than the first.  Cover crepes or place in an oven on the lowest temperature to keep warm.
Add banana and mango to a pan on medium low with a bit of butter or oil to prevent sticking.  Cook until fruit begins to brown and flip, cooking for a couple more minutes until both sides are slighly brown and bananas start to carmelize.
Plate crepes and distribute fruit into the center of each.  Fold crepes to cover the fruit as pictured below and secure with a toothpick if necessary. Whisk together coconut honey sauce ingredients.  You may want to warm this a bit to make it runnier.  Pour over crepes and serve.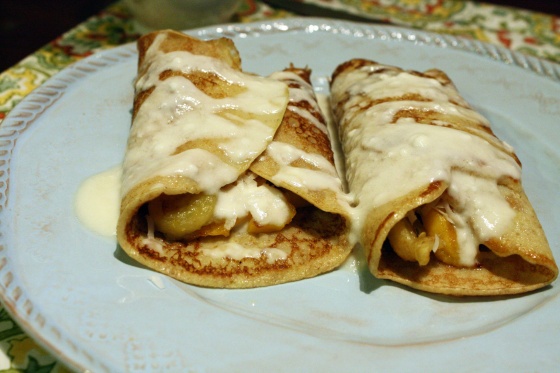 Aren't these some beautiful crepes?
This was Brad's plate.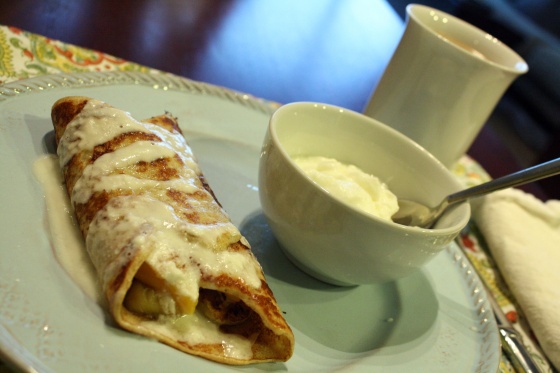 I enjoyed a crepe with some plain yogurt and coffee.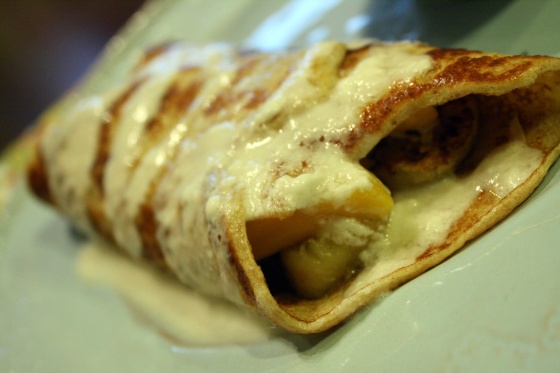 Wow, these were delicious.  Definitely something I will return to, making different fillers each time.  The crepe recipe made more crepes than we could eat so I can't wait to try out some interesting and perhaps savory fillings for them later this week.
Do you like crepes?  Sweet or savory?