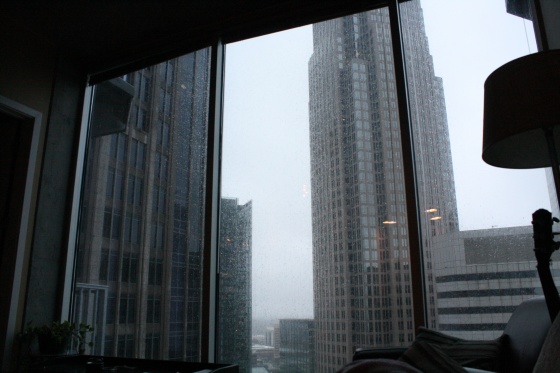 It was a dreary day in Charlotte today.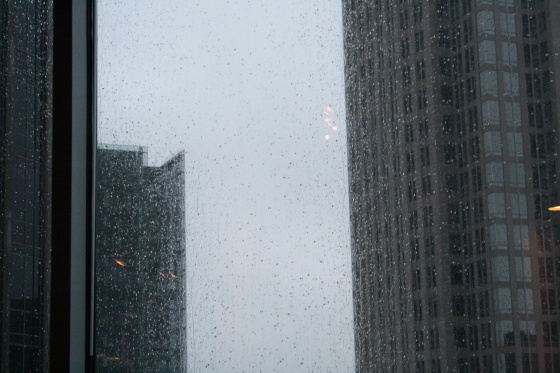 And I had a dreary mood to match it.
I skipped my nine mile run (this week was a step back week in marathon training) in favor of hot yoga this afternoon.  Skipping long runs is not something I would recommend, but it just felt right for me today.  The thought of running in the wind and rain did not appeal to me at all and the thought of running nine miles on the treadmill sounded like a slow and painful death.
I'm feeling a little overwhelmed with several big things going on in my life right now.  I have two more days of work at my current job and know that those two days are going to be a little stressful, which I'm sure you understand if you have transitioned out of a job where you have a lot of different responsibilities.
As I was struggled through a Power Mixed class, most likely sweating more than anyone else in the room, my mind was not clear and I was not focused on my intention.  Instead, I was stressing.
Then, I had a moment of clarity.  Even though blogging is one of my favorite things to do in my day, it's just about the only thing I can cut out when life gets too stressful.  So for the next two days, I'm going to take a little break from blogging.  I'll be back Wednesday, hopefully feeling refreshed and energized for all the changes ahead for me, but especially ready to get back to blogging.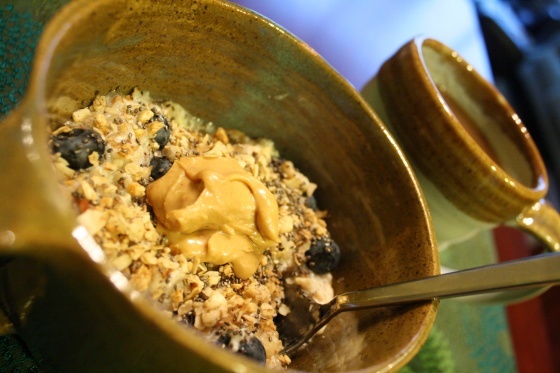 And with that, I leave you with my breakfast from this morning.  My oh my, it was good.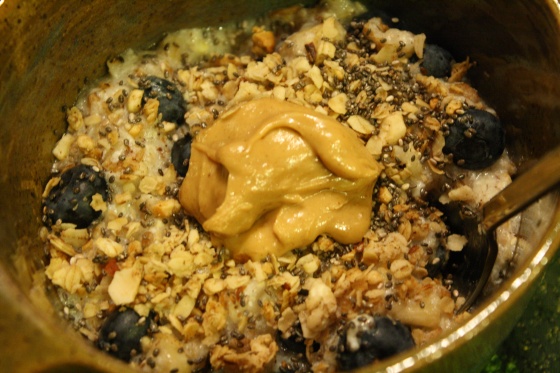 In my oatmeal pot, I cooked:
1/3 cup Bob's Red Mill 10 grain cereal
1/3 cup water
1/3 cup unsweetened almond milk
1/2 sliced banana
1/4 cup egg whites
Then I topped my oats with:
– blueberries
– chia seeds
– Erin's granola
– White Chocolate Wonderful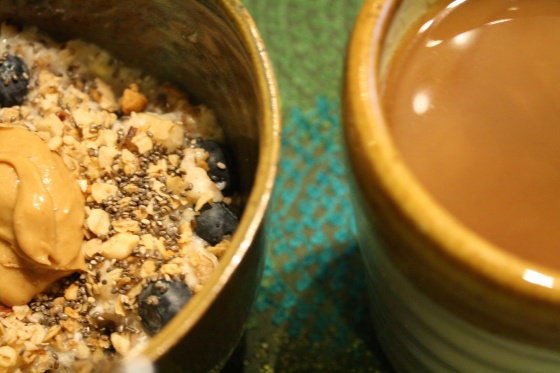 And wonderful it was paired with some delicious hot coffee + milk.  Oatmeal and coffee: the perfect pair.
I hope your week starts off wonderfully!  See you on Wednesday!