I know the equation for a bad hot yoga session: too much food.  But after running three miles yesterday morning and the fact that yoga was at lunchtime, I knew I had to eat something.  One of the best things I've found for pre-yoga eating is a smoothie.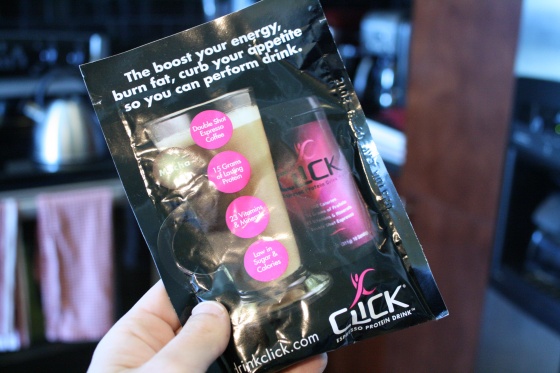 I dug this Click mocha protein smoothie mix out of the back of the pantry.  I received it several months ago in a swag bag when I visited Metro Fitness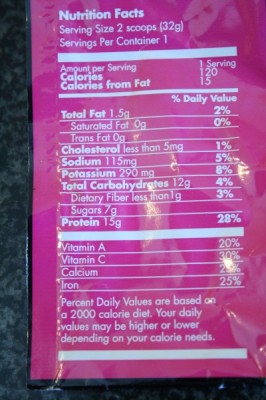 The stats were okay: 15 grams of protein, 7 grams of sugar, some vitamins, not too much sodium.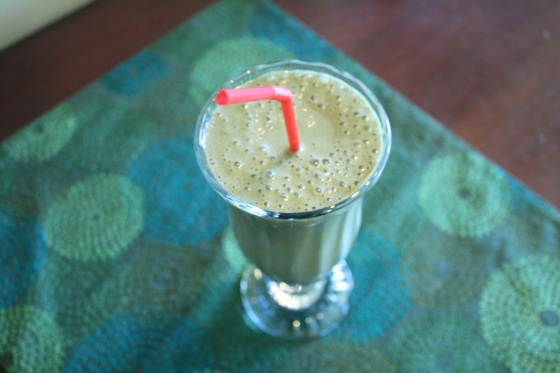 I blended this packet with:
1 cup of almond milk
1/2 frozen banana
2/3 cup of frozen spinach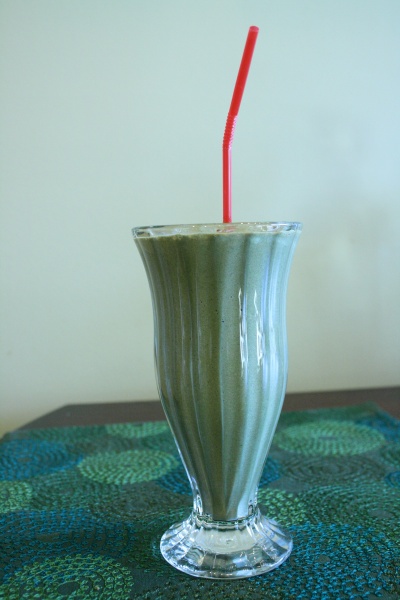 This smoothie was delicious.  If you like mocha, you'll love it.  The mocha flavor was pretty strong, but not in a bad way, like an "expensive Starbucks drink" way.  Yum!
I rushed off to yoga, running late.  I've never gone into a yoga class late so I was kicking myself for not budgeting my time more wisely.  I darted into class about 10 minutes late, trying really hard to be quiet and not get in anyone's way.
Yoga was great! However, I was right in front of one of the  heater so I was dripping with sweat in the first five minutes of class.  I felt a little more limber and stronger than usual yesterday and was really proud of my side plank.  I also was able to flip my dog on the right side, when typically I've only usually flipped my dog on my left side.  I tried once and felt like I wasn't strong enough on that side, but yesterday I did it with no problem.
After quick trip by the grocery store and I returned home to work for the rest of the afternoon.  I intended to eat as soon as I got home, but ended up returning emails and making phone calls.  By the time I got around to eating 2nd lunch, I was starving.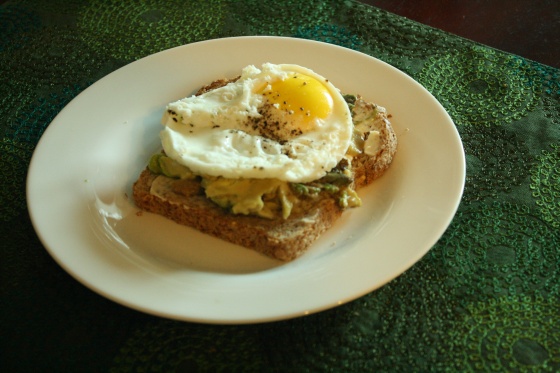 I made a quick egg + avocado + Laughing Cow toast.  Always delicious. 🙂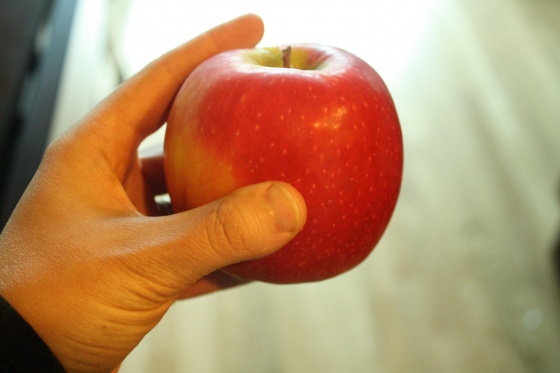 I was still hungry, so I grabbed my last super sweet Pink Lady apple…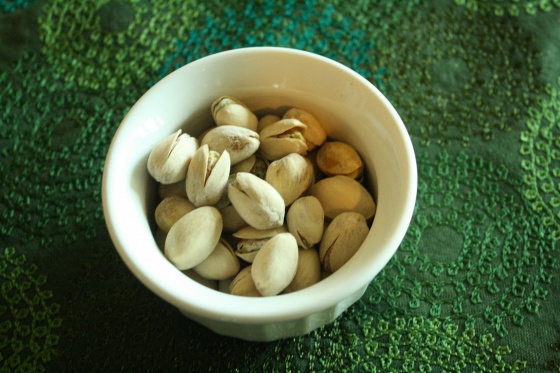 …and 1/2 cup of pistachios.  Today was all about the snacks.
Around 5 pm, I realized that I should make the dessert I had been planning for dinner that night.  Somehow I underestimated the amount of cocoa that should go in brownies so I had to run to the Teeter on the corner to get more.
Those were the fastest brownies I've ever cooked!  I showered quickly and neglected to wash my hair for the third day in a row, because I was running late.  Washing your hair is so overrated, especially if your content with wearing it up everyday.
I  swung by the new house to pick up Brad who had been working on it all day and we headed north to Cornelius to have dinner with our friends Casey and King.
Casey put together quite a spread.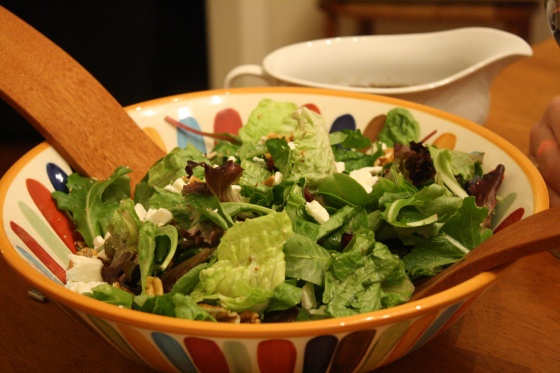 There was a mixed green salad with feta, pecans, and dried cranberries…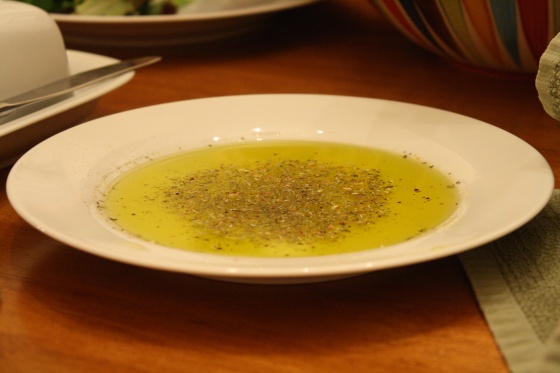 herbs and oil for dipping crusty bread…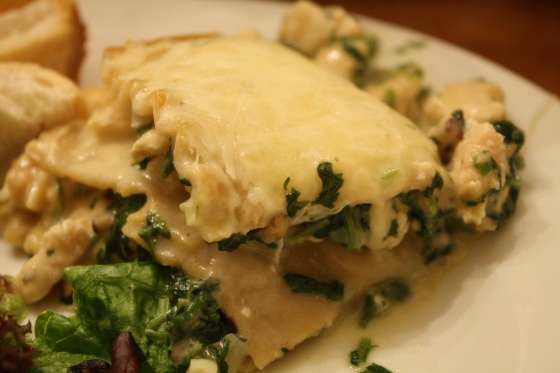 …and chicken Florentine lasagna.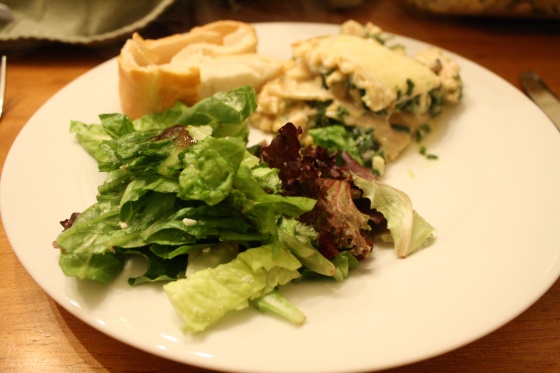 Everything was absolutely delicious.  Casey got the recipe for the chicken Florentine lasagna from Cooking Light, just in case you're wondering.  It's definitely worth making.
After spending a while at the table talking, I suggested dessert.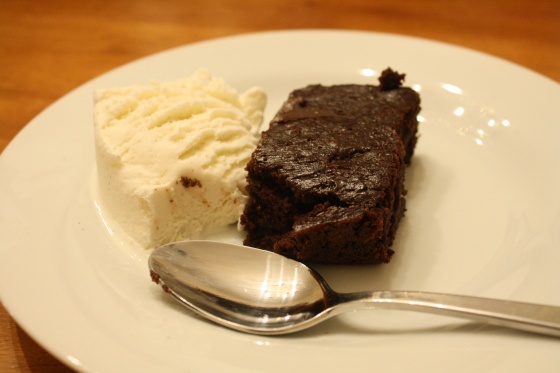 I made made-from-scratch black bean brownies for the first time ever.  They turned out wonderfully and went so well with the vanilla ice cream.  Brownies and ice cream might just be the best combination of all time.  I promise to post this recipe very soon.
***
In other news: I got a call yesterday morning saying that the people I interviewed with on Wednesday want me to come back for a second interview! I'm so excited about the prospect of getting this job and working closer to home.  I don't want to get my hopes up too soon, but a part of me can't really help it. 🙂
Brad and I are up and going this morning..  It's going to be a gorgeous day in Charlotte so I can't wait to get out there and run.  I hope it is as beautiful where you are today! 🙂