I remembered this morning that I still have a dump truck load of baked sweet potatoes sitting in my fridge.
So of course they had to be incorporated in this morning's breakfast.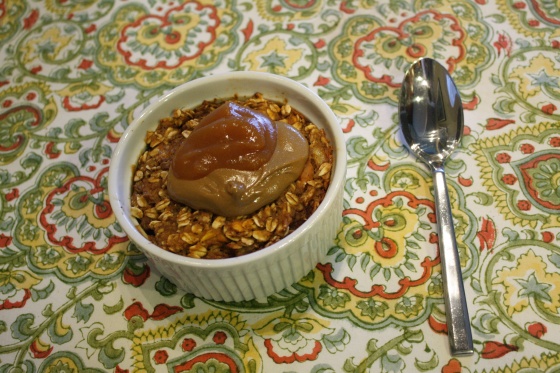 Baked Sweet Potato Oatmeal (serves two)
1 cup rolled oats
1 small sweet potato (~3/4 cup)
1 sliced banana
1/2 cup almond milk
1/2 tsp. baking powder
1/2 tsp. cinnamon
1/2 tsp. allspice
1/4 tsp. cloves
1/4 tsp. salt
Combine and mix all dry ingredients: oats, spices, baking powder.  Add wet ingredients: banana, sweet potato, almond milk.
Spray two ramekins with nonstick spray or a bit of oil.  Pour contents evenly in the ramekins.  Bake on 350 degrees F for 20 minutes.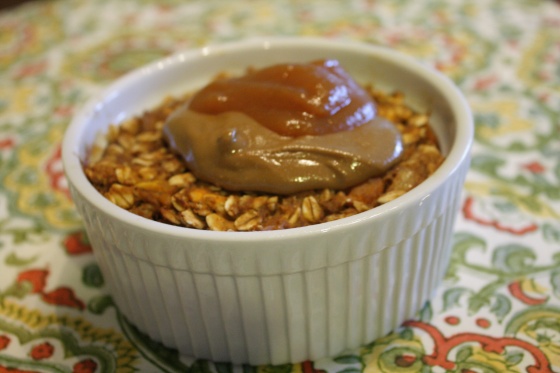 Oh man, this was good.  And although it looks like I p ut 3 Tbsp. of sunflower seed butter on my oats, I guarantee you, it was exactly a tablespoon.  TJ's sunflower seed butter is just melty and delicious.
After breakfast this morning I prepped for a podcast interview on Radio Exile's program 7 Day Challenge.  The host of the show, Bobby DeMuro and I had briefly discussed me being a guest in early January, but a last minute change opened up a spot for me this morning.  I literally didn't know I would be a guest until 9 pm last night.  So I was scrambling a bit this morning to prepare my answers to his questions.
This was my first time being a guest on a radio podcast and it was really fun!  I'll be sure to post the link to the podcast when it airs on December 16.
Now, I'm off to track down my cocktail dress, which Nordstrom has lost.  Ug. 🙁