I've seen a lot of pancakes come and go on blogs like mine, but trust me when I say do not let these pancakes go without trying them.
I feel bad for any of you readers out there who do not like sweet potatoes.  My mother in-law gave me about 12 when I visited her a few weekends ago, so you'll be seeing many a sweet potato recipe in your reading future.
This morning I woke up thinking what do I want for breakfast? I asked Brad whose reply was eggs with some kind of vegetable. Lucky for you, I convinced him that what he really wanted to was pancakes.
Well, technically there is one egg and a vegetable in these babies. 😉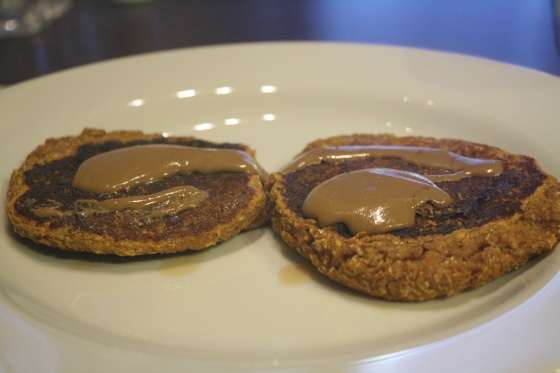 Sweet Potato Coconut Pancakes (make 8 small pancakes)
1 cup Hodgins Mill Whole Wheat Pancake Mix
one large baked sweet potato (~1 1/4 cups)
1/2 cup light coconut milk
1/2 cup almond milk
1/2 cup shredded coconut
1 egg
1/4 tsp. vanilla extract
1/8 tsp. lemon extract
1/2 tsp. cinnamon
1/2 tsp. all spice
1/4 tsp. ground cloves
Mix dry ingredients: pancake mix and spices.  Mix the rest of the ingredients separately, except for almond milk: coconut milk, egg, sweet potato, and extracts.  Combine wet and dry ingredients.  Slowly add almond milk and adjust to your preference. I like thick pancake batter, add more almond milk if you prefer a thinner batter.
Heat a skillet or frying pan on medium high.  Glaze with butter or oil. I used the Misto.  Use a 1/4 cup measuring cup to put a heaping cup full of pancake batter on the pan.  Use the measuring cup to press down on the unbaked pancake to help flatten.  Flip after a couple of minutes and repeat for about seven more pancakes.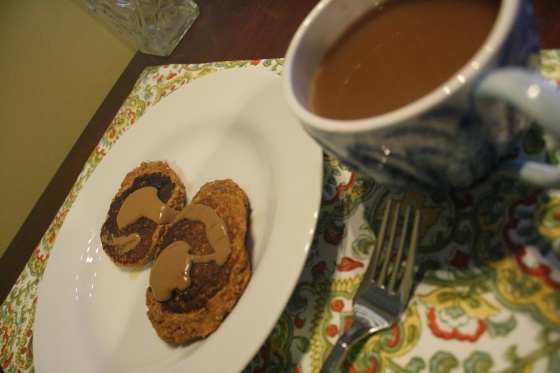 I ate mine with 1 Tbsp. of sunflower butter and a small drizzle of real maple syrup. So delicious.
Right after assembling this, I realized that I had left my DSLR camera in the car.  I threw on just enough regular clothes to look like I had not just rolled out of bed to retrieve my camera and take these lovely photographs of my masterpiece.
The lengths that a blogger will go to for just the right picture. 😉