I think my life has finally slowed down a bit and I can get back to my regularly blogging schedule.  My eats have missed the camera this week, except for breakfast.  Breakfast is always photo friendly.  And because I am behind, today you get two breakfasts for the price of one.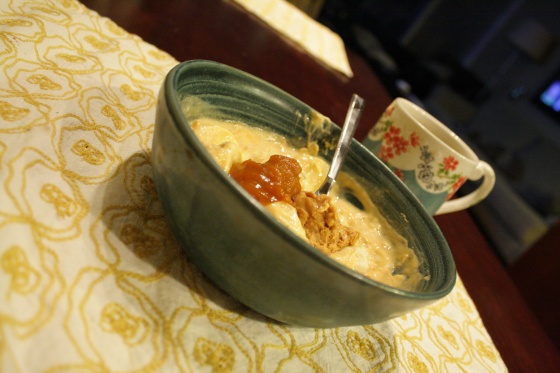 Tuesday, breakfast was pumpkin overnight oats, although you and I  both know these were made ~30 minutes before I ate them, not the  night before as you're supposed to do.
Pumpkin Overnight Oats
1/3 cup honey flavored Chobani Greek yogurt
1/4 cup canned pumpkin (I used Libby's)
1/3 cup rolled oats
Mix and let sit in the fridge for at least 30 minutes, but overnight works fine too.
Add 1/2 sliced banana and mix.
Top with 1 Tbsp. almond butter (Barney Butter crunchy! –> my first time trying this) and 1 Tbsp. pumpkin  butter.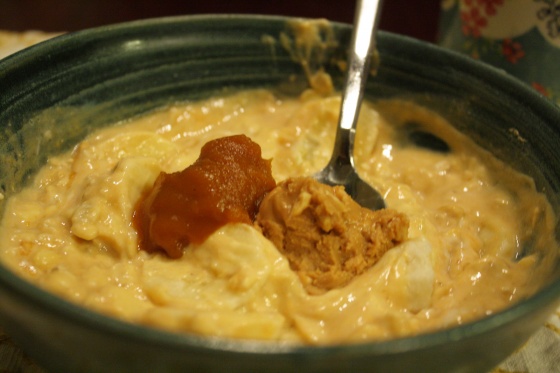 I love overnight oats, but they're never as good in the cooler months as they are in the warmer months.  I am predispositioned to believe that breakfast should be hot if you're wearing long sleeves. 🙂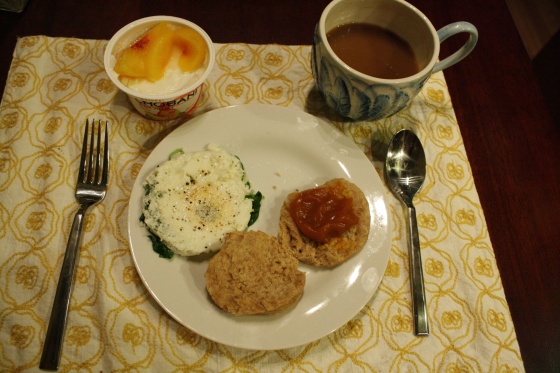 Breakfast today was a little this, a little that; and I definitely covered all the major food groups.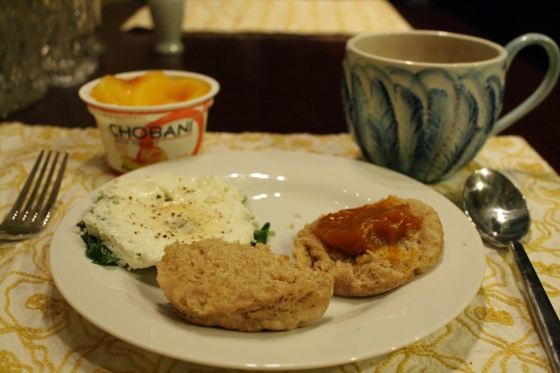 One real egg puff with spinach and just a bit of goat cheese: I sprayed a ramekin with EVOO from the Misto, then cracked an egg in it and topped with ~1 Tbsp crumbled goat cheese and a small handful of spinach (~1/2 cup).  I nuked for about 45 seconds.
On the side I had my second to last whole wheat biscuit with some pumpkin butter, plus some peach Chobani with some "melted" frozen peaches.
Let's see..fruit – check, vegetable – check, dairy – check, protein – check, fat – check. coffee – check, pumpkin butter – check.  Yep, got them all covered. 😉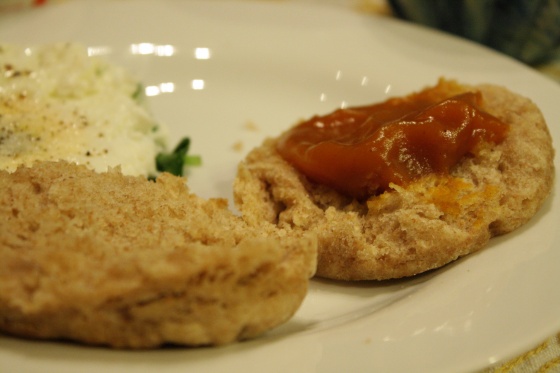 Brad just got back in town last night from a short business trip so I don't think my last biscuit is going to make it much longer.  Would it have been wrong to hide it from him?  It would have actually been pure evil, because he loves them as much as I do.
What about you?  Do you hide food from your significant other/roommate/parents?