Happy long run day!  Although I'm sometimes a little apprehensive when I'm adding mileage…Can I do this?…Will I make it all X miles?…it feels so good when you're done.
Why do I run for two hours straight?  Because it feels so good when I stop. 😉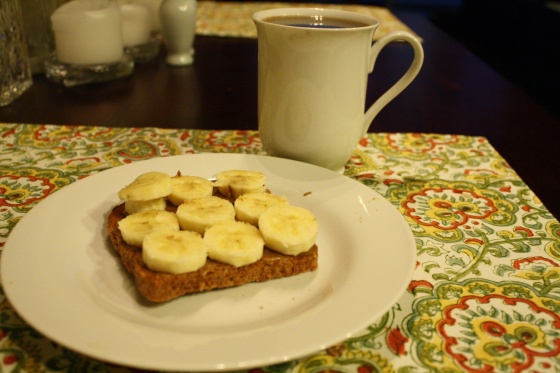 Breakfast #1: Ezekiel toast, TJ's sunflower seed butter, and 1/2 a ripe banana.
My 12 miler was great.  The last two miles were tough, but not so tough that I ever thought about walking.  Along the way I saw a 75ish year old woman running and an at leat 6 month pregnant woman running.  Maybe it was a premonition of things to come?  I hope I'm running through both of those stages of my life.
I hit the point of delirium around mile 10.  You know what I'm talking about if you're a distance runner; the point where your brain starts to play tricks on you.  I turned right at a spot I knew to turn left at.  I had even turned left on the same street around mile 3 of my run.  About five minutes I thought I knew the light was red at an intersection, I took one step off the curb, realized it was green all along and stepped back on the curb.  Passing cars must have thought I had a death wish.  But I got through that and was so happy as I made my way back Uptown and rounded the block where I live.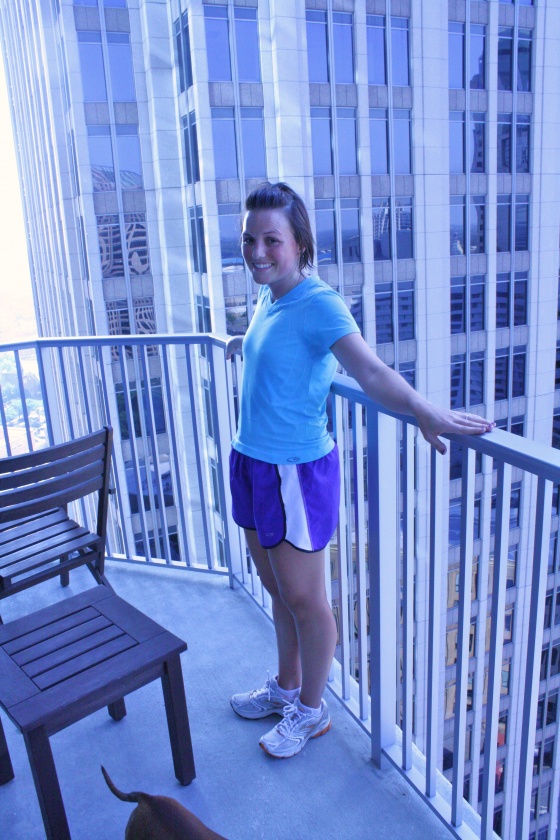 Brad played photographer as I grasped the railing so I wouldn't fall over.  Rascal managed to get his behind and puppy-dog tail in the photo.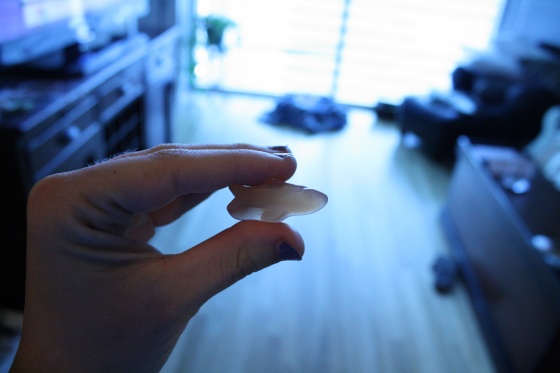 I took some Sharkies with me on my run, courtesy of Jen.  I didn't eat any on my run, (thank you third piece of pizza from last night), but I did eat two to stave off hunger while I made breakfast #2.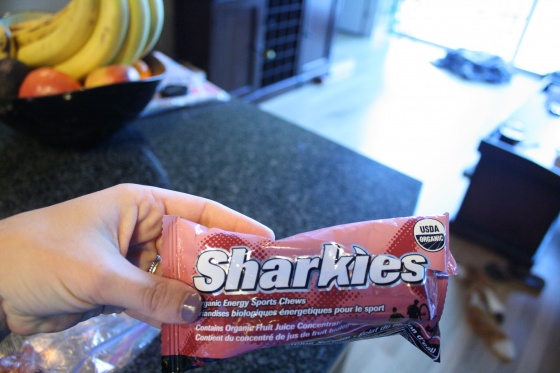 I loved them!  Definitely a keeper for long runs.  And for some reason I think these would be less likely to get sucked down my wind pipe since their soft.  I usually eat Sports Beans when racing, but always have thoughts about choking to death on them in the middle of a race.  Morbid, no?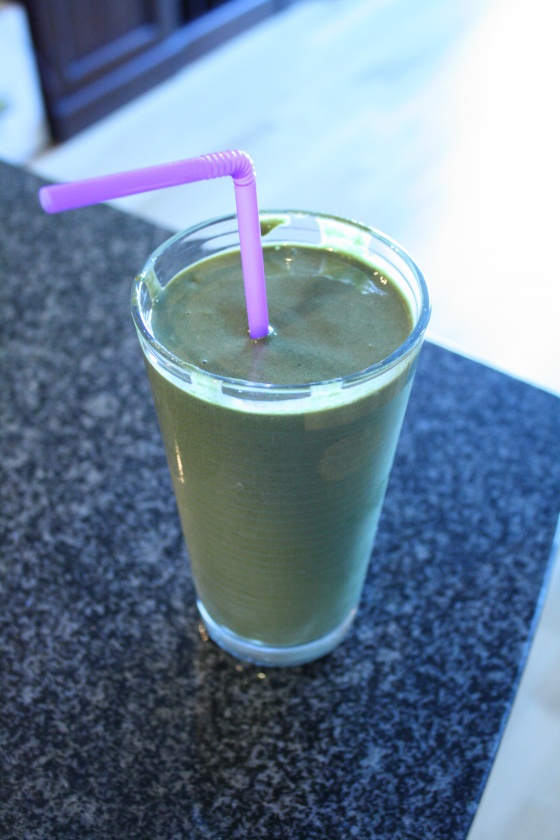 Breakfast #2: Mint Chocolate Smoothie
-1 scoop chocolate whey protein
-1 Tbsp.  cocoa powder
-3/4 cup frozen spinach
-1 cup almond milk
-1/2 frozen banana
-~1/4 cup frozen mint leaves (I just threw some in the freezer one day thinking I could use it in a smoothie eventually)
–Stevia to taste
This was oh so good…kind of like jello pudding before it firms up in the fridge with a subtle underlying taste of mint.  Another keeper for the recipe vault.
Brad and I are off to a leisurely trip to the mountains.  I hope to come back with beautiful photos, NC mountain apples, and enough homemade jams and preserves to fill up the fridge for several months.
Have a wonderful Saturday!