Don't you just love it when bloggers do confessions?
Here are some of mine.
First confession: I'm the reason why bloggers get free things.  I'm a marketing person's dream.  I'll pretty much try anything I see on a blog – anything that a blogger I read raves about, even if I've never considered trying it before in my entire life.
BUT, I won't keep buying it, if I don't like it too.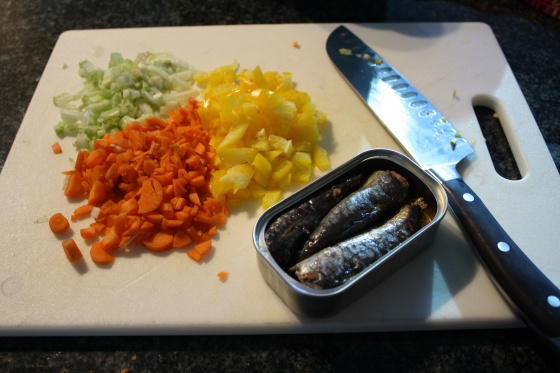 After seeing Kath eat sardines a lot, and then seeing her sardine video, I decided to try it for myself.  I used carrots, celery, and yellow bell pepper as my veggie additions.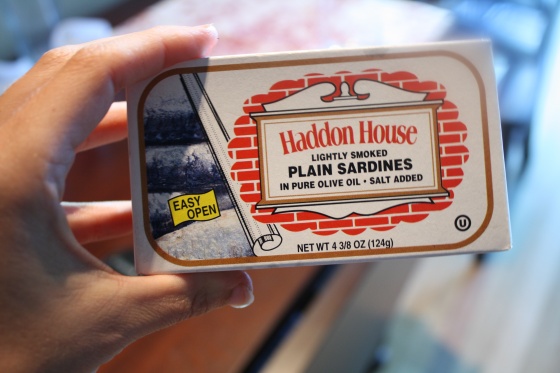 I used Haddon House smoke sardines.
Second confession: You know how people say they don't like fish because it smells fishy?  I don't mind fishy at all.  I like fish because it tastes like fish.
I chopped up the smoked sardines, added the veggies plus one Tbsp. each of dijon mustard and canola oil mayonnaise, plus salt and pepper.
All wrapped up in a homemade whole wheat tortilla with my favorite side salad: mixed greens, cukes, avocado, plus a drizzle of honey and lemon juice.  Amazingly delicious!  I can't believe I like sardines.  See, I'll try anything!
Third confession: I may take photos of my food on a pretty placemat, but I'm dining alone tonight.  So I ate my meal like so…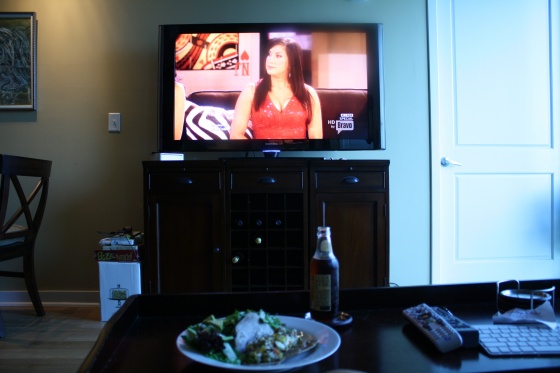 With a beer I found in the fridge leftover from Saturday night while watching the Real Housewives of NJ Reunion.  Those ladies are crazy!
I think people used to watch television as a means of escapism, but now we watch TV so we can feel a little saner and a little more normal.  I know I didn't chase a woman off a stage today yelling obscenities.  I probably won't do that tomorrow either.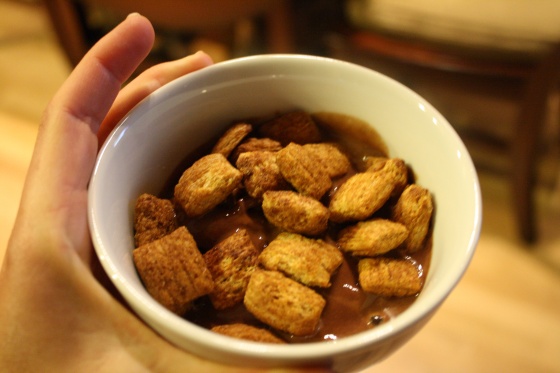 Fourth confession: I tried banana soft serve once, liked it, and never made it again.  Chocolate banana soft serve remedied that situation.  I put one frozen banana in the Vitamix + one Tbsp. organic cococa powder and a handful of Cinnamon Puffins.  Cinnamon and chocolate are one of those fabulous flavor combinations that I never remember.  But when I do, it's magical.