After returning home from Charleston, I needed a snack stat.  I started thinking about a snack before we crossed the SC/NC state line, but was able to hold off from buying junk at a gas station when I thought about all the better choices I had waiting at home.
As soon as I hit the door, bags were dropped, and I assembled PB + dark chocolate toast, which I completely forgot to photograph.  I never thought of this combination on toast before until Tina blogged about it.  Now, I'm hooked.
After our drive, I had the strongest desire to bake something, so I put that and the last of our Currituck blueberries to work.  If you remember, I made Blueberry Oaty Spelt Muffins last Tuesday on my day off.  They were good, but I didn't think they were perfect.  So this was my second attempt to perfect my recipe.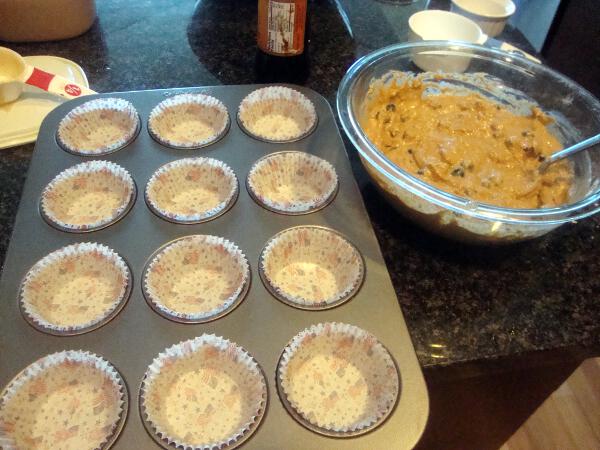 I basically followed the same recipe with several alterations that completely changed these muffins.
Instead of oats and spelt flour, I used two cups of spelt flour
I left out the buttermilk, and added a second 1/2 cup of applesauce for a total of 1 cup of applesauce
I added 1/4 cup of egg whites
I used patriotic paper muffin cups (hey, they were on sale!)
I only used 1 cup of blueberries, but mainly because I ate at least a cup while baking so I didn't have as much as I used last time :)~ (Note: I think I used way too much last time anyway)
The differences were striking.  Remember my sunken in muffins from last week?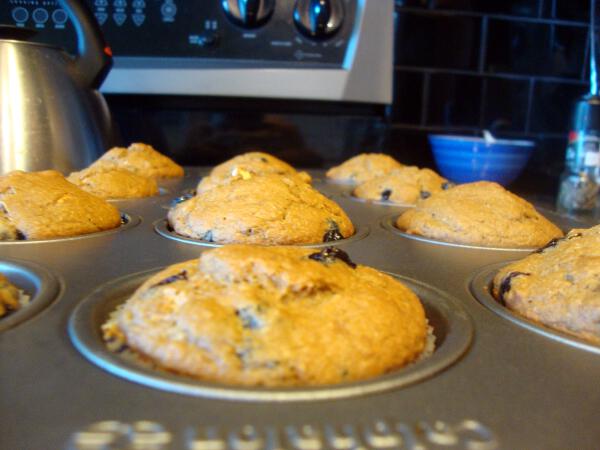 Well, these rose perfectly.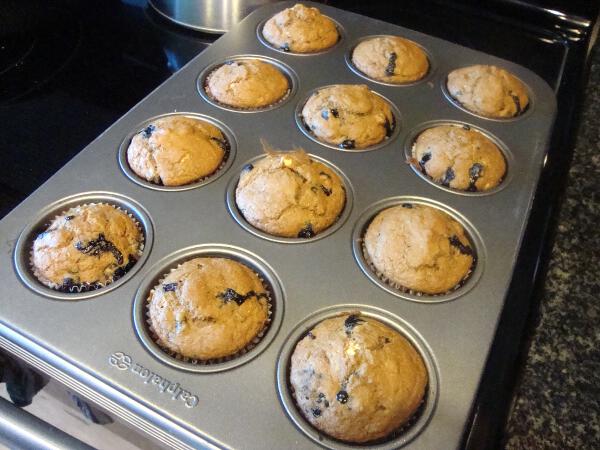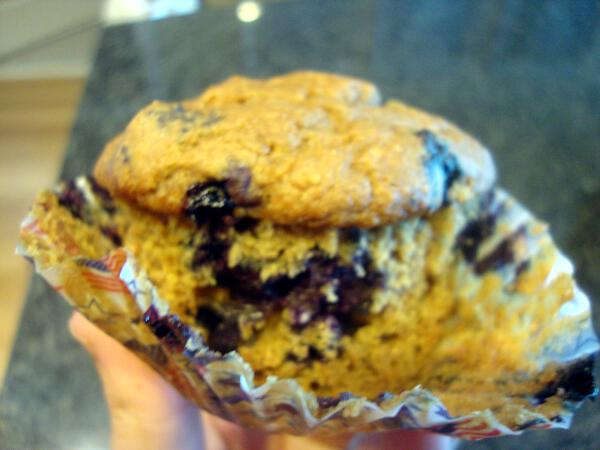 I loved that I didn't have to struggle getting the muffins out of the tin.  I will use paper cups from here until infinity.  Best invention ever. ha.
I had one of these around 6 p.m. to fuel a quick 30 minutes on the treadmill.  I ran a quick 3.4 miles in 30 minutes.  I'm a bit sore from my 9 miles on Friday and No More Trouble Zones on Saturday.  I think it was the NMTZ actually since my "9 miles" was more like 8.25 miles running and .75 miles walking.  I ran 8 miles last weekend without soreness so my "trouble zones" were bearing the brunt of the pain.
I feel a little guilty, because I didn't make Brad any dinner.  I was too lazy, despite the best laid plans.  I'm determined to cook something delicious tomorrow night to make up for it.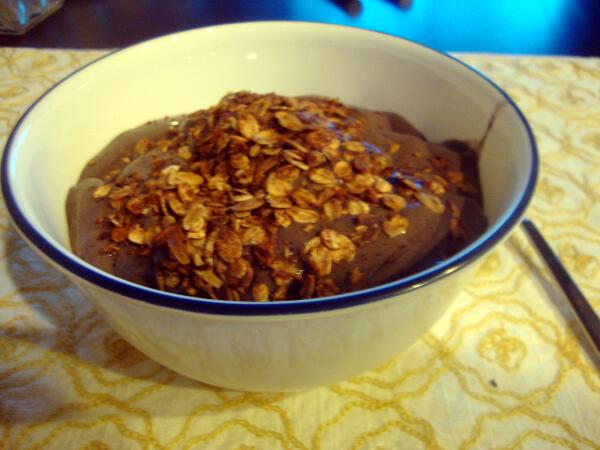 After my quick run and an even quicker shower, I made a SIAB.
1/2 frozen banana
2 giant handfuls of spinach
1 cup almond milk
frozen mixed berries ( blackberries, blueberries, and strawberries)
1 scoop vanilla whey protein
1/4 tsp. xanthan gum
bit of stevia
whirl, whirl, whirl in the Vitamix
topped with homemade granola
'Twas super thick.  Not too gloppy, but just right.  I'm not sure if it was the copious amount of berries I added or if my 1/4 tsp. of xanthan gum wasn't level, but this SIAB was way more thick than usual.
Brad and I are now working on my blog on our separate computers.  I'm thinking I need a new logo if I'm going to take this whole blogging stuff seriously.  Brad is pretty ingenious when it comes to computers, but if any of you more experienced bloggers out there have any suggestion, I would love to hear from you.
Treasuring the last couple of hours of my weekend, before the busy work week starts tomorrow…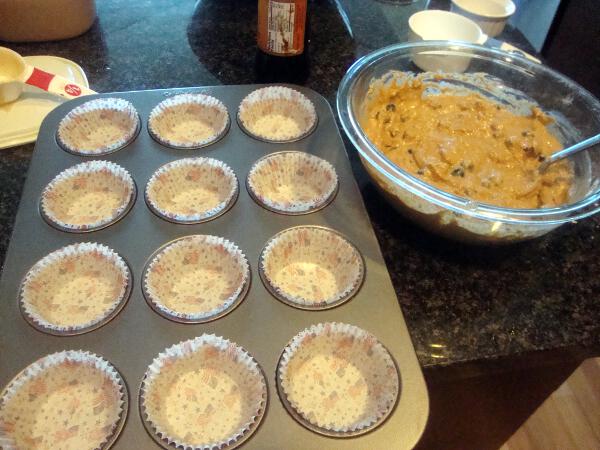 Ingredients
Directions