I really don't bake enough.
Let's do something about that.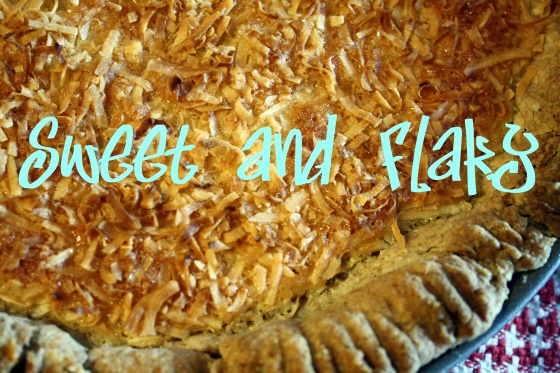 Ever since Tropical Traditions sent me a slew of their coconut products, plus a gallon of shredded coconut, Brad has been requesting a coconut pie.  His mom has a killer coconut pie that we love.  It's not a cream pie.  Instead, it's more like a custard that has been overtaken by coconut.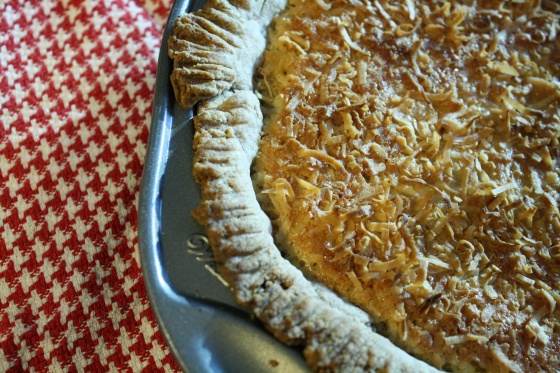 Perfect, delicious, sweet, and flaky…
But you know, as much as I love a delicious pie, I love a challenge even more.  And if that challenge results in a delicious pie, then that's just icing on the cake.
After taking a look at the ingredients for my mother-in-law's coconut pie and looking at the ingredients I had on hand, I thought, "I can make this pie dairy free easily."
And so I did.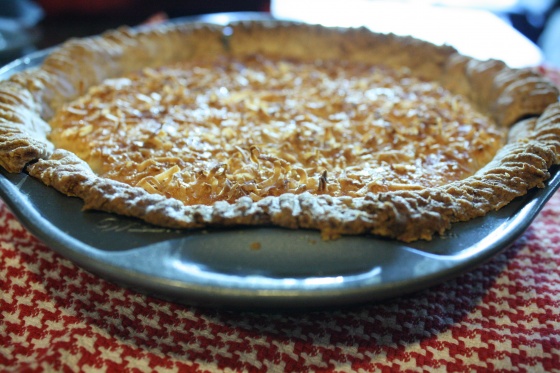 Dairy Free Whole Wheat Crust
I based this recipe off my original whole wheat crust, but nixed the butter and the cow's milk.
1 cup whole wheat flour
1/2 cup unbleached all purpose flour
2 tsp. organic sugar
1/2 tsp. sea salt
1/4 cup Earth Balance
1/4 cup coconut oil
1/4 cup + 2 Tbsp. light coconut milk
Mix dry ingredients together: flours, sugar, and salt.  Add Earth Balance and co1 conut oil.  Use a pastry cutter to cut the Earth Balance and oil into the dry ingredients.  Add coconut milk a little at a time (you may not need at all).  Turn on a floured surface and knead several times.  Roll dough into a 9 inch circle and transfer to a pie plate, using fingers to shape dough as needed.
Coconut Pie Filling

1 cup organic sugar
2 eggs
1/4 cup coconut flour
1/4 cup + 1 Tbsp. coconut oil
1 1/2 cup shredded unsweetened coconut
1/2 cup light coconut milk
1 tsp. vanilla extract
Mix together sugar, eggs, and salt.  Add oil and flour and mix well.  Add coconut milk and fold in 1 cup coconut.  Add vanilla and mix well.  Sprinkle remaining coconut on top of the pie.  Pour into your whole wheat pie crust.
Bake at 350 degrees F for 50-55 minutes.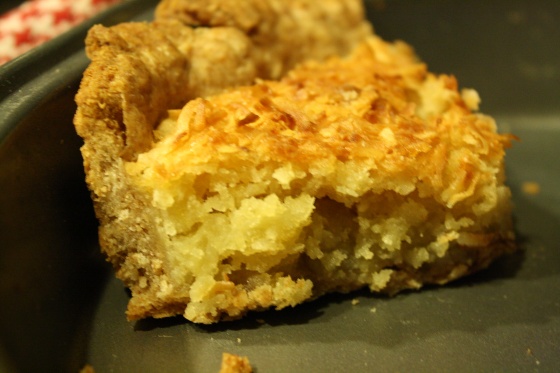 I took my pie to a dinner party of eight people.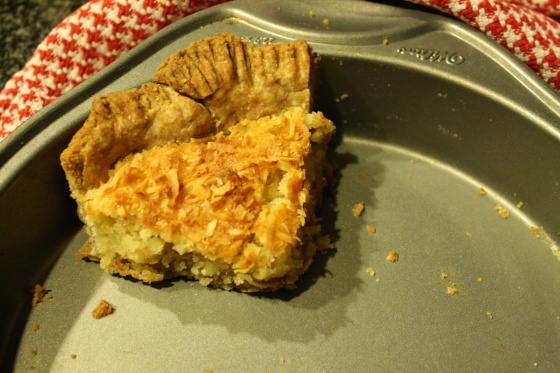 Obviously, they hated it.
The pie was deliciously sweet and flaky.  The crust was rustic and dense.
Brad's exact words were, "This is terrible, you should try to make it again tomorrow".
But I have my limits and I'm on to other pursuits…
…like figuring out how I'm going to eat a head of kale, 2 heads of baby bok choy, a head of rainbow chard, and a gigantic head of napa cabbage before my CSA pickup on Tuesday.
Cabbage pie anyone?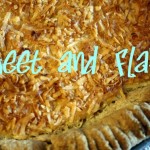 Ingredients
Directions