Brad and I were invited to Caitlin and Kristian's house to watch the Super Bowl.  Well, Brad was invited to watch the game, I was invited to bring food, chat, and make crafts. 🙂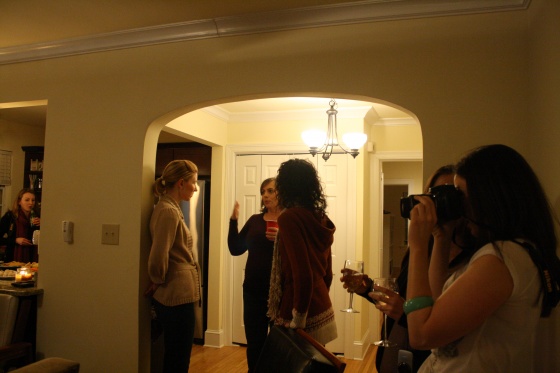 While us girls did this…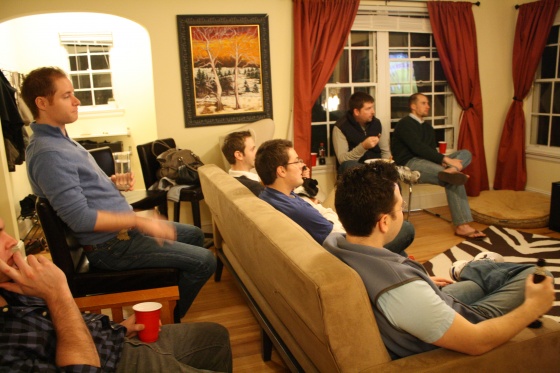 …the guys did this.  Not a lady in the room. 😉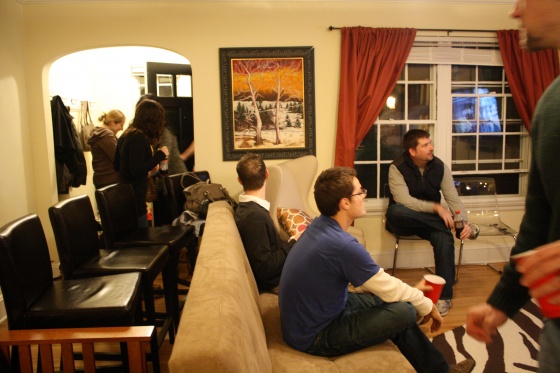 This party was dog friendly, so there were quite a few pups in the house.  Every time someone came in the door, the dogs would all bark and run like mad to see who it was.  Rascal might have instigated the barking a time or two.
There were a lot of waggy tails from Maggie, Clyde, Billy Jean, Happy, and Rascal.  James (Caitlin's dog on the left) was the enforcer.  He had rules like "no running in the house" and "no horsing around" and when the other dogs didn't obey, James let them know very quickly that he was the enforcer.  It was quite hilarious.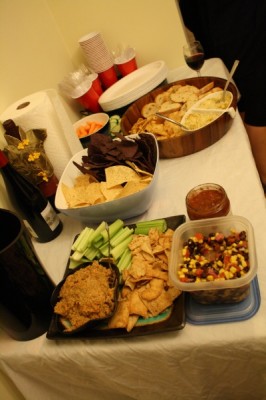 Table of food: nut pate, veggies, pita chips, crostini, artichoke dip, black bean and corn salsa and vino.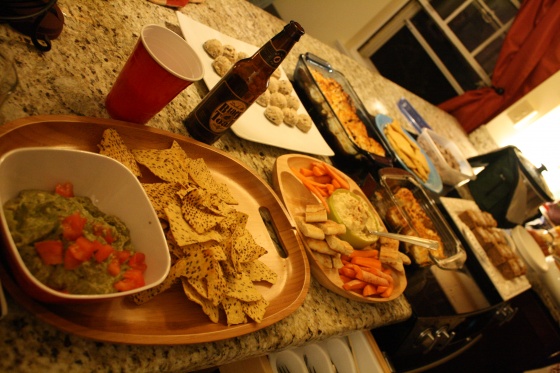 Bar of food: guac and chips, veggies and hummus, raw dough balls, stuffed potatoes, socca, my pb coconut bars (recipe at the end), vegetarian chili, and puppy chow (a sweet snack made with rice check mix).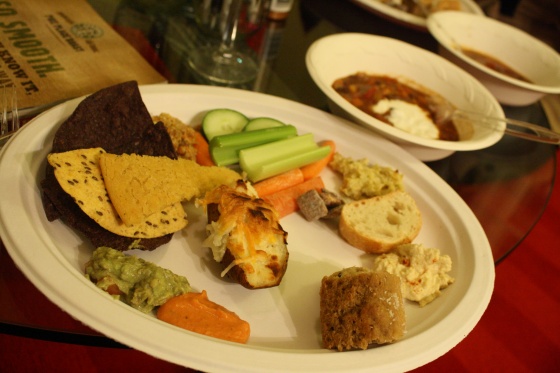 My plate + some chili on the side with some Greek yogurt.
We left the guys in the living room and all of us girls squeezed in around a glass coffee table in the "craft" room.  When I say that we squeezed in, I mean we really squeeeeeezed in. 🙂
Soon, it was time for crafts.
Nicole saw an article in Better Homes and Gardens on homemade Valentines and brought over tons of cutesy Valentines-centric crafts for us to make our own.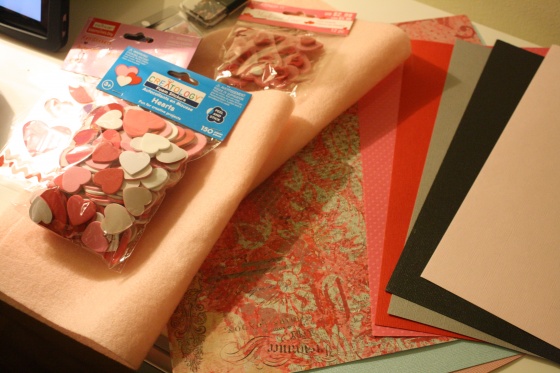 Oooh, pretty.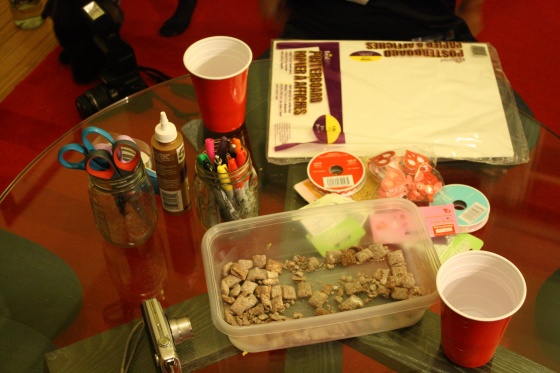 This stuff is right up my alley. 🙂  Of course we needed puppy chow to get us through the difficult crafting process.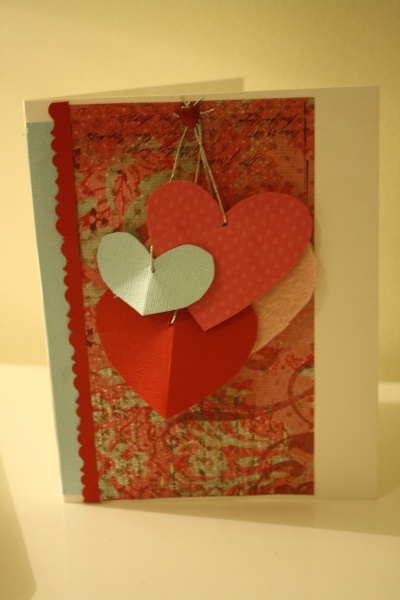 My card.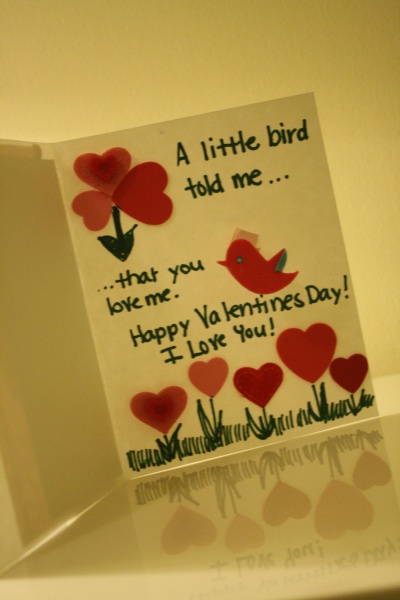 My card's inside.  The little bird was actually a pop-up.
I've been known to get really into crafts, which is why I could never finish my little art projects in my Teaching Art and Music class in college.  I was never done by the end of class and it was very frustrating for me.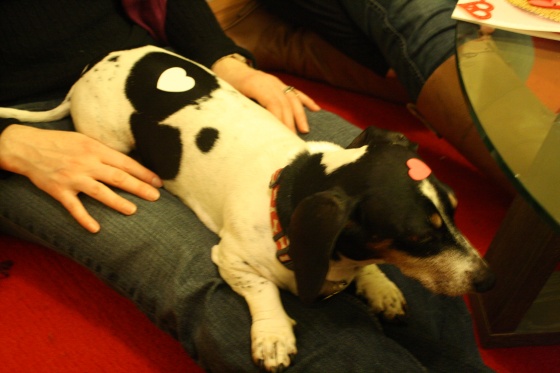 Once, we finished our cards, we got bored and started decorating our dogs.  Every dog got a heart on their head, but Maggie was definitely the cutest Valentine.  I think we all removed a good bit of dog hair from our pups when we decided to take them off.  Rascal was not happy with me.
Now onto the best part…
What was I cooking up on Saturday?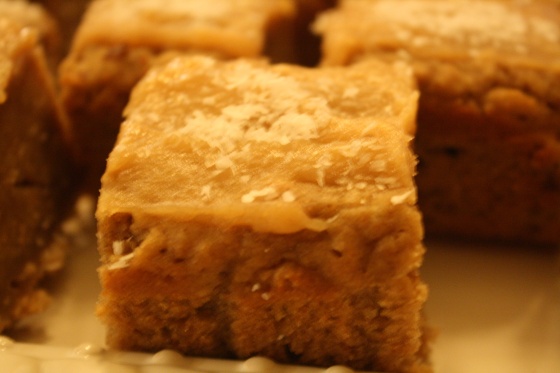 Peanut Butter Coconut Blondies with Chickpeas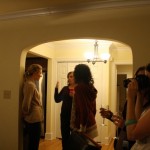 (

Serves 16

)
These bars were inspired by my black bean brownies. The chickpeas give them that ooey gooey consistency much like beans make brownies fudgey.
Ingredients
1 cup rolled oats
1/2 cup whole wheat flour
1/2 cup unbleached all purpose flour
1/2 tsp. baking soda
1 tsp. salt
1 cup demarara sugar (can also use brown sugar)
1 can organic chickpeas
1 cup almond milk (water or coconut milk would work too)
3/4 cup coconut peanut butter (SEE NOTES)
1 tsp. vanilla
Icing:
1/4 cup + 2 Tbsp. coconut milk
1/4 cup coconut peanut butter
1/4 cup confectioners sugar
3 Tbsp. coconut flakes
Directions
Mix together flours, oats, salt, and baking soda. Drain and rinse chickpeas. In a blender or food processors blend chickpeas with almond milk. Add coconut peanut butter and blend well Add chickpea mixture to flour mixture and mix well. Add sugar and vanilla.
Pour in a baking dish lined with wax paper, which has been greased with cooking spray or oil. Bake at 350 degrees F in an 8x8 baking dish for 40 minutes or until center is set. Mix together ingredients for icing, except for the coconut flakes. When bars are completely cool, pour icing over it and sprinkle with coconut flakes. Cut into 16 pieces and remove from dish.
Notes:
If you do not have coconut peanut butter, substitute with 1/2 cup unsweetened dried coconut and 3/4 cup peanut butter. Add this to the blender with the chickpeas and you'll get the very same result.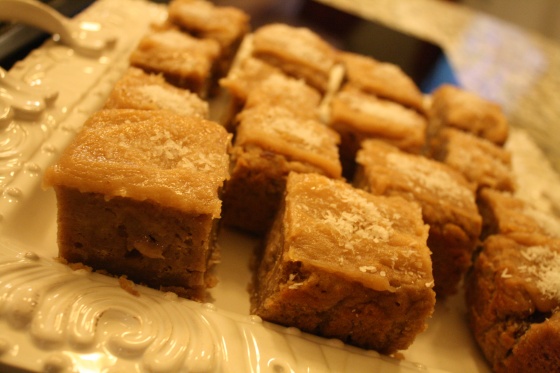 These were a BIG hit.  Not one was left at the end of the night.  Brad was their biggest fan, which was good because he was the one who suggested that I make a peanut butter bar with chickpeas in the first place.  This recipe is definitely a keeper and my go-to vegan dessert from here on out.
How did you celebrate Super Bowl Sunday?  What did you think of the half time show?  I thought I was it was eh, just okay.  They should have had Usher do some songs from the late 90's.  That would have been amazing.