Anyone know where those slightly altered lyrics are from?
It was so nice to catch up on some sleep.  I turned in around 11 pm on Saturday night and woke up at 6:45 am.  Yes folks, that's catching up to me.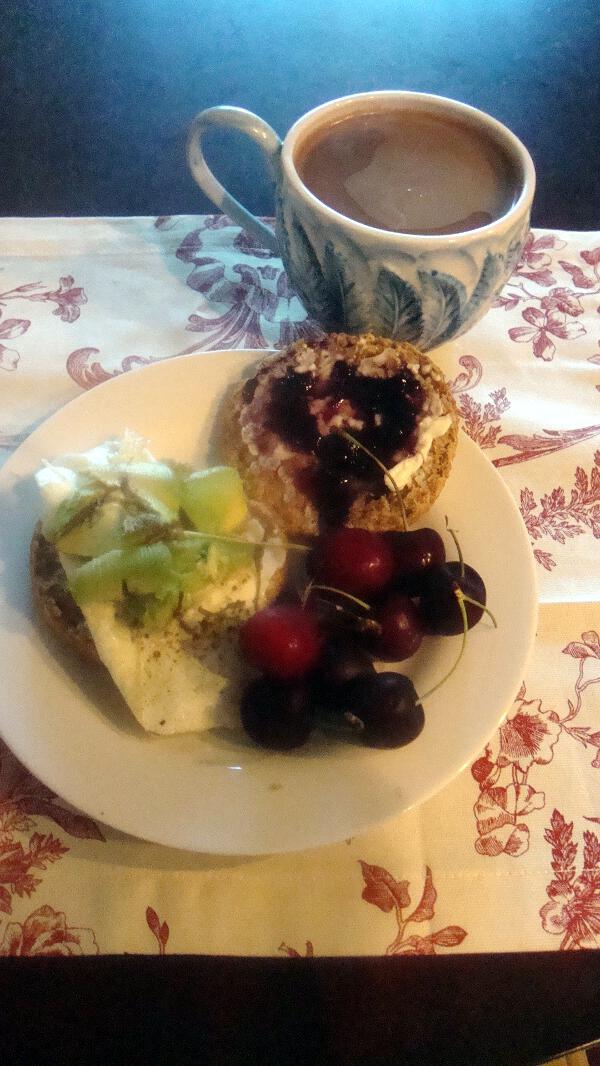 I immediately broke into my Food for Life sprouted English muffins.  I bought them yesterday at Earth Fare and really wanted to try them.  I slathered a Laughing Cow on both sides, the topped one with an egg over easy and 1 oz. of avocado.  The other I topped with a little blue berry jam.  A few cherries on the side made this breakfast so filling and delicious.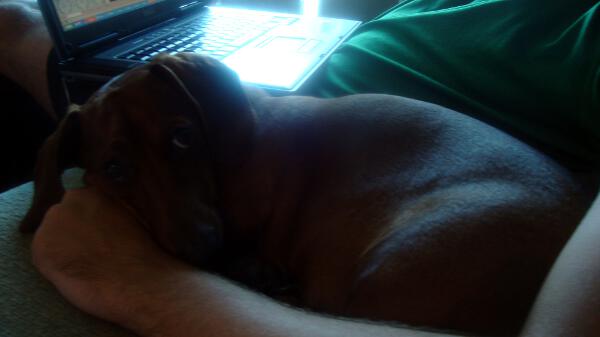 Brad and I chilled out the coach for most of the morning working on some blog-related stuff.  The other week, Brad changed my header but now he is working on a complete face-lift that I am so excited about. 🙂
This little guy was upset with me because I wasn't giving him any attention.  Rascal likes to mash himself against me when I'm on the couch, which I love except when I'm trying to type on the computer.  He always pushes against my elbow making it impossible to type for very long.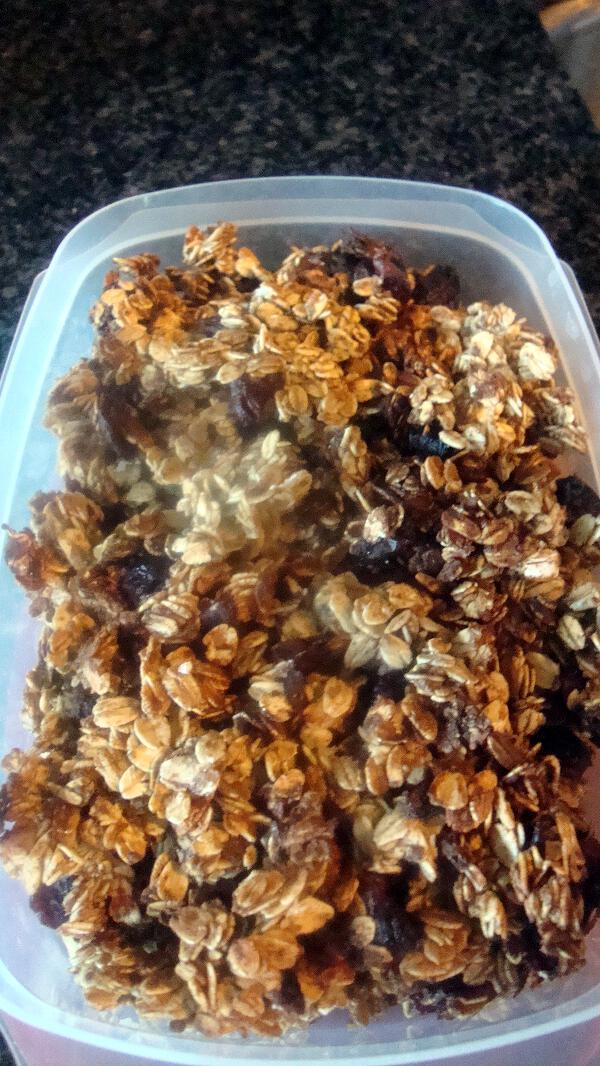 I also worked on a second batch of homemade granola.  I made granola two weeks ago, but didn't share the recipe because I thought it was just okay.  This version is much better.  I used…
– 3 cups of rolled oats
– 3/4 cup applesauce
– 1/3 cup dried cranberries
– 1/4 cup agave
– 1 tsp. cinnamon
Update: 1/4 cup flax seed meal (sorry, I forgot)
Mix up all ingredients, spread evenly onto a baking sheet, and cook for 25 minutes on 350 degrees, stirring once half way through.  Pretty easy right?  And not very many ingredients.
This will definitely be showing up tomorrow on some yogurt.
One thing I like about this version versus the last version I didn't share is that it has a lot more granola clusters.  The last version only had a bit of oil, but I didn't want to use too much, which caused it to burn quickly.  Using applesauce instead of oil means you can as much as you want and it helps hold the clusters together, if you like that kind of texture.
After my short baking session, Brad and I unwrapped all of our wedding shower gifts, which are now in the dishwasher being washed.  We also repacked all the boxes with things we need to get rid of like Brad's college dishes and all the wine glasses and beer tasting glasses we have picked up over the past three years.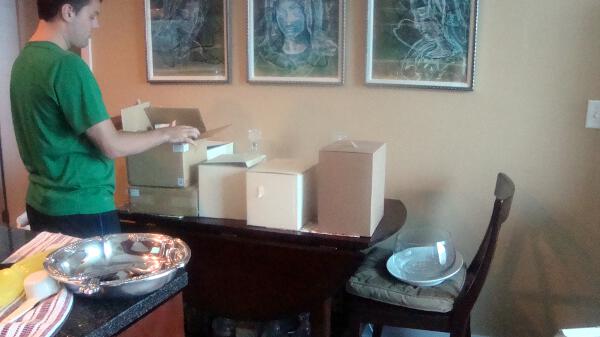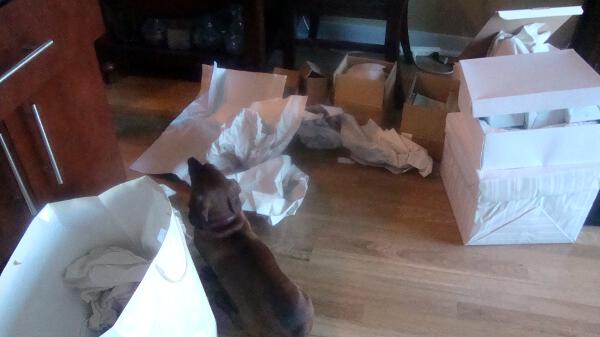 My guys are such a big help!
Around 11 am we headed off to try out a church that is only about two blocks away, returning afterwards for lunch.  We had plans to go to the mall and I had hopes of going to Earth Fare for their salad bar.  But Brad suggested we make lunch at home, which was really the better option since we had so many veggies to use up.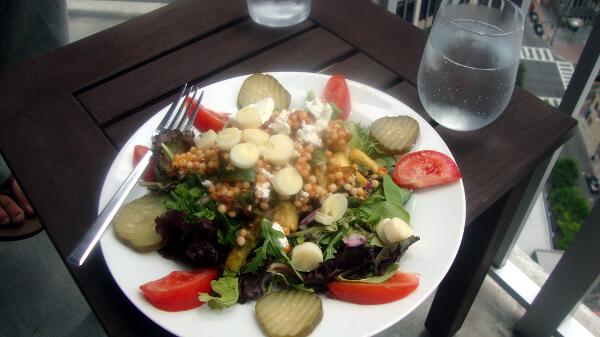 So, I improvised and made a salad worth of the Earth Fare salad bar.  On my salad was…
mixed greens and romaine lettuce
hearts of palm
sliced tomato
pickles (yes pickles!)
~1/2 oz. goat cheese
red onion
celery
parsley
green onion
It was soooo good, even if it was missing stuffed grape leaves, which is my favorite part of any salad bar.  Brad made a salad with chicken + all of my ingredients, sans pickles, hearts of palms, and couscous.
I had plans to workout at some point during the morning, but decided to take the day off to let my muscles rest after yesterday's 9 miler.
Hope your Sunday was a fun day!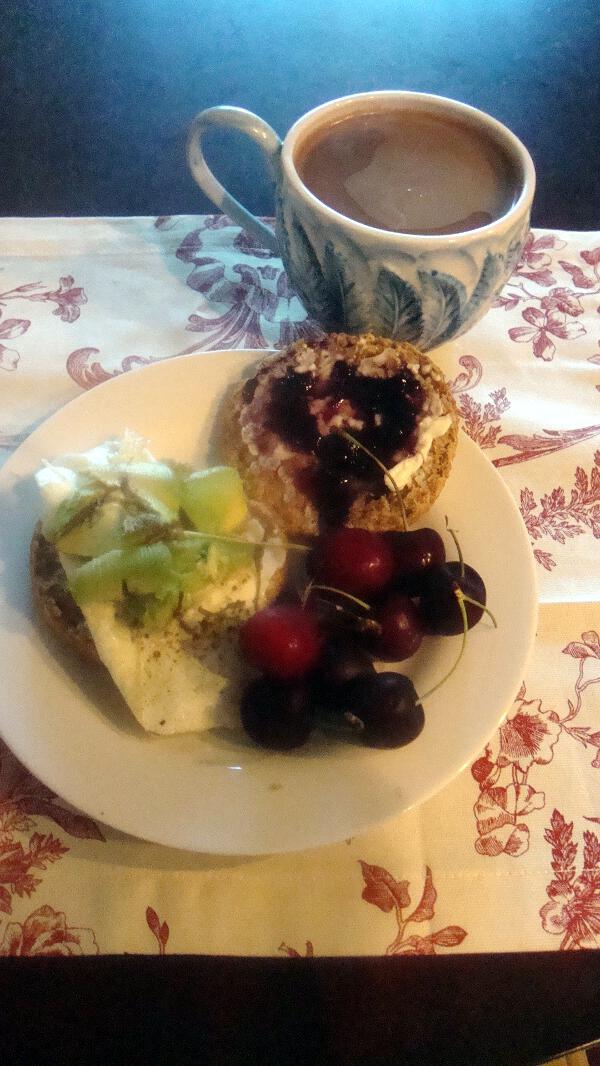 Ingredients
Directions