Yesterday was the final day of my sugar detox and boy was it delicious. 🙂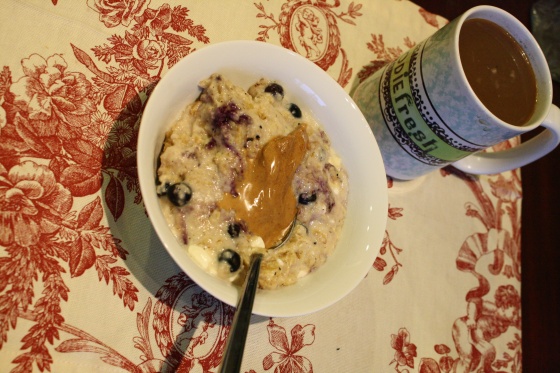 Breakfast –
1/2 oat bran, 1/2 kamut flakes cooked with 1/2 cup of water and 1/2 cup almond milk, with 1/4 cup cottage cheese and 1/2 cup blueberries (1st fruit) stirred in, and a big dollop of almond butter
Surprisingly breakfast was the least tastiest part of my day, which is not typical.  I can't put my finger on it, but something was lacking from this bowl of oats oat bran and kamut flakes.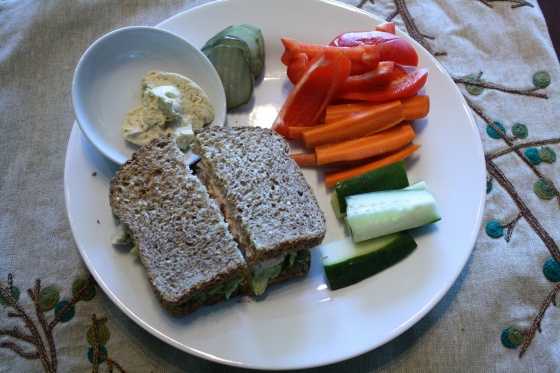 Lunch –
Two pieces of Ezekiel toast with tuna (plus a bit of light vegan mayo), a lot of avocado, cukes, carrots, red bell pepper, and garlic hummus
I never get tired of tuna fish sandwiches.  They've been a go-to lunch for me since I was old enough to eat solid foods.  Adding the avocado made this sandwich amazing.
I somehow managed to forget to pack any snacks, but  because Friday is a rest day for me, my appetite was a little less ravenous than usual.
I had grand plans to make something really delicious for dinner, but by the time 6:30 pm rolled around, I had lost all motivation.  So Brad and I decided to put one of our Living Social coupons to good use and have dinner at Customshop, one of our very favorite places in Charlotte.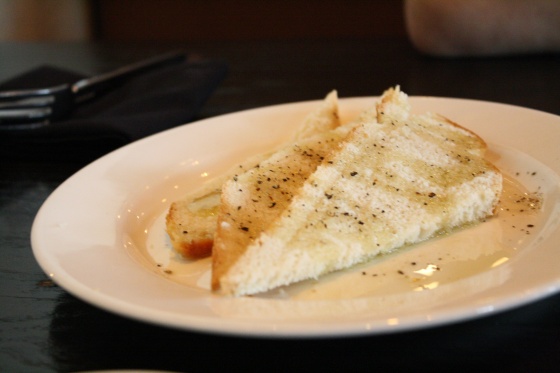 I didn't go wild, but since I began my sugar detox on a Friday night, I had ultimately completed the detox prior to dinner, so I allowed myself to eat what I want.
That included a piece of this grilled bread, drizzled in olive oil.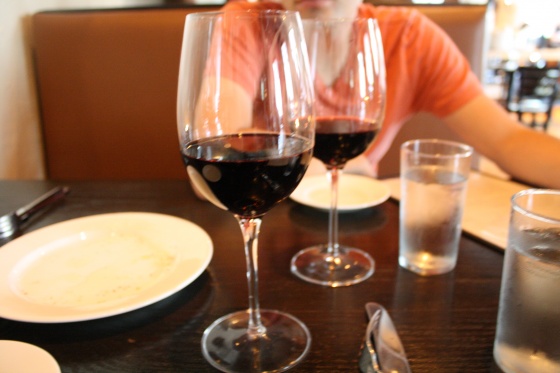 Customshop was out of the wine from Montelpulciano, Italy we ordered so they cut us a deal on a more pricey wine.  It was delicious and fruity.
Brad and I love to order wines from Tuscany because we took a wine tour there on our honeymoon.  I know very little about Italian wines, so I just look for the names of towns I recognize.  This strategy hasn't failed me yet.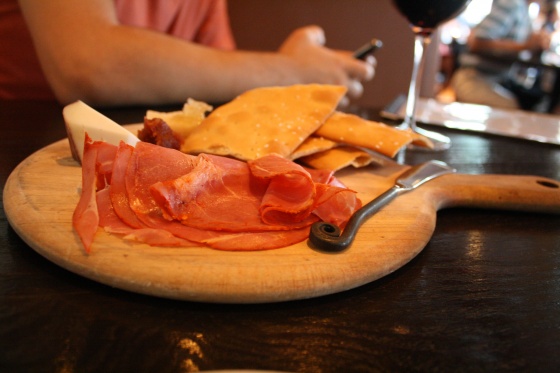 We shared a small cheese plate with Capacola, Drunken Goat, and Camembert cheese.  I had just a bit of the honey.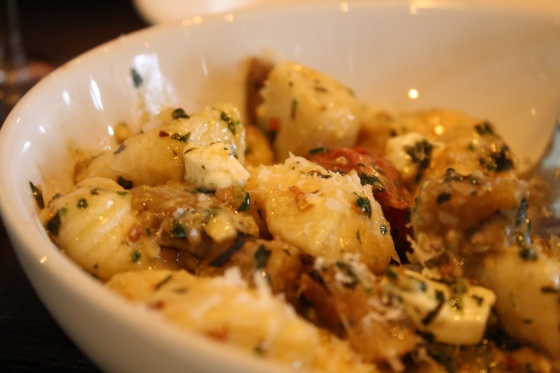 We also split a dish of ricotta gnocchi with eggplant and arugula.  This was definitely my favorite part of the meal.  I've never met a gnocchi I didn't like.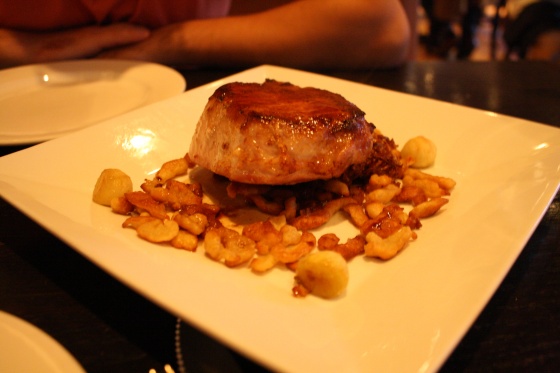 Last, we split a pork chop that came with apples, spaetzle, and carmelized cabbage.  It was moist and cooked perfectly.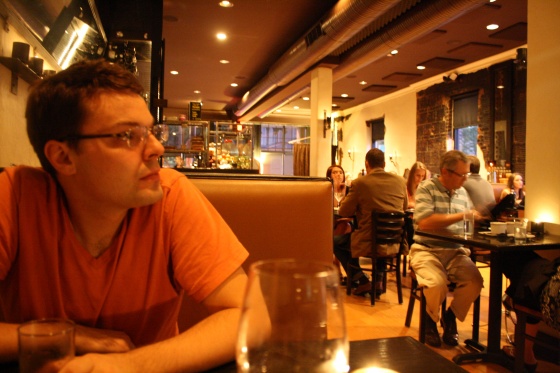 One of the things I love most about Customshop is how knowledgeable the staff is about the food they are serving.  I also love the care Customshop puts into making sure they are serving quality, local ingredients.  They can tell you exactly what farm harvested the vegetables on your plate and that the pork came from a pig that was raised organically and humanely.  And you don't have to ask because they will tell you this when you order.  Describing the origin of your food is just as important to them as telling you how delicious a dish is and how much it costs.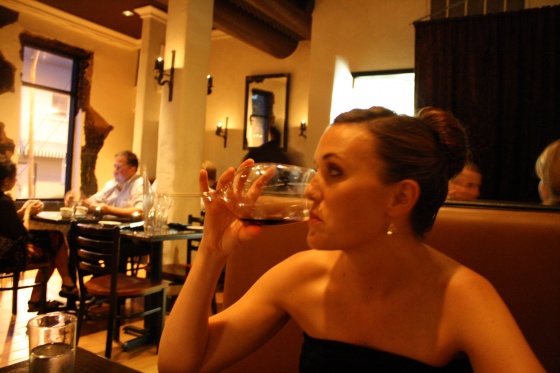 We had a delicious meal, good conversation, and great wine. What more could you want of a Friday night?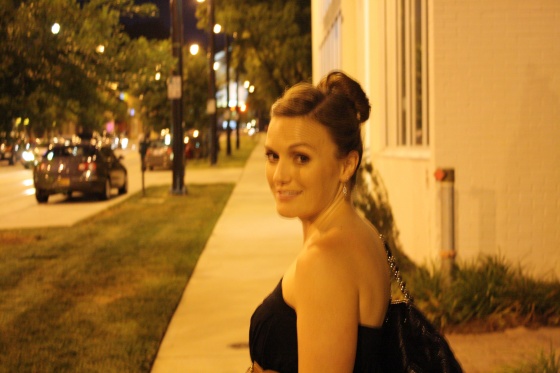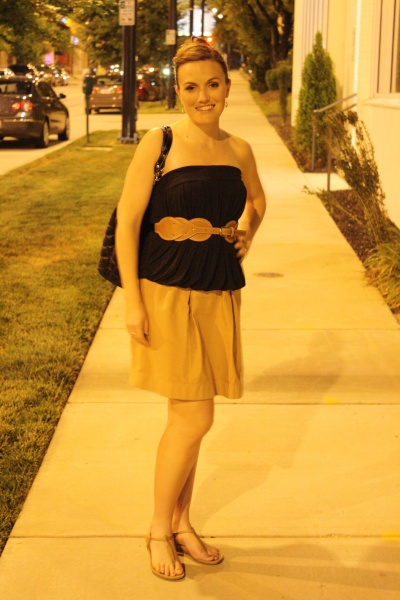 We turned in at the late late hour of 10:30 pm to get plenty of sleep before a busy Saturday. Clearly, we are party animals.
How did you spend your Friday night?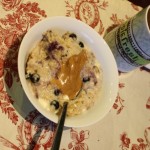 Ingredients
Directions