I've been battling a headache since noon today.  It came on during my hair appointment and I just can't shake it.
I thought some greens might help, so I had an Amazing Grass shake for a snack this afternoon, which was made up of:
1 cup of almond milk
1/2 frozen banana
2 scoops chocolate Amazing Grass
1/2 tsp. cinnamon
Yum, good!  It's like healthy chocolate milk!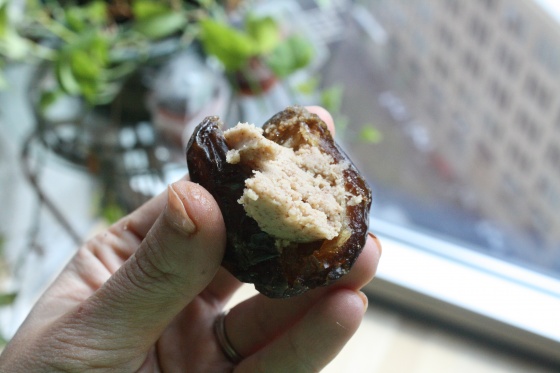 I also had two dates filled with raw almond coconut butter and an orange.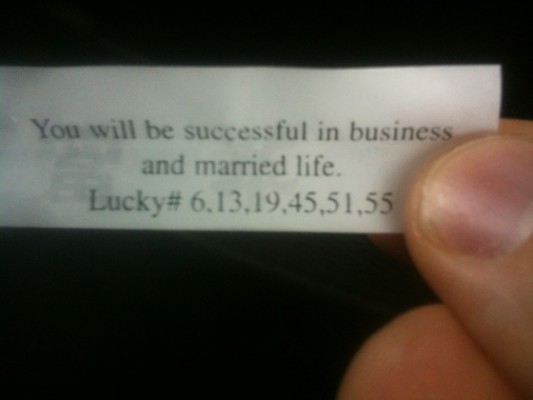 I had a good giggle when Brad texted me a photo of his fortune from lunch.  🙂
My head continued to hurt and I thought some fresh air might do me some good.  The rain stopped while I was in the salon today and the sun was starting to peak out from behind the overcast sky.  I grabbed Rascal and his leash and headed outside for a short walk.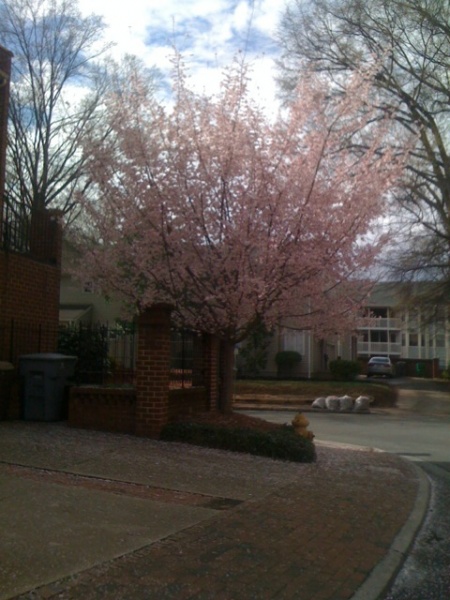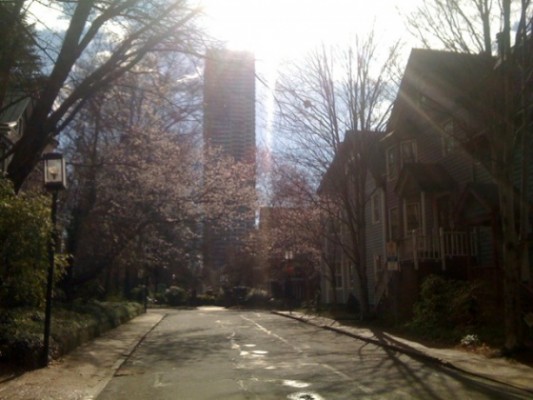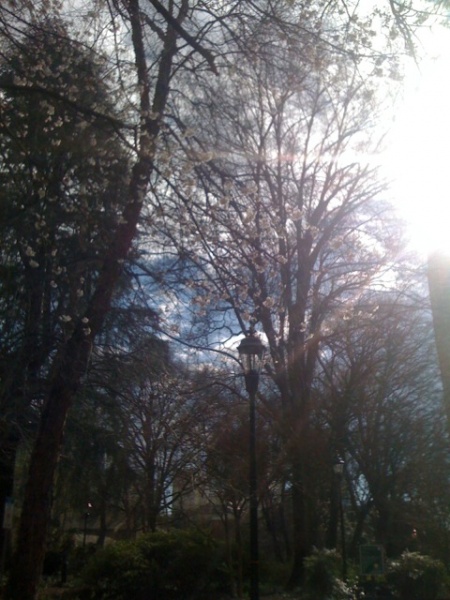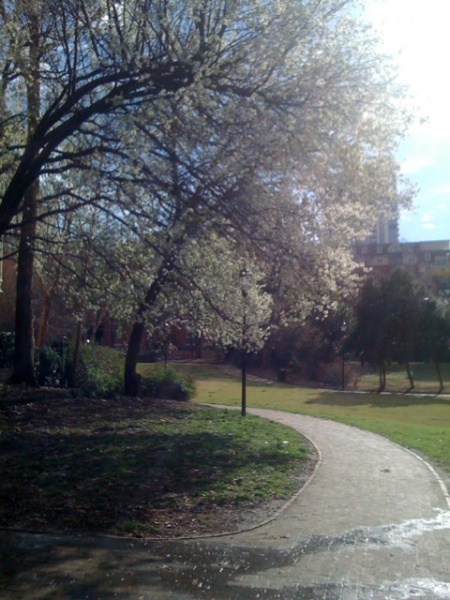 Spring has sprung in Charlotte!  That makes me so happy.  I couldn't resist taking some photos with my iPhone.  Not-very-good photos are better than no photos at all. 🙂
I returned home and attempted to nap off my headache, but first I did some reading to get me in the sleepy mood.  Lying down and reading always makes me sleepy.  I napped with Rascal, who is always up for a good nap (he's napping right now actually) for about 1 1/2 hours.
I woke up feeling refreshed, but my headache was still there.  :/
Since spring has arrived, I decided that I would spend early evening exchanging winter clothes for spring/summer clothes.  My closet is super small so I keep half of my clothes in our storage unit downstairs at all times and switch them out as the seasons change.
I brought up most of my spring/summer clothes, took the winter-y things out of my closet and made the switch.  It feels great to get that out of the way.
For dinner, I whipped up my vegan pesto.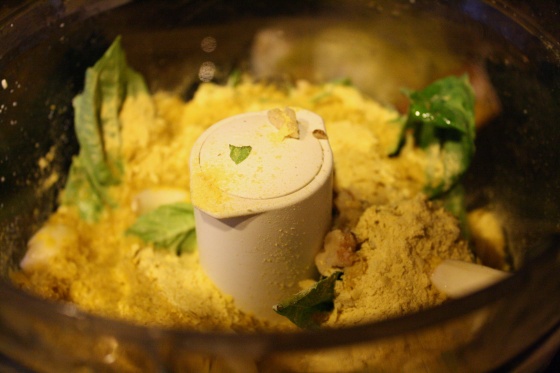 I discovered on accident one day, that if you're out of parmesan cheese, you can substitute nutritional yeast in pesto.  And voila, you have vegan pesto.
Vegan Pesto
3 cups loosely packed fresh basil (or all of the TJ's fresh basil package)
3/4 cup nutritional yeast
3 medium sized cloves of garlic
1/2 cup raw walnut pieces
1/2 cup extra virgin olive oil
3/4 tsp. salt
Blend everything together in a food processor…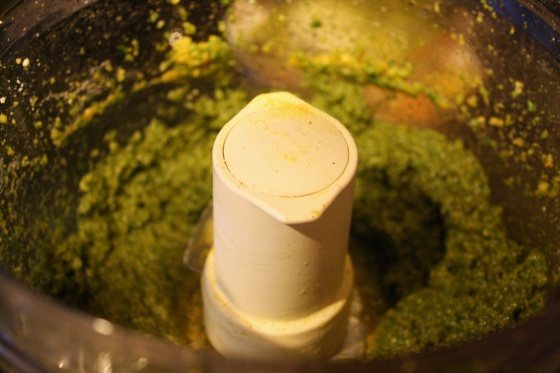 …and this is what you get!
Sometimes I make a pesto paste for spreading, by using less EVOO.  I use 1/3 cup rather than 1/2 cup for more of a paste-like consistency.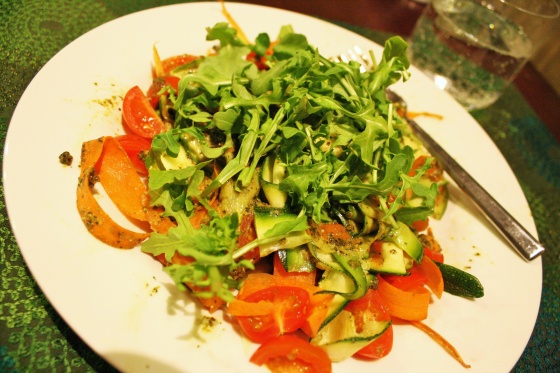 I used my pesto to make pesto veggie "pasta" for one.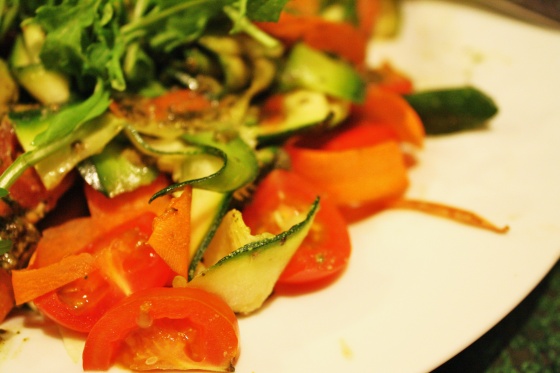 Pesto Veggie "Pasta" (serves 1)
1 zucchini
1 carrot
8 cherry tomatoes
1/3 of vegan pesto (~1/3 cup)
~1 1/2 cup loosely packed arugula (one big handful)
Use a veggie peeler to make zucchini and carrot ribbons.  Quarter cherry tomatoes.  Add pesto and toss until pesto covers all of the veggie "pasta".  Top with arugula and enjoy.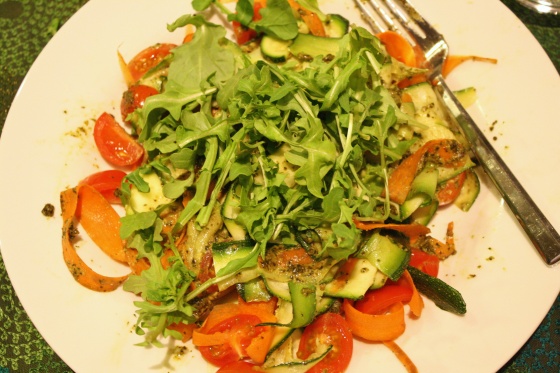 Yum! This was so delicious and fresh tasting.  But, it was also very filling.  I managed to eat all but about a quarter of this, which I packaged up for tomorrow.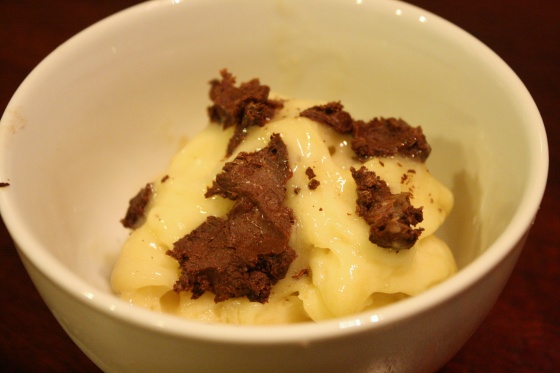 You know I had to save room for dessert. 🙂
I made banana soft serve by blending one frozen banana in the Vitamix.  Then, I whisked together one teaspoon of raw cacao with one teaspoon of coconut butter, which was my topping.  I love how hard and crunchy coconut butter becomes when it becomes in contact with anything cold.
If you attempt the raw cacao coconut butter mixture, you should know, it's not sweet at all.  I thought it went perfect with the sweet banana, but you might want to add a bit of the sweetener of your choice (maybe ~1/2 tsp? of agave or honey).
Brad just called to tell me his flight has been delayed and that he would be home later than expected. 🙁  Looks like I'm hanging out with Rascal tonight.  I had better wake him up and tell him. 😉
Has spring sprung where you live?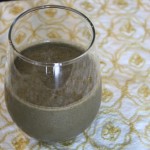 Ingredients
Directions