My afternoon snack…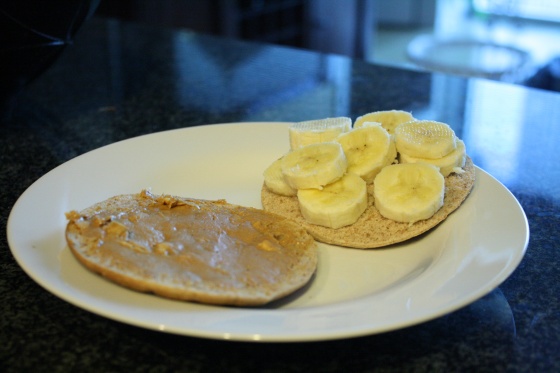 …PB and banana on toasted sandwich thins.  This still reminds me of PB Girl Scout cookies…D0-Si-Dos I think they're called. Have you ever noticed that no one knows the actual name of any of the Girl Scout cookies?  Except Thin Mints of course.
Gosh I was hungry by the time I got home and ate this.  My stomach had been growling for about two hours.  I've got to pack a more substantial lunch if I'm going to prolong my afternoon snack until I get home.  I've also noticed that if I'm starving when I get home, I also don't feel like working out.
Which is exactly what happened tonight.  Brad was too tired to go running and the power of suggestion was too strong for me.  Running is a priority tomorrow.
But tonight, I promised more interesting eats.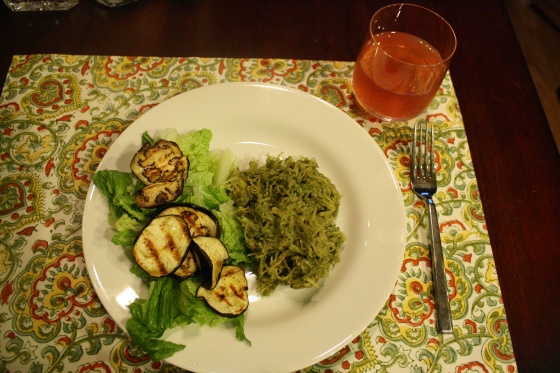 Pesto spaghetti squash and a simple salad with grilled eggplant.
Pesto (loose measurements)
~3 cups loosely packed basil
~3/4 cup grated parmesan cheese
~1/2 cup walnuts
~1 large clove of garlic or 2 small
~1 tsp. lemon juice
~1/2 tsp. Kosher salt
~1/2 cup EVOO (I just pour until it's the right texture)
Put everything except the EVOO in a food processor and process for about 30 seconds.  Slowly add EVOO until desired consistency.
I like mine a little less oily than most, but it's whatever you like.
I thinly sliced the last of my eggplant (about 1/2 large eggplant) and cooked on a grill pan lightly sprayed with EVOO from the Misto.  I used them to top romaine, then lightly splashed the veggies with olive oil, champagne vinegar (first time trying this!), and honey.
Two nights ago I cooked the spaghetti squash.  I had Brad cut it into fourths (sometimes these guys are really difficult to cut) the cooked it on 400 degrees until it starts to brown in the fleshy middle.  I never time this because spaghetti squash vary so much in size, you never really know how long it's going to take them to cook thoroughly. When these cooled, I put the fourths into gallon plastic bags in the fridge to save until tonight.  This works so much better than cooking them the day you want them because they take so long to cool.  I'm often too impatient and end up burning my fingers while I try to scoop out the flesh.
I mixed about 1/2 the pesto with 1/2 the spaghetti squash and saved the rest for later.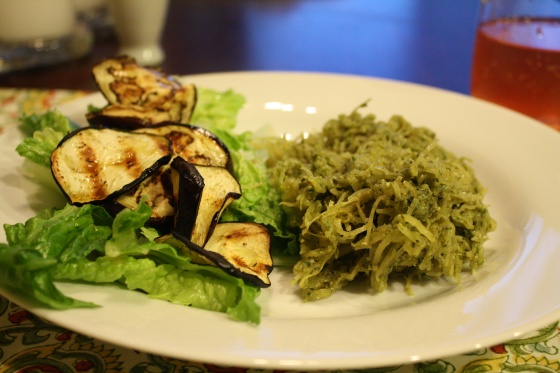 Brad, very melodramatically, rolled his eyes in the back of his head as he took bites of the pesto spaghetti squash.  I heard phrases like "This is awesome!" and "I have to call my parents and tell them about this," so I'm guessing he liked this.
This meal was super easy and I'll stand by my claim that pesto on anything is incredibly delicious.  Pesto spaghetti squash is going in the recipe vault for sure.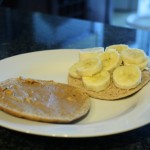 Ingredients
Directions