One day, a s'more and a brownie fell in love and decided to have a baby…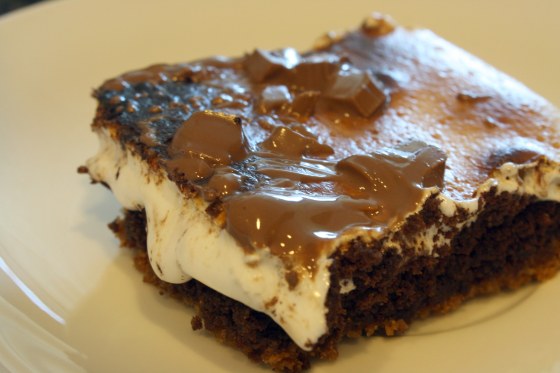 … a s'more brownie baby!
S'mores are one of those desserts that never really caught on in my family.  I always had them at friends' slumber parties every once in a while, substituting peanut butter when we had no chocolate.
On the other hand, brownies were a special treat we enjoyed from time to time.  It's one of my absolute favorite desserts.  I love good ol' plain brownies, fudgey and warm in the center.  But this dessert is so much fun because it's a blank canvas for adding toppings and mix-ins.  I took my love of s'mores and added it to my deep adoration for brownies and the two became a match made in heaven…er, well made in my kitchen.
S'more Brownies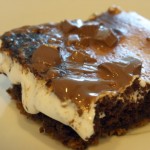 (Makes 12 Bars)Kelly Davis2011-08-30T11:53:18+00:00PT1H30MPT0H30MPT0H35M
This rich and decadent dessert has all the things you love about a s'more: ooey gooey marshmallow, sweet milk chocolate, buttery graham cracker crusty; but also has a fudgey brownie center. Use the oven broiler to toast the marshmallow to your desired level of toasted. I've found that people's preference for toasted marshmallows varies as much as how people take their coffee. Also, do not measure the marshmallow fluff, as it sticks to everything. Instead, estimate the amount you will need to spread evenly over the brownie layer, adding more as you like.
Ingredients
Graham cracker crust layer:
¼ cup brown sugar
10 graham crackers
8 tablespoon butter (1/2 cup or 1 stick), melted
Brownie layer:
1/2 cup unsweetened cocoa
1/3 cup all purpose flour
1/4 teaspoon sea salt
1/4 teaspoon baking powder
4 tablespoons butter (1/4 cup or 1/2 stick), melted
3/4 cup sugar
1 teaspoon vanilla extract
1 egg
1/4 cup milk
Marshmallow layer:
2 cups marshmallow fluff
4 ounces Swiss milk chocolate, chopped
Directions
Process graham crackers and brown sugar in a food processor. Add butter and process more until until mixture is thoroughly combined. Place crust mixture in a 9 X 13 cake pan and press with a spatula to distribute evenly. Make sure the crust is about the same depth throughout the pan.
Preheat oven to 350 degrees F. In a large bowl, mix the dry ingredients for the brownie layer: cocoa, flour, salt, and baking powder. In a small bowl, mix the wet ingredients: 1/2 stick melted butter, sugar, vanilla extract, egg, and milk. Add wet ingredients to the large bowl of dry ingredients and stir well to combine. Pour brownie batter over the graham cracker crust and use a spatula to distribute evenly. Cook for 30-35 minutes or until brownie mixture is almost completely firm to the touch.
Remove from oven and allow to cool for about 30 minutes.
Preheat oven to 500 degrees F on the broil setting. Add marshmallow fluff on top of the brownie layer and spread evenly with a spatula. Marshmallow layer should be about 1/4 - 1/2 inch thick. Place in the oven and watch carefully to brown as desired (mine toasted for 4 1/2 minutes resulting in very brown marshmallow in the middle and lightly toasted around the sides). Remove from oven when desired browning is reached and top evenly with milk chocolate.
Slice and serve after cooling.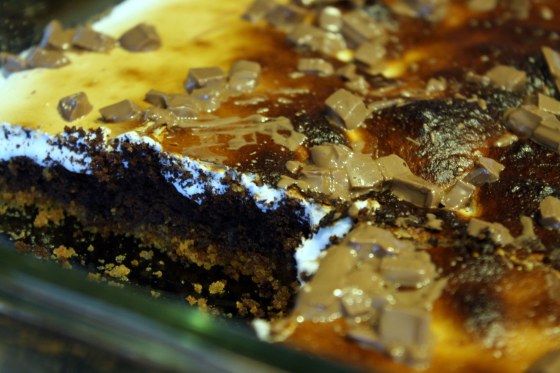 See the difference in the toasted marshmallow in the center versus the edges?
For more consistency, turn the pan a quarter turn every minute during the broil process.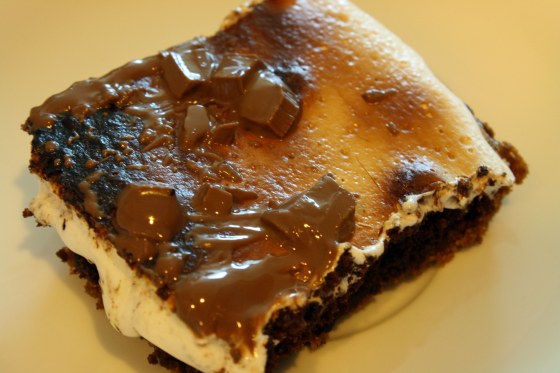 I prefer the variety of oozy marshmallow and slightly charred crunch. Don't you?
If you could combine any two desserts, what would you choose?