Tonight, Jennifer agreed to be my raw food guinea pig.
Up until this point tonight, I have never really made a raw meal except for smoothies and salads.  And even though I changed my mind at least 14 times trying to decide what I would make, I was up for the challenge.
On my first ever raw dinner menu: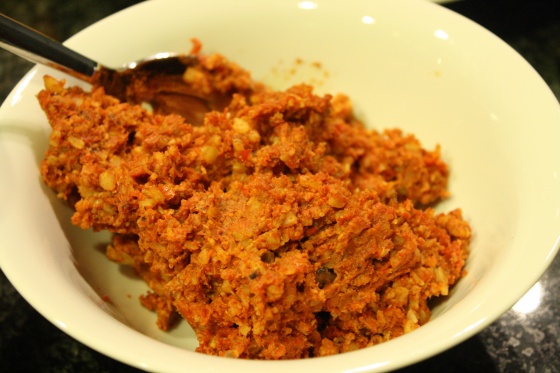 Raw taco filling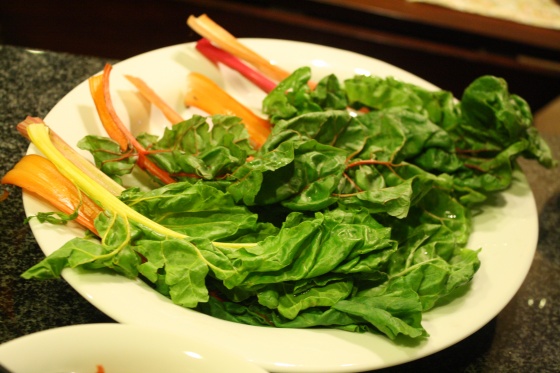 Rainbow chard, to serve as taco shell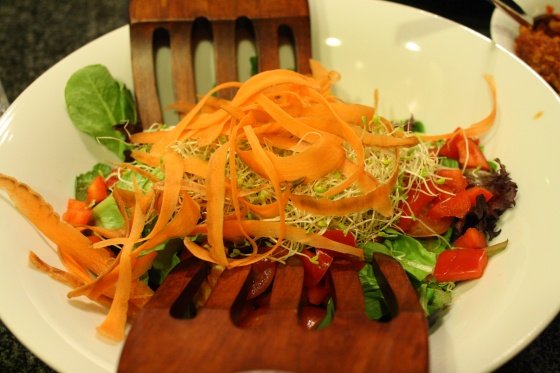 Salad for two
My plate after some assembling.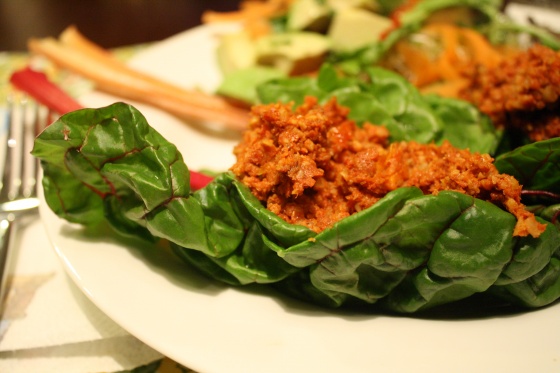 Raw Taco Filling
adapted from this recipe
1 cup raw walnuts
1 package of TJ's sundried tomatoes (soaked in water for at least an hour prior)
1 Tbsp. extra virgin olive oil
3/4 tsp. chili powder
1/2 tsp. cumin
1/8 tsp. cayenne powder
1/2 tsp. sea salt
Strain water from sundried tomatoes and add all ingredients to a food processor.  Blend for at least 30 seconds.  If needed, stop the food processor and scrape the sides of the container with a spatula and blend again, until all ingredients are mixed well.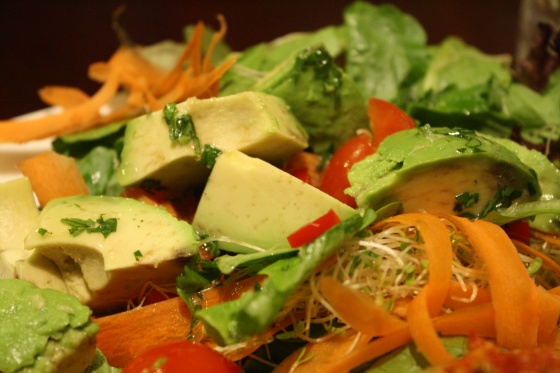 My salad was made up of mixed greens, alfalfa sprouts, carrots, cherry tomatoes, red bell pepper, and avocado.  I also made a cilantro lime vinaigrette to go along with it.
Cilantro Lime Vinaigrette

juice of 1 lime
1 Tbsp. grapeseed oil
2 Tbsp. chopped fresh cilantro
1/4 tsp. oragnic raw agave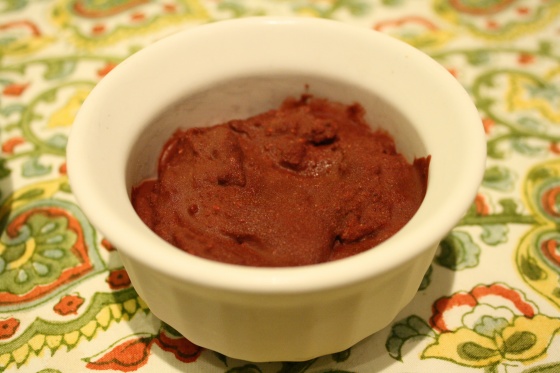 For dessert, I served Katie's Chocolate Raspberry Fudge Cake.  I'm a little confused as to how many servings the recipe is supposed to make, but I split the recipe between two small ramekins, one for me and one for Jennifer.
I basically followed her recipe to the T, except I used raw cacao powder and 1 Tbsp. organic raw agave.
I had a great time hanging out with Jennifer who was so nice to brave the yucky weather to come have dinner with me.  I'm turning in now so I can hopefully make it to an early circuit class tomorrow morning.
Plus, I owe Brad a phone call and Rascal a snuggle.  🙂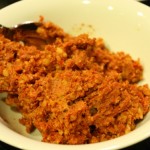 Ingredients
Directions