This is what I love about working from home on Fridays.  Besides the not driving an hour and not putting on makeup all day, I love being able to make lunch; having the whole fridge and my imagination to guide me.  I feel like packing lunches is so forced sometimes.  I have no idea what I'm going to want to eat the next day.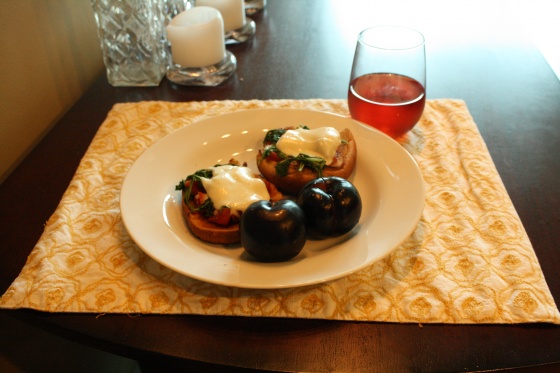 Today I tried to recreate a slice of pizza I had in Florence at a market.  I didn't use the thick pizza crust (almost like focaccia), but instead I used a whole wheat hamburger bun instead.  As a Food Buzz Featured Publisher, companies some times send us products to try, which we receive through Food Buzz.  These buns were made byNature's Pride.  They're pretty hearty and they taste great.  They're soft, but dense.  I thought they had quite a bit of sodium (250 mg), but Pepperidge Farm whole wheat is comparable.  They have 190 grams of sodium, but they're much smaller and have less calories. The calorie difference doesn't bother me because the Nature's Pride is heartier so they're more filling.  The real difference is the amount of sugar and carbs.  Nature's Pride has 31 carbs and 6 grams of sugar versus Pepperidge Farm's 18 grams of carbs and 2 grams of sugar.  Granted, sugar and carbs aren't a bad thing.  But for moderation's sake, I think if I was purchasing these with my own money, I probably would have went with the Pepperidge Farm's whole wheat hamburger buns.
However, I am thankful for the free samples.  🙂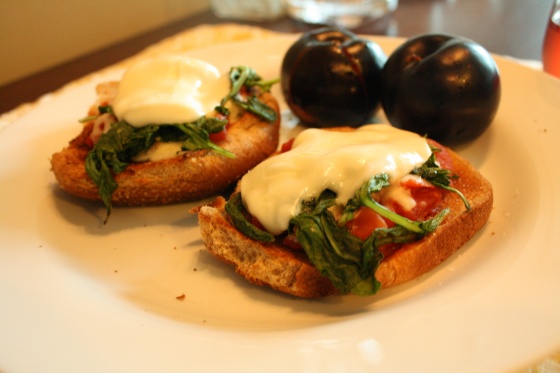 My "pizza" had..
– ~1/2 cup diced tomatoes (unsalted so I added salt)
– ~ 1/4 cup light mozzarella
– 1 big handful of arugula
– garlic powder
– 2 thin slices of buffalo mozzarella
– 1 Nature's Pride whole wheat bun
I toasted the bun then topped each equally with the tomatoes and then the light mozzarella.  I nuked this for about 30 seconds to melt the cheese.  Meanwhile, I sauteed the arugula in a bit of olive oil using the Misto.  I put the arugula on top of the cheese then put the small slice of buffalo mozzarella on the top and nuked again for 20 minutes.
I ate this with two ripe purple plums.
Pretty yummy.  Although I would love to try this again with fresh tomatoes and homemade pizza crust.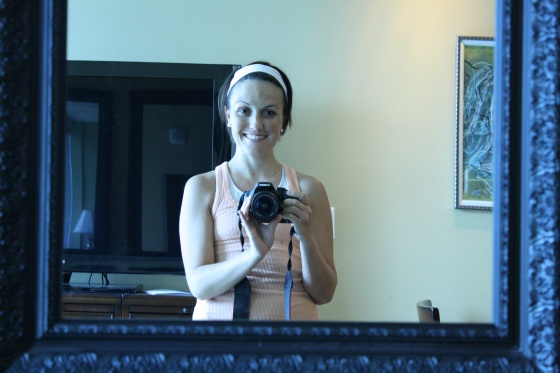 Brad told me I wouldn't photograph myself with no make up in my Friday wardrobe, but I did.  In your face Brad!
I usually put on workout clothes as soon as I get out of bed on Fridays, even though sometimes I don't workout until late afternoon.  Like today, I didn't workout until 3 pm.  I think it helps motivate me to actually have my workout clothes on.  Maybe that's silly but there's something psychological about it.  I've quit a workout many more times before I actually started then when I was dress and ready to go.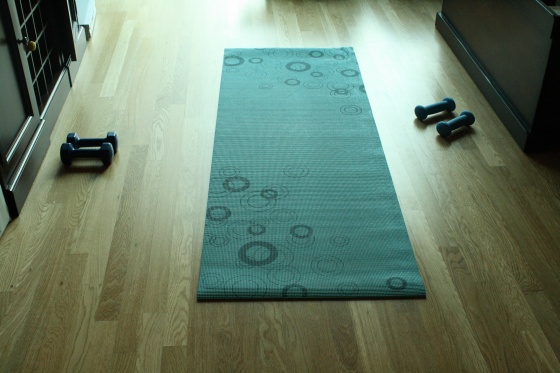 While I worked did strength training á la Jillian Michael's No More Trouble Zones…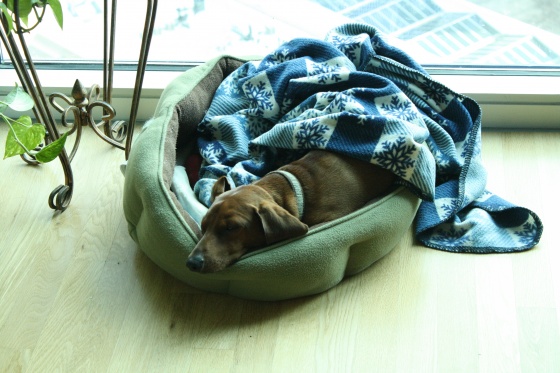 Rascal worked on his beauty sleep.
Now, my arms feel like jello and Rascal is pretty much in the same position, he's just switched to the couch.
He's resting up for a big night on the town.
That's right, I'm taking Rascal out tonight.  Stay tuned to see if he makes any friends or acts like his usual snobby self.  Hopefully he won't embarrass me.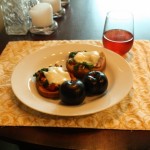 Ingredients
Directions