Work today went surprisingly quickly.  Since I got up early to work out today, I packed an apple as a mid morning snack.  Getting up at 4:30 means that I'm hungrier even earlier.  Put that on top of working out and I'm starving by lunch.
Luckily, I had a pretty delicious lunch in store for today.
Last night, I think I made Nutty Spicy Tofu with a few small changes.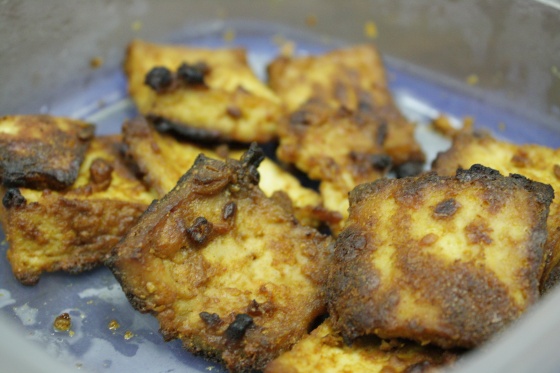 The New and Improved Nutty Spicy Tofu (makes 3 servings)
Prep time: minimum 35 minutes
Cook time: 25 minutes
1 block of tofu, cubed
1 Tbsp. toasted sesame oil
1 1/2 Tbsp. soy sauce
1 1/2 Tbsp. tahini
1 1/2 Tbsp. Sriracha sauce
1 tsp. Garlic Gold
1 1/2 tsp. TJ's seasoned rice vinegar
1/2 tsp. paprika
Press the tofu for at least 15 minutes to remove the water.  Mixed the marinade and allowed the tofu to marinate for at least 15 minutes.  Cook the tofu on a baking sheet at 400 degrees for 25 minutes.
Adding sesame seeds would be good too.  I was planning to do this, but completely forgot.  If you don't like spicy food, you may want to back off the Sriracha.  It's muy caliente.
A few small changes and this tofu became the best tofu I've ever had.  Seriously, it was that good.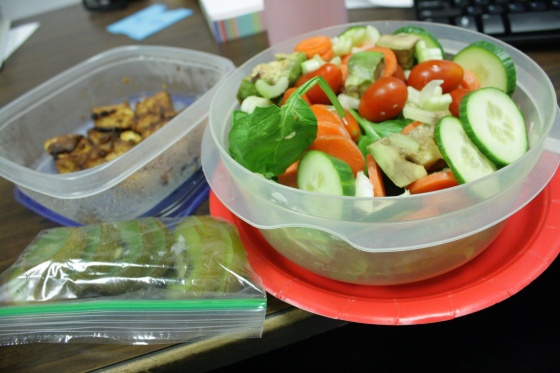 I took some of my delicious tofu to lunch today and ate it on top of a ginormous salad.
My salad was so big, I couldn't put all of the tofu in it at one time.  In the mix: romaine and spinach, cherry tomatoes, carrots, cucumbers, celery, avocado.
I also had two kiwis.  One of them was pretty mushy so I only ate half of it and trashed the rest.
I'm looking forward to a night in.  I have a soup recipe brewing in my head that I'm going to take a stab at when I get home.  Besides that I plan to cuddle with Rascal and watch television.  It's the simple things.  🙂
Ingredients
Directions