Almost every bean/legume soup I make goes something like this:
2 chopped carrots
2 chopped stalks of celery
1/2 chopped yellow or white onion
garlic (amount depends on how garlicky I'm feeling)
6 cups of vegetable or chicken broth
1 cup of dried beans/legumes or 2 cans of drained beans
Bunch of fresh herbs I happen to have on hand or some dried herbs
salt and fresh ground pepper
If the beans or legumes (split peas or lentils) are dried, I cook them forever and ever or add them to a crock pot anywhere from 4-8 hours on low.  If I'm using canned beans, I can whip this soup up on the fly.
I guess my point is — folks, I am making all of this up as I go along.  And you should try it too!
Taste as you go and remember that you can always add more but you can never take back.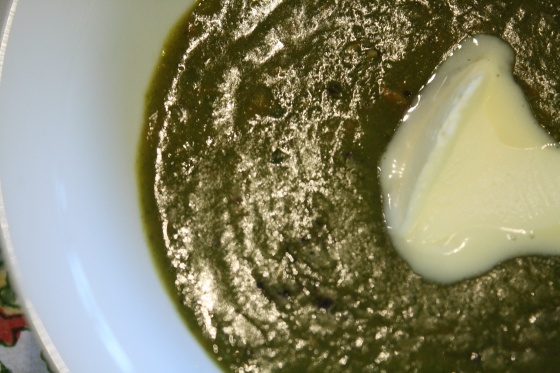 And such was the base of my super green split pea soup.
Super Green Split Pea Soup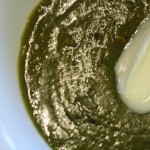 (Serves 6 bowls)Kelly Davis2011-03-30T19:06:42+00:00PT5H0MPT4H0MPT1H0M
Ingredients
1 cup dried green split peas
6 cups vegetable broth
2 carrots, chopped
2 stalks of celery, chopped
1 cup frozen spinach <-- what made this soup super green
1/2 yellow onion, chopped
3 garlic cloves, minced
3 Tbsp. fresh parsley, chopped finely
2 Tbsp. fresh fennel, chopped finely
salt and pepper to taste

Directions
Put split green peas in at least four cups of broth and allow to cook on low for about four hours. Sautee veggies and garlic except spinach in a bit of extra virgin olive oil. Once onion starts to brown, add all vegetables, including the spinach. to the crockpot. Add remaining broth and herbs. Salt and pepper to taste.
Serve immediately or turn crockpot on buffet and serve whenever you wish. Soups only get more delicious the longer they marinate in their flavors.
I chose to blend this soup with my immersion blender, but it would be delicious unblended too. If you do not have an immersion blender, you can also use a regular blender or a food processor.
I added a little creme fraiche (the French's answer to sour cream), the last half glass of a bottle of Bourdeaux and a bit of French bread.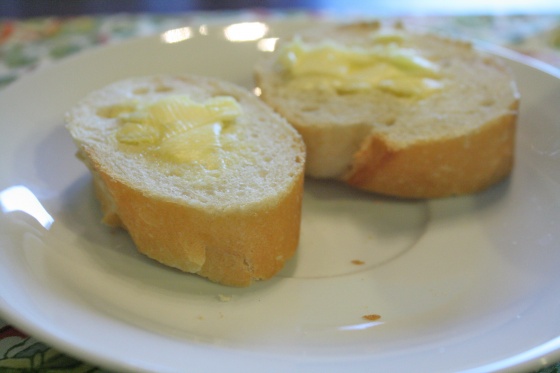 Yum, butter.  Just a bit goes a long way.
If you're wondering about herb and spice combinations, I like:
thyme + parsley + oregano
parsley + fennel + thyme
oregano + basil
oregano + rosemary + thyme
cilantro + cumin + dash of cayenne
curry + garam marsala + cilantro
And you can add red pepper flakes to just about anything for a nice kick! Add all of these 1 tsp. at a time and taste.  For the red pepper flakes and curry powder, you might want to start off with 1/4 of a tsp.
Brad and I spent the rest of the evening at the new house.  He finally finished stripping one of the windows, which we're restoring.  Meanwhile, I walked Rascal all around the neighborhood for about an hour until it was completely dark.
We scurried home so I could write my Savor NC blog post — nothing like waiting until the last minute. 😉
And here it is!  If you've been reading Foodie Fresh for a while, you'll remember my posts about homemade tortillas.  It's an oldie, but a goodie. 🙂