In my last post I said I made a few more things on my day off.  Not to keep any good things a secret, here are two more for the recipe vault.
First up, warm goat cheese potato salad.
I have never like potato salad and it took me a long time to figure out why.  It turns out that I don't like cold potatoes.  So why can't I heat up potato salad?  Well it turns out I can.  And I can also mix it with goat cheese to make it more delicious.
Our friends who just had a baby that we visited on our way back from Brad's parents gave us about 2 pounds of mini russet potatoes.  I quartered them and boiled them until they were soft in salted water for about 20 minutes.  I then added half a bag of frozen green beans that had been hanging out in the freezer for quite a while.  The potatoes and green beans boiled for about 5 more minutes.  I then strained them in a colander, then put in a large glass bowl.   In went 2 oz. goat cheese and 1/4 cup Kraft fat-free mayo.  I quartered about 10 cherry tomatoes and added, along with 1/4 cup chopped green onions and 1/4 cup chopped parsley.  Salt and pepper to taste.  Re-heat if needed before serving.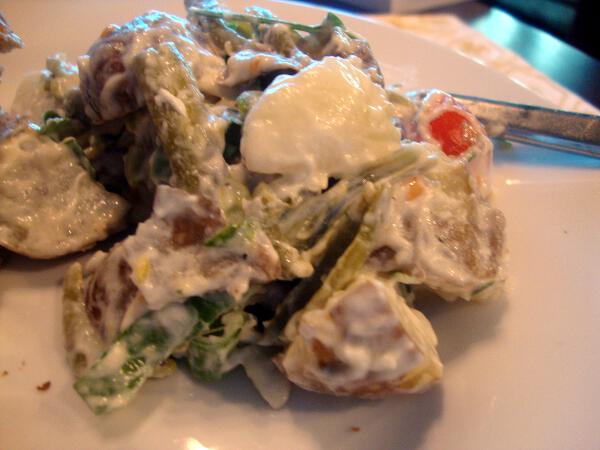 I served this to Brad with some leftover ground lamb, which I mixed with leftover tzatziki sauce and put on a whole wheat bun.  The lamb was sauteed with onion powder, garlic powder, and dried rosemary in about a tsp. of olive oil.  Brad called it a "lamby joe" instead of a sloppy joe.  If I knew the Greek equivalent of Joe, I would have had a better name.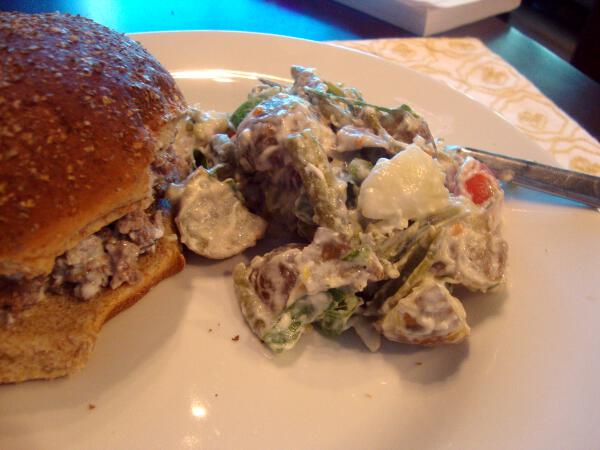 But the real star of the show was another take on my date truffles, which is really just a homemade round Lara Bar.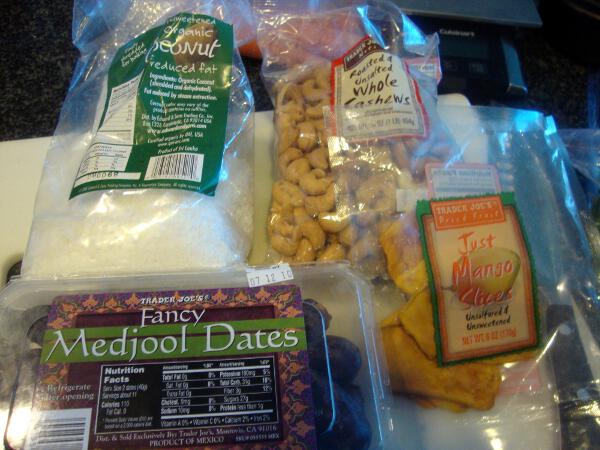 Ingredients:
1 bag of dried banana chips – 2 servings per bag (not pictured)
50 g dried unsweetened mango (about ten 1 1/2-2 inch slices)
30 g unsweetened reduced fat dried coconut (about 8 Tbsp.)
2 oz. salted cashews
150 grams Medjool dates (about 10 dates)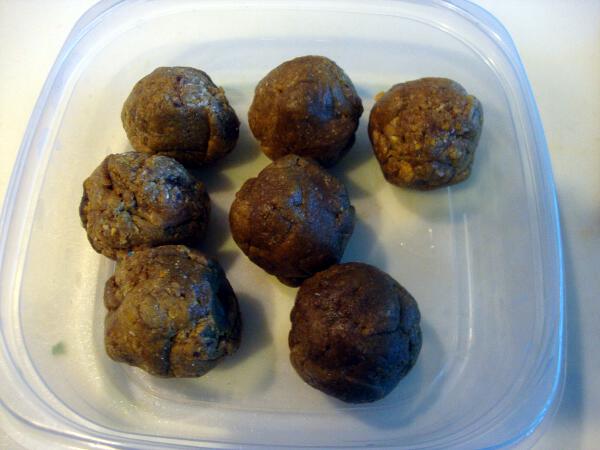 I ground everything finely in the Vitamix, which I will never do again.  They turned out the perfect consistency, but the dough got so hot that I had to stick it in the freezer to keep from burning my fingers.  Also, it's really difficult to get dough-like substance out of the bottom of the Vitamix.  From now on, I'm sticking to liquids in the Vitamix and solids in the food processor.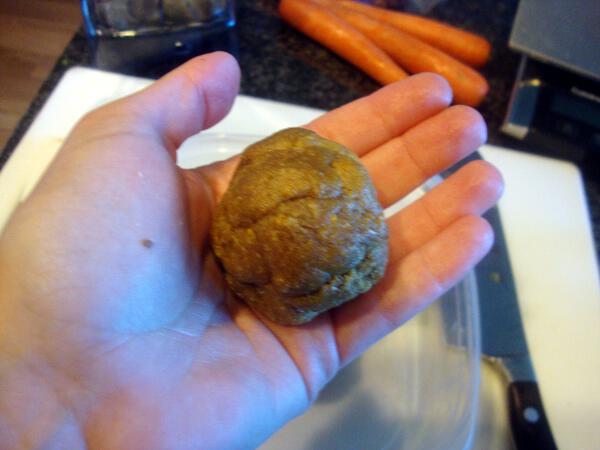 I rolled the dough into 6 truffles and refrigerated.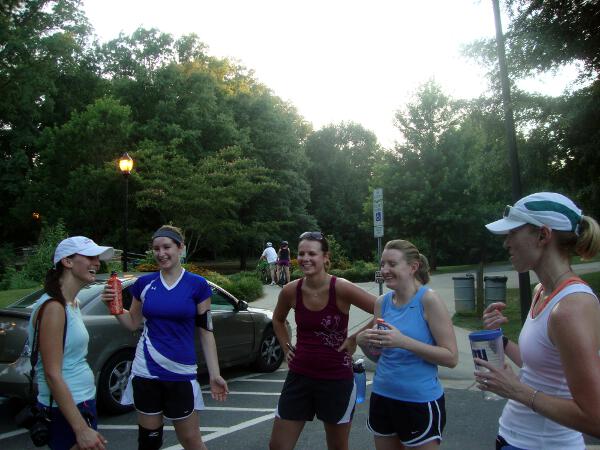 The next day, I served some to these lovely ladies pre and post run.  From left to right: Caitlin, Lauren, Jessie, Brittney, and Jen.  Caitlin, Jen, Lauren and I had a leisurely run, while Brittney and Jessie walked, later joined by Lauren.  Mine and Jen's Garmins had some issues but Caitlin's told us we did about 5 miles.
It was great getting to meet Caitlin and spending some time with the rest of the girls! 🙂
On the way home, I could not stop thinking about pizza.  But somehow that morphed into grilled chicken flatbread and wine.  I called Brad to tell him to meet me downstairs for dinner, but he was already at a restaurant a couple of blocks away because it was a coworker's birthday.  I was way too gross and sweaty to go in a restaurant and was thinking more sit outside and scarf down a slice of pizza so my smell doesn't drive other restaurant goers away.
We finally decided he would meet me at Press.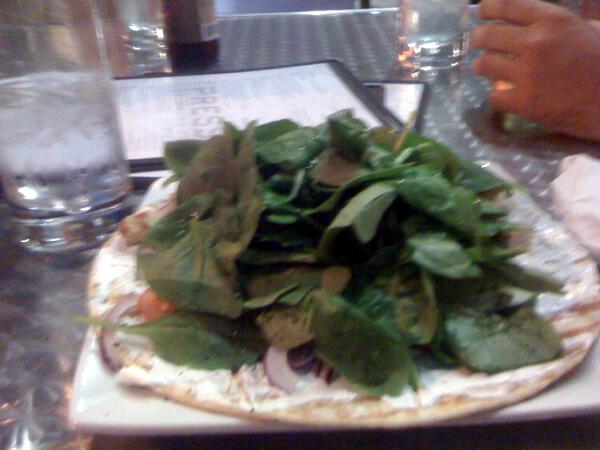 I really like Press, which is part of the Sonoma restaurant group here in Charlotte.  They have a lot of small plates (slightly bigger than tapas) and a whole sushi menu.  I went back and forth between many things because everything sounds good when you're really hungry.  I finally decided on this flatbread since I had originally wanted pizza.  Underneath the mound of spinach is flatbread with tzatziki sauce, feta, cucumbers, and grilled chicken.  I asked for it sans olives.  I really hate olives.  Wine was also part of the equation.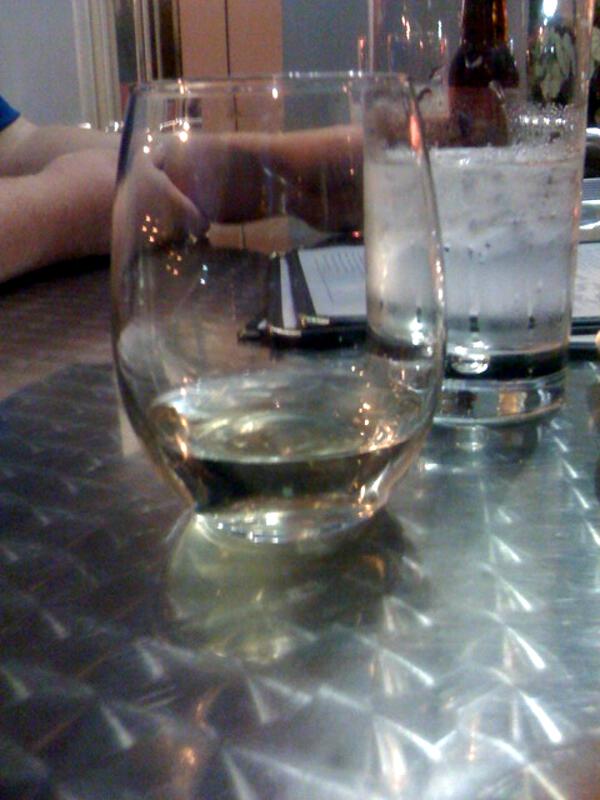 Little glass of wine, half drunk up.
Brad brought the birthday boy with him as well and we hung out for about an hour before turning in for the night.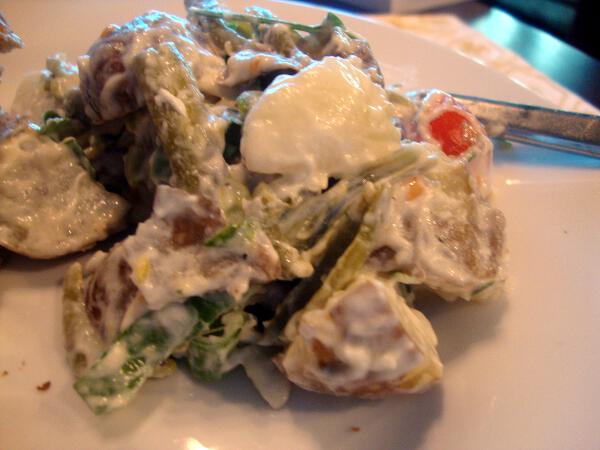 Ingredients
Directions