Sometime last week, Brad mentioned that he really wanted some kind of pasta dish for dinner one night.  I am not the biggest fan of pasta (I like it, I just don't crave it) so pasta doesn't typically come to mind when I'm thinking about what to cook for dinner.
Simple marinara over pasta sounded so boring to me, even if veggies were thrown into the mix.  Instead, I decided to come up with something new and inventive. Something I have never made before.  Something I was just going to make up willy-nilly as I go along. 😉
I give you, Layered Pasta Bake.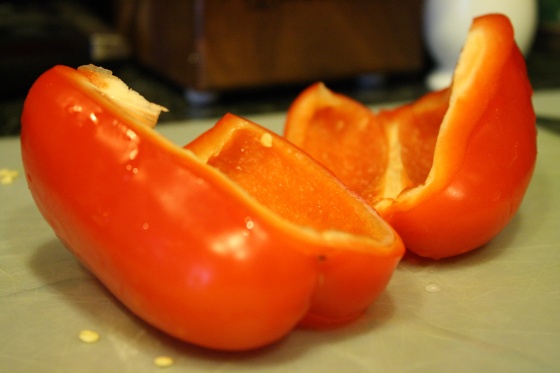 First, I removed the core and seed of one red bell pepper and placed directly on the oven rack (you could use a baking sheet).  There were broiled on 500 degrees F until the skin starts to look charred in some places.
I also cooked a package of pasta (I used brown rice fuesli pasta) in boiling salted water.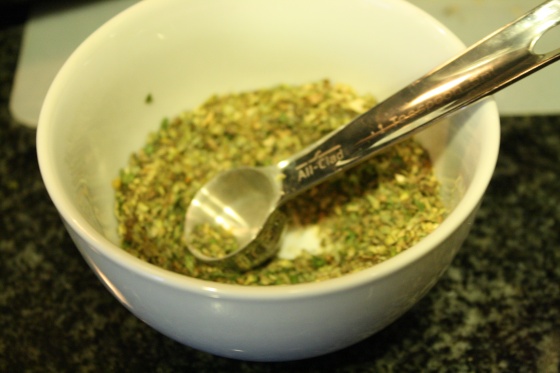 Next, I whisked together an herb and spice mixture of thyme, basil, parsley, oregano, garlic powder, onion powder, and salt.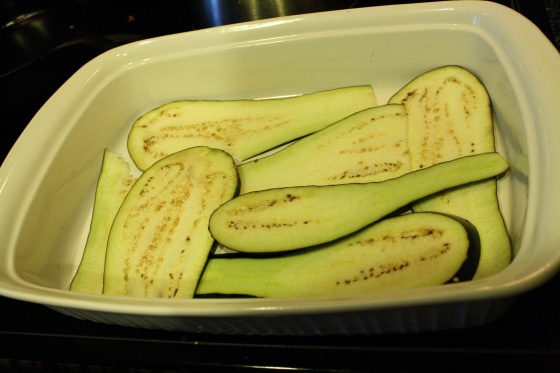 I then sliced an eggplant thinly and covered the bottom of a casserole dish with the slices.  I used about 1/2 of a large eggplant.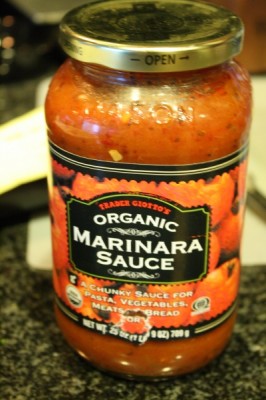 My eggplant layer was evenly topped with a cup of marinara sauce.  I like TJ's organic version because it has very little sugar.  Only 3 grams per half cup.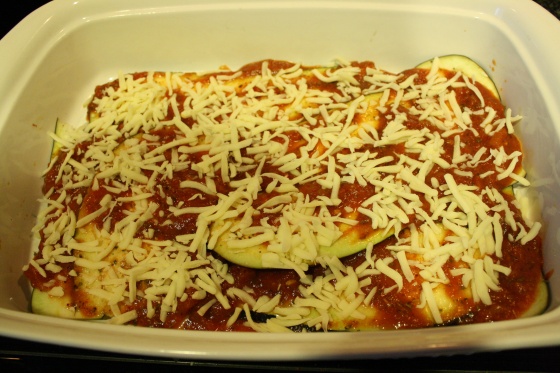 I sprinkled a few pinches of herb and spice mixture over the eggplant, then topped the marinara with about 1 cup of mozzarella.  I used TJ's organic version.
When the pasta was cooked thoroughly, I spooned about half of it over the cheese as the next layer.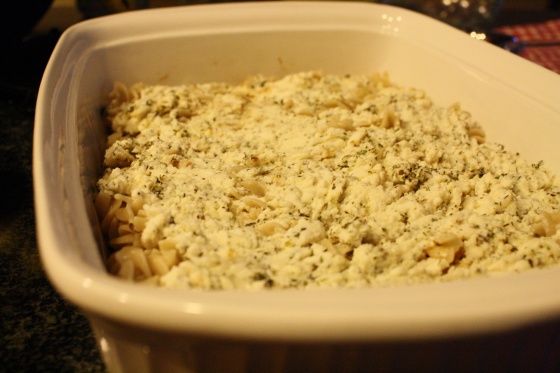 Next, I mixed a 15 oz. container of ricotta cheese (I used fat free)  with about 1/2 of the remaining herb and spice mixture.  I spread the ricotta mixture evenly over the pasta using a spatula (the scraping kind, not the flipping kind).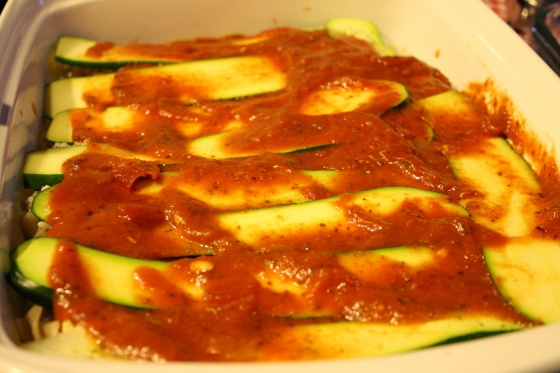 I thinly sliced two zucchinis and layered them evenly over the ricotta cheese, sprinkled more herb and spice mixture on the zucchini, then topped with one more cup of marinara.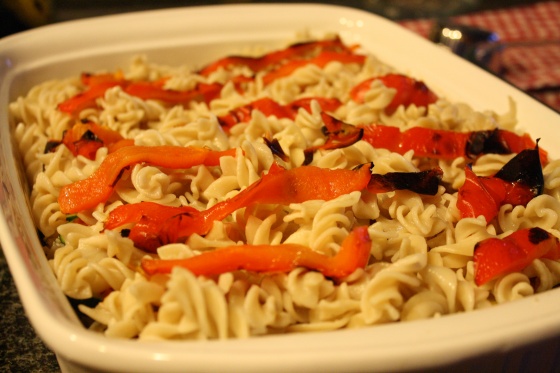 Then, I topped the marinara with remaining pasta and sliced roasted red bell pepper.
I sprinkled another cup of mozzarella cheese over the pasta and  baked on 350 degrees F for 30 minutes.
Then it was time to make almond pesto paste.  This was made up willy-nilly as well.  I only had about a tablespoon of Parmesan cheese so I subbed in nutritional yeast because of it's cheesy quality.  I also had no walnuts (which I usually sub for pine nuts) so I used almonds.  I soaked them for a bit since their flesh is tougher than walnuts typically.
I removed the dish from the oven and spread about half of the almond pesto paste evenly over the top.  I didn't completely cover every space, just enough so that most bites would get some pesto.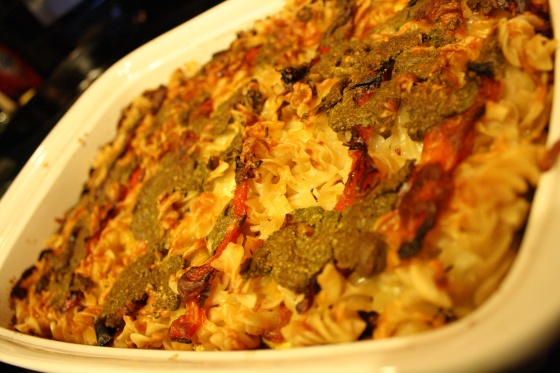 This continued to cook for 30 more minutes.  The pesto will turn brown.  If this bothers you, add the pesto last after cooking is complete.  The top pasta layer will get crunchy, which I like.  If you do not like a crunchy pasta layer, cover the dish with aluminum foil before putting it into the oven.
Before serving, I sliced it into individual servings with a knife before using a serving utensil to remove, so that I could cut through the eggplant and zucchini.  I topped mine with a bit of Parmesan cheese.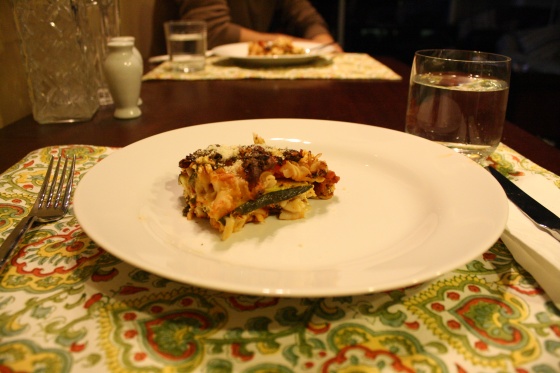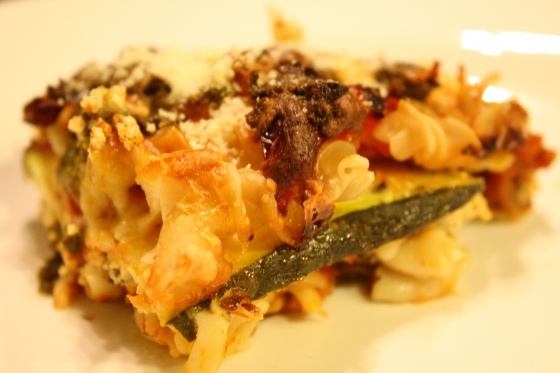 I actually loved this.  The layers were spot on and it had just enough herbs, cheese, and marinara give it a really nice flavor.  Plus, I love anything with pesto.
I know this was a home run because Brad put up very complimentary comments about it on Facebook.  He always compliments my cooking, but the test is if it's Facebook worthy.
(Recipe at the end.)
Now onto the good part.  Which cupcake did I choose from CupCrazed?
There were so many!
I just had to get a chocolate one and you know PB and chocolate is God's gift to Earth.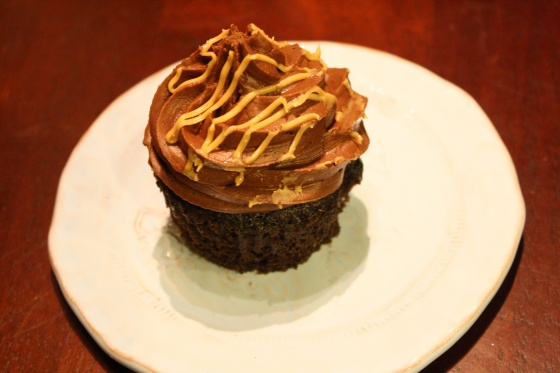 I split this ball of deliciousness with Brad who agreed that the cupcake was heavenly (my words, not his).  I was a little surprised Brad liked it because it was heavy on the icing.  And by heavy, I mean perfect.  A 1:1 ratio of icing to cake is the perfect amount for me.
Layered Pasta Bake (serves 8)
1 16 oz. package of brown rice pasta (or pasta of choice)
2 cups marinara sauce
2 cups mozzarella
15 oz. package ricotta cheese
1 eggplant
2 zucchini
1 red bell pepper
herb and dried spice mixture:
2 tsp. parsley
2 tsp. oregano
2 tsp. basil
2 tsp. thyme
1 1/2 tsp. salt
1 tsp. onion powder
1 tsp. garlic powder
almond pesto paste:
3 cups basil leaves
3/4 cup nutritional yeast
1/2 cup almonds, soaked for 15 minutes in water
1 clove of Elephant garlic or 3 regular cloves
1/3 cup of extra virgin olive oil
Cut red bell pepper in half and remove core and seeds. Roast on 500 degrees F under the broiler until slightly charred and slice into strips once cool.  Cook entire package of pasta in salted boiling water until desired tenderness (I don't like al dente pasta so I cook thoroughly).  Slice zucchini and eggplant into thin uniform slices.  Mix ricotta cheese with 1/2 of the herb mixture. Make pesto and set to the side.
Layer in the following order in your casserole dish:
egg plant,
1/4 of herb mixture,
1 cup marinara,
1 cup mozzarella,
1/2 of pasta,
ricotta herb mixture,
zucchini,
1 cup marinara
other 1/2 of pasta
red pepper, sliced
1 cup of mozzarella
1/2 of pesto paste
Notes: You can make only half of the pesto if you only want enough for this dish.  I know I'll use the rest layer so I made the whole recipe. Also, feel free to layer as you wish.  The same flavors will still be there if you use the same ingredients.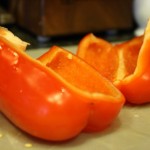 Ingredients
Directions