Last night's meal was all about the BASIL!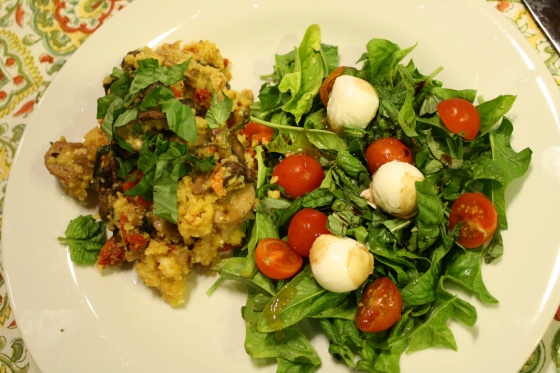 On the menu: Italian Polenta and Green Caprese Salad
I actually made this meal last night, but when Brad walked in from his grocery store run to get me parmesan cheese with hot dogs, beer, and salt and vinegar kettle chips, I promptly deposited my almost-cooked meal in plastic ware.
You may be surprised to know that I actually love hot dogs.  The messier the better.
Italian flavors are often much better when they have had a chance to sit and soak in to all of the ingredients.  So I do recommend making this, then eating hot dogs for dinner. 😉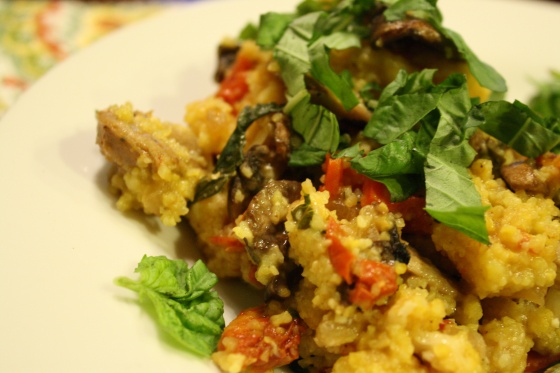 Italian Polenta (serves 4)
1 cup polenta
1 quart (4 cups) vegetable or chicken broth
2 pre-cooked spicy Italian chicken sausages, sliced
1 red bell pepper, chopped
1/2 cup white onion, chopped
1/2 cup fresh basil, chopped (plus more for garnish)
3 Tbsp. sun-dried tomatoes, chopped finely
1/2 cup grated parmesan cheese
1 tsp. garlic, minced
1 tsp. extra virgin olive oil
1/2 tsp. sea salt
Bring broth to a boil and add polenta, cooking until the polenta has absorbed most of the liquid.  Add oil or spray onto a medium high heated pan or skillet.  Add onions, peppers, and garlic.  When onion begins to soften, add sausage and cook  until sausage begins to brown.  Add sun-dried tomatoes and basil and cook for one more minute.
Add Parmesan cheese to polenta and stir.  Add sausage and vegetables to polenta and stir to incorporate all the ingredients throughout.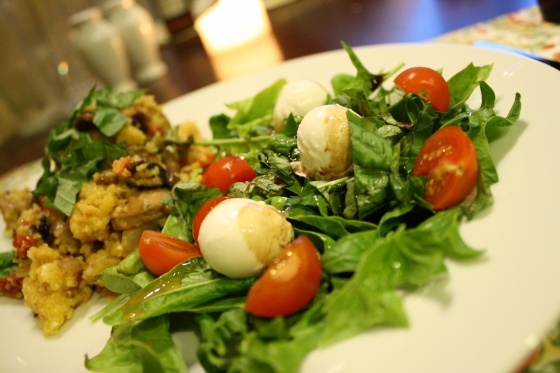 Green Caprese Salad (serves 2 for a side salad)
I love Caprese salad, but by making it green, you increase your veggie intake.  Plus, everyone could use a little more leafy green vegetables in their diet.
3 cups spinach, trimmed and washed
1/2 cup basil, chopped
8 cherry tomatoes, halved
6 mini mozzarella balls or 1 ounce sliced buffalo mozzarella
2 tsp. balsamic vinegar
1 tsp. honey
Plate 1 1/2 cups of spinach on each plate.  Top with eightcherry tomato halves and three mozzarella balls each.  Dress each with 1 tsp. vinegar and 1/2 tsp. honey.
Toss if you wish, but I just drizzle the vinegar and honey on top of my salads.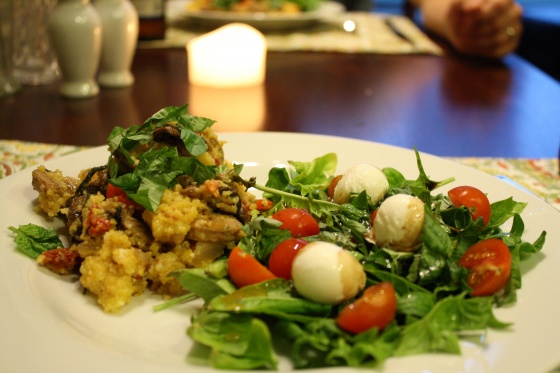 Enjoy your meal by candlelight with a handsome dinner companion.
No, that last step isn't required but it does make the meal much more pleasant.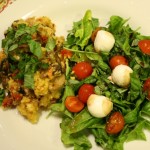 Ingredients
Directions