I totally fell in love with split pea soup this winter and have been meaning to make it ever since my first can.  Trader Joe's Organic Split Pea Soup, is the only kind I've ever had, but it is yummeeeee.  Plus the ingredient list is pretty basic, which isn't typical of most canned soups.   The reason why I hadn't made it thus far, is because I really had no idea where to get split peas or what they looked like.  I really thought they would be sold fresh, but that was obviously not the case.  You actually buy them dried, like beans.
While taking a leisurely stroll one afternoon (that actually turned into a six-mile hike to the Dilworth neighborhood and back), Brad and I stopped at Berry Brook Farms, which is actually not a farm at all but what looks a slat log house in the middle of urban Charlotte.  It is actually a pretty cool, dare I say granola, natural grocery/specialty store.  They also carry vitamins, supplements, and beauty products.  I have always wanted to go inside and have a look around, so I left Brad and the Rascal on the porch, sitting on their porch swing, and went inside.  When I found my way back to their dry good bins and saw the split peas, I knew homemade split pea soup was in my future.   Even though I've only ever had the green split peas, for some reason I decided on the yellow.
The recipe I made up based on what I had on hand and several recipes I perused is below.
Split Pea Soup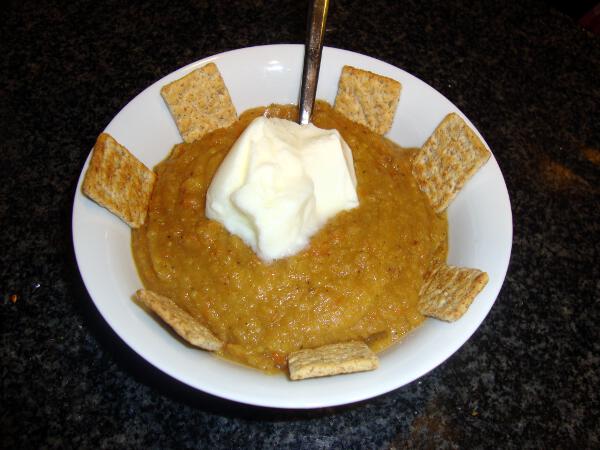 (

Serves 3-4

)
Ingredients
1.2 lbs dry yellow split peas (rinsed)
7 cups vegetable stock
2 carrots roughly chopped
3 celery stalks roughly chopped
1 large clove garlic minced
1 large white onion diced roughly chopped
2 bay leaves
Salt and Pepper
2 Tbsp. chopped fresh parsley
1 tsp. grape seed oil
Directions
Saute carrots, onion, garlic, and celery in grape seed oil, until onion and garlic are starting to brown. Meanwhile, bring stock to a boil. Add split peas and lower heat to simmer. Add vegetables and herbs. Salt and pepper to taste. Cover and cook for 30 minutes. Stir every 10 minutes or so. Transfer mixture to food processor (or use an immersion blender) and puree until smooth.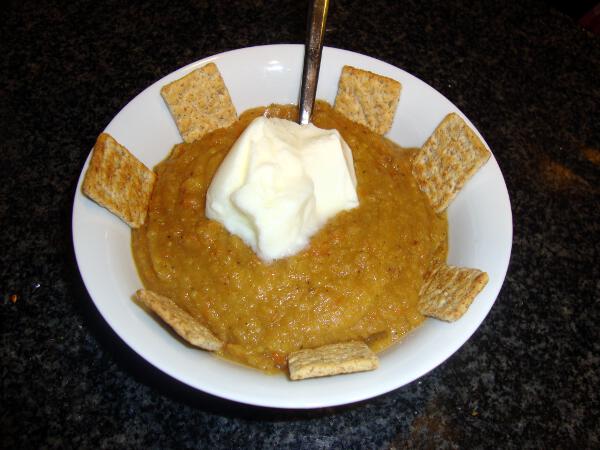 Serve with crackers (these are Kashi TLC) and a dollop of plain or Greek yogurt.
This soup was very thick, which I loved.  It got even thicker when I refrigerated it, so if you prefer a thinner soup, you might want to keep some extra vegetable stock on hand to thin it out when you reheat it.
I loved it and I won't be going back to canned.  It got the fiance seal of approval too, so this will be a recurring meal.  I might even like it almost as my favorite  Ellie's  nutty sweet potato soup, which is good for breakfast, lunch, dinner, and dessert.  🙂