I had BIG lunch plans this afternoon.  I haven't seen Brittney in what seems like forever, so I invited her over for lunch since I worked from home today.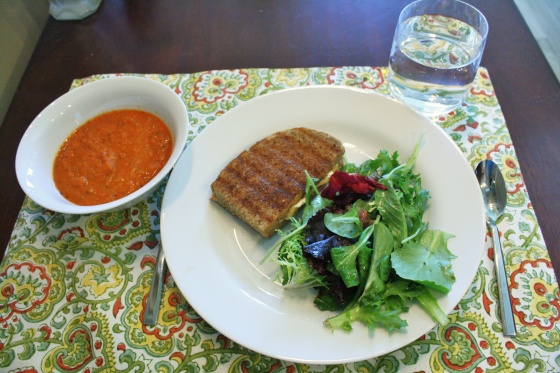 I love being at home for lunch and getting to cook in the middle of the day.  Such a treat!
On the menu at Chez Kelly:
– Spicey Red Pepper and Tomato Bisque
– Rosemary hummus and goat cheese panini
– Mixed Green Salad with Lemon Oregano Vinaigrette
Soup, salad, and sandwich can be fancy too.  I was in a fancy pants mood today. 😉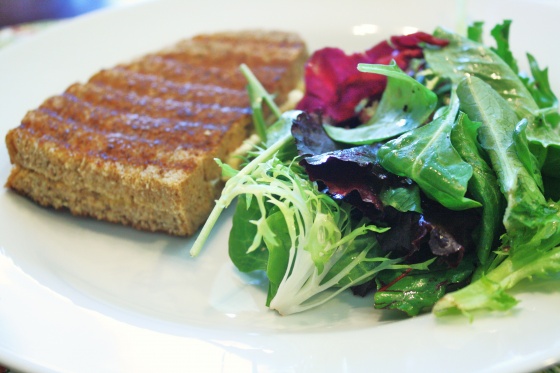 Oregano Lemon Vinaigrette (makes 6 servings)
2 Tbsp. lemon juice
2 Tbsp. champagne vinegar
1 Tbsp. extra virgin olive oil
1/2 tsp. dried oregano
1 tsp. agave syrup
sprinkle of salt
fresh ground pepper
Whisk together and serve over salad of your choice.  Store in the refrigerator.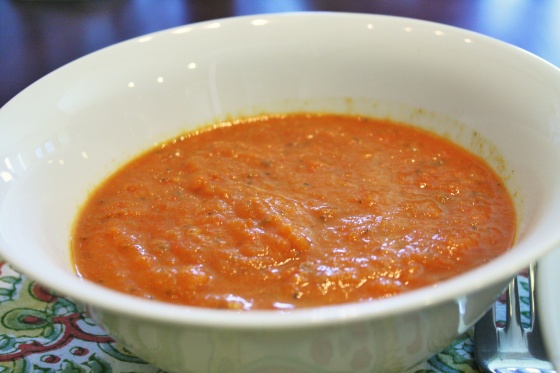 Spicy Red Pepper and Tomato Bisque (serves 4)
1 can of organic diced tomatoes
1 red bell pepper, roughly chopped
2 carrots roughly chopped
1/2 yellow onion chopped
1 1/2 cups skim milk
1/2 Tbsp. sea salt
1 tsp. dried oregano
1 tsp. dried basil
1 tsp. paprika
1 tsp. red pepper flakes
1 Tbsp. coconut oil
In a large pot, heat coconut oil on medium high heat.  Add all veggies, except tomatoes, and cook until vegetables have softened.  Add tomatoes and juice from can.  Add all herbs and spices.  Simmer on low heat for at least 30 minutes.  Puree the soup with an immersion blender or by transferring it in portions to a food processor.
Feel free to reduce the amount of red pepper flakes to reduce the spice.  This soup is muy caliente, which means it will be even spicier tomorrow.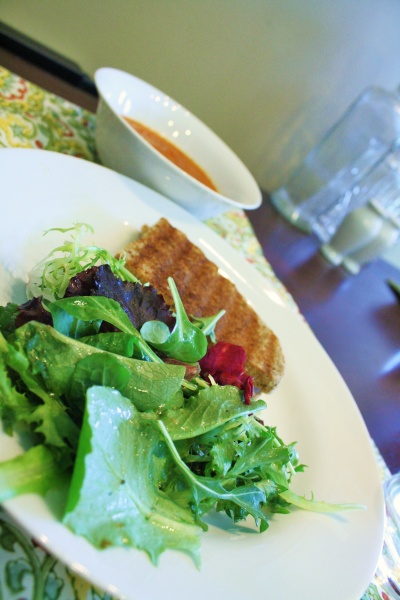 Did you know you don't need a panini press to make a panini?  I used my grill pan and a heavy cast iron skillet to press the sandwiches.  I just had to flip them.  Super easy and a little fancy pants, if you're in the mood for that.
On another note, what great lunch company!  It was so nice to catch up with Brittney and talk about what we're both up to these days.
Do you ever get to have lunch with good friends?  How do you make lunch special on the weekdays?
***
Check out my most recent blog post over at Savor NC Magazine.  Katie will be selling the chocolate coconut date truffles feature in this post tomorrow at her bake sale to benefit her volunteer trip to Nicaragua!
***
I'm a Luna Bar addict and if you are too or have been dying to try them, you should enter Erin's giveaway.  Clif sent her the new coconut chocolate flavor and the chocolate chunk flavor to give away.  I've been looking everywhere for the coconut chocolate flavor so I would love to win them myself. 🙂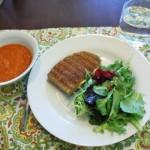 Ingredients
Directions