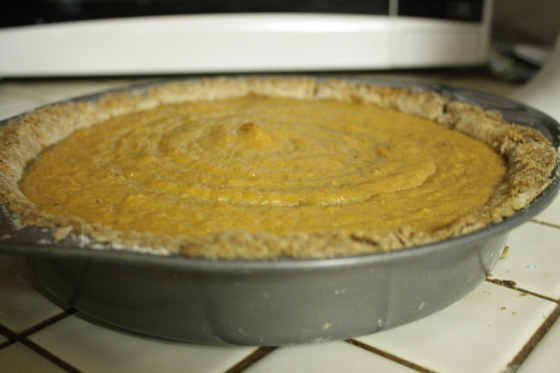 Yesterday, I took a half day off from work so that I could use the afternoon to make pies for Thanksgiving dinner.  Lucky for me, I had a volunteer helper: my youngest cousin, Ashlyn who will be 13 next week.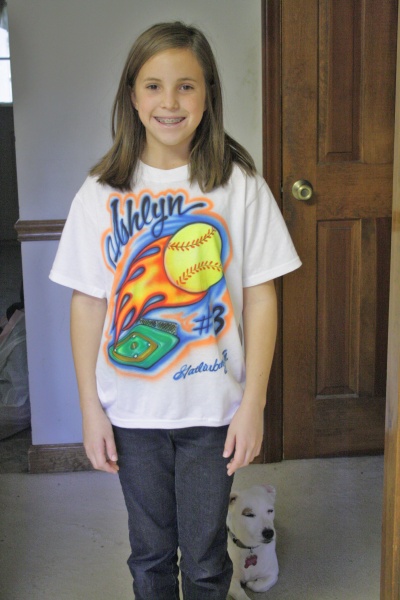 Ashlyn and I have made Christmas cookies before to share with the whole family, but have never made pies together.  I was so excited to share this experience with her.  Some of my favorite Thanksgiving memories was making pies with my mom.  I don't have a little girl or boy to do this with (yet), so I'm so glad Ashlyn and I can do this together.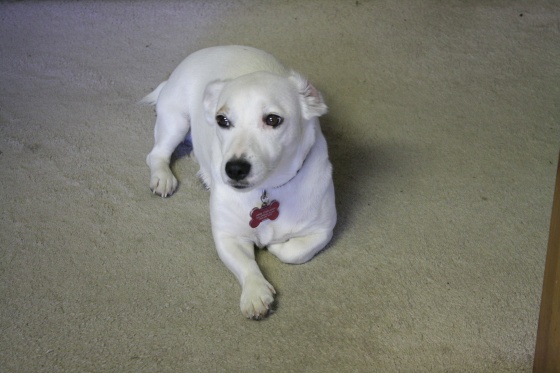 Prancer, Rascal's favorite playmate, supervised the process.
We started by making homemade whole wheat pie crusts.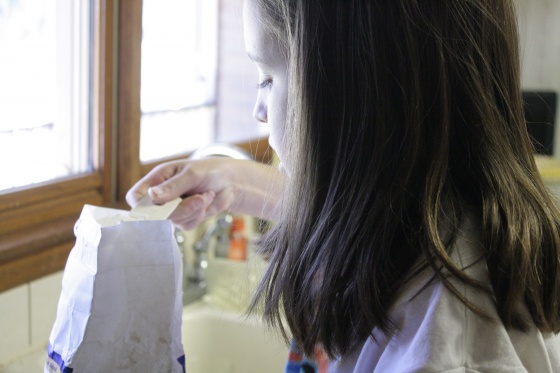 Ashlyn measured out unbleached white flour while I measured out the whole wheat flour.
We combined the two flours with salt and sugar.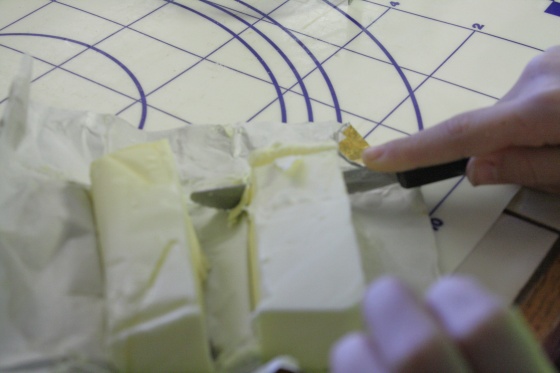 Next, Ashlyn cut cold butter in slivers to add to the flour mixture.  We talked about how 1/2 cup = 1 stick and 1/4 cup = 1/2 stick and that there's 8 Tbsp. in one stick.  I think baking is the absolute best way to make fractions relevant.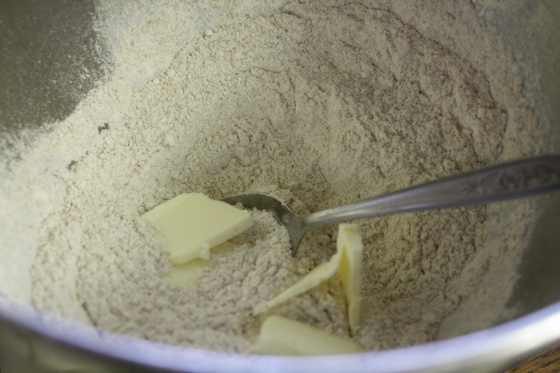 Next, we added the butter to the flour mixture and used a pastry cutter to mix.  Lastly, we added the milk one Tbsp. at a time, mixing well throughout.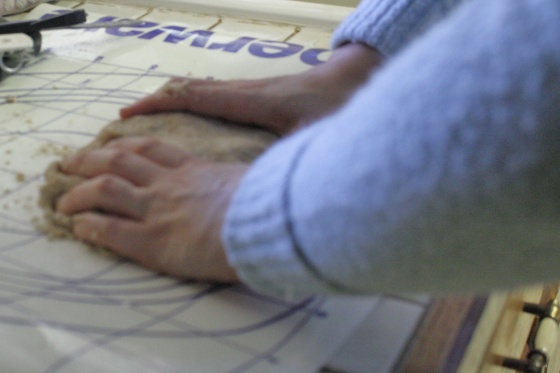 I used my hands to mix the dough mixture.  Hands are the best tool with dough. Then we turned the dough onto a floured surface and kneaded the dough.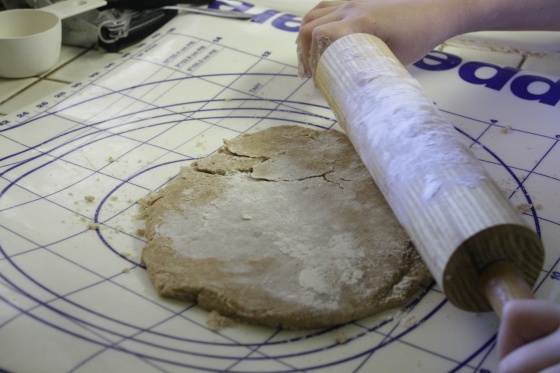 Ashlyn rolled the dough out into a round pie crust.  We added some flour on top of the dough to keep the rolling pin from sticking.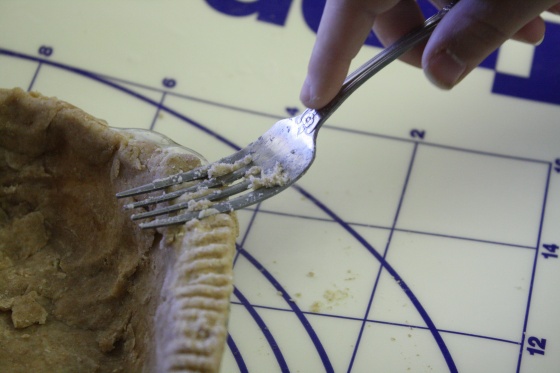 We carefully put the pie crust over the pie pan, using our fingers to shape the pie crust.  Ashlyn used a fork to press the edges so they would be pretty.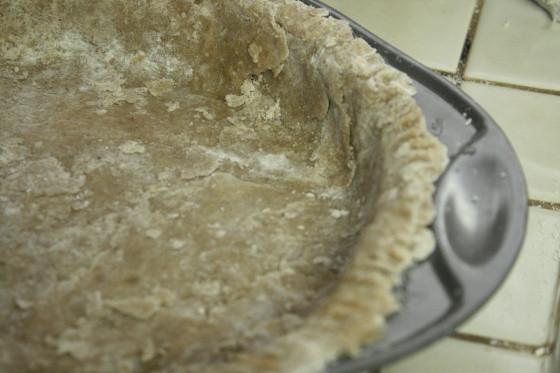 We repeated the process for a second crust.  The first crust was tricky because we didn't use enough flour when we turned the dough to be rolled.  It stuck to the surface after we rolled it out and it took some help from my Aunt Tonya to get it to the pie plate without completely breaking the crust.
The second time we used too much flour and the crust was too dry.  I used a bit of water on my fingers to press the dough together.  This helped some.  If Ashlyn learned one thing during this pie making experience, it's that pie crust is tricky.
Whole Wheat Pie Crust (make one 9 inch pie crust)
1 cup whole wheat flour
1/2 cup unbleached white flour
2 tsp. sugar
1/2 tsp. salt
1/2 cup (1 stick) unsalted butter
6 Tbsp. cold milk (or more as needed)
Mix flours, sugar, and salt.  Cut in butter using a pastry cutter.  Add milk one tablespoon at a time until just moist enough so that dough holds together.  Turn on a floured surface and knead several times.  Roll dough into a 9 inch circle and transfer to a pie plate, using fingers to shape dough as needed.
Next, we worked on the pie fillings.
First up, my famous (well famous in my family) pecan pie.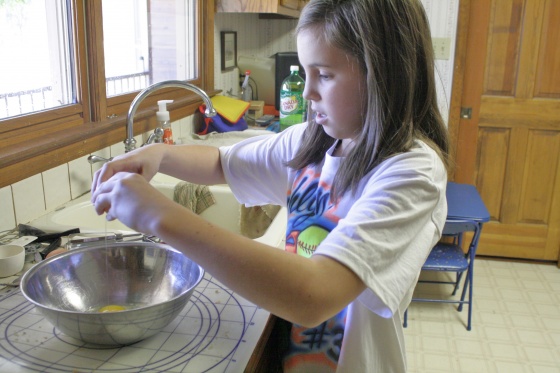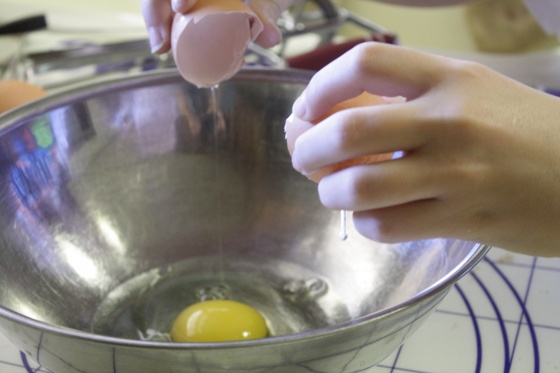 We started with the eggs, then added the sugar, vanilla, butter…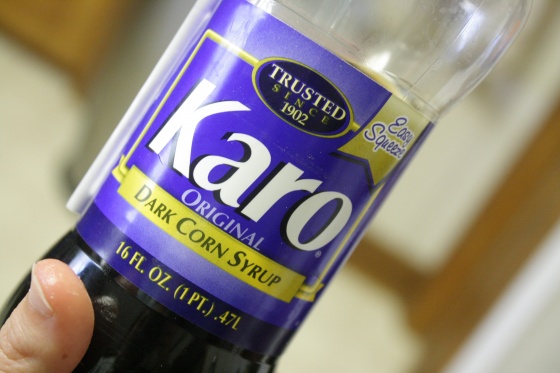 and the Karo syrup, which is southern slang for corn syrup. Does another brand even exist?  I like the dark corn syrup for my pie.
We mixed this sugary mixture well.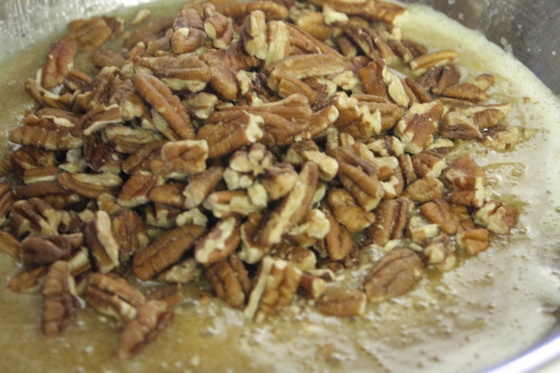 Next, the best part: the pecans.  Most pie recipes don't call for the amount of pecans I use.  Rather than a thin layer of pecans on top of the pie, I like pecans throughout, so I use two whole cups.  We added these and mixed.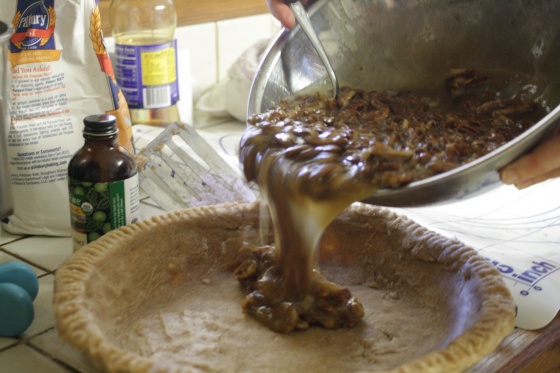 Next, we poured the whole mixture into one of our homemade pie crusts.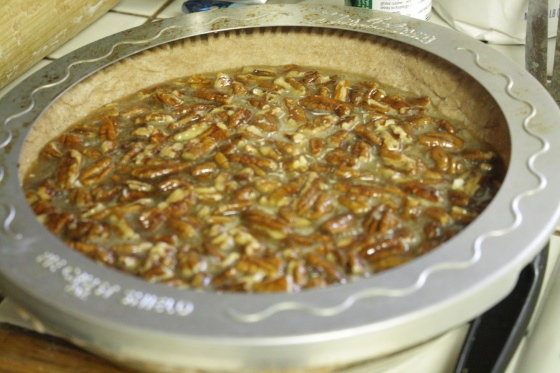 My aunt has these really nifty pie crust covers that allows pies to cook without burning your crust.  Love it!
Cook until you get a beautiful pie. 🙂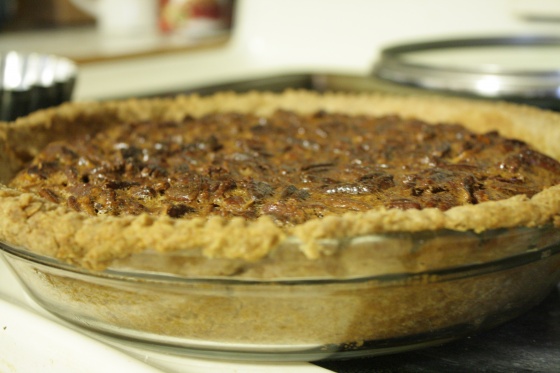 The Best Pecan Pie
2 cups pecans
3 eggs
1 cup sugar
1 cup dark corn syrup
1 Tbsp. melted butter
1 tsp. vanilla
Beat eggs well, then add sugar, butter, vanilla, and corn syrup.  Stir in pecans.  Pour pie filling into a pie crust.
Bake at 400 degrees for 10 minutes.  Bake at 350 degrees for 35 minutes.
I've found this pie doesn't gel well if you make it and try to serve it immediately.  After making this pie for at least 12 years in a row, I've found that it's best to make it the day before you want to serve it and store it the refrigerator.  Cold temperature encourages this pie to gel in the center.  I always put it in the oven on the warm setting just before serving because I like warm pie.
Now, onto our second pie: sweet potato pie
You can read the back story on this pie recipe here.
While Ashlyn dug the sweet potato out of their skins, which I baked two nights prior, I assembled the usual suspects: allspice, cinnamon, vanilla extract, and nutmeg.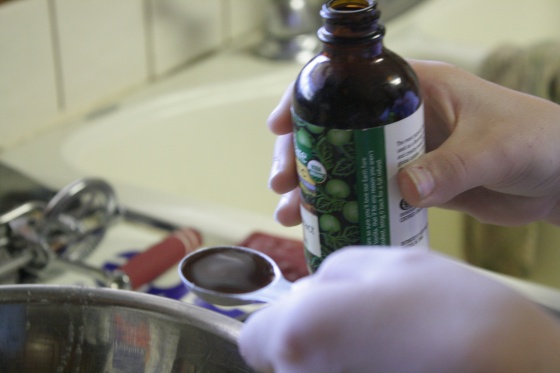 We added the hot half and half, vanilla, and all of the spices to the sweet potato.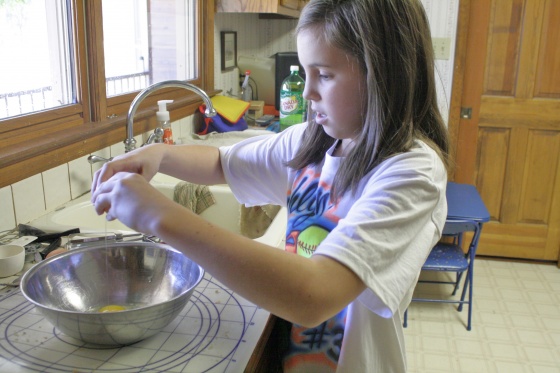 In a separate bowl, Ashlyn cracked the eggs.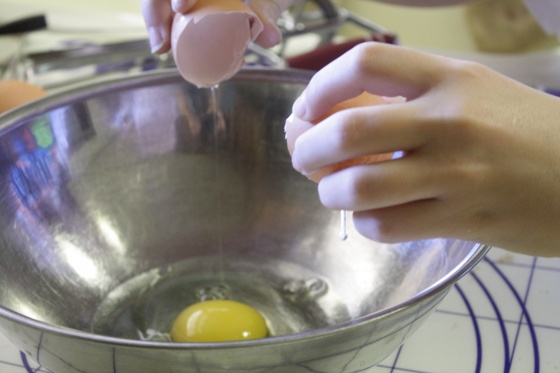 She is an expert egg cracker.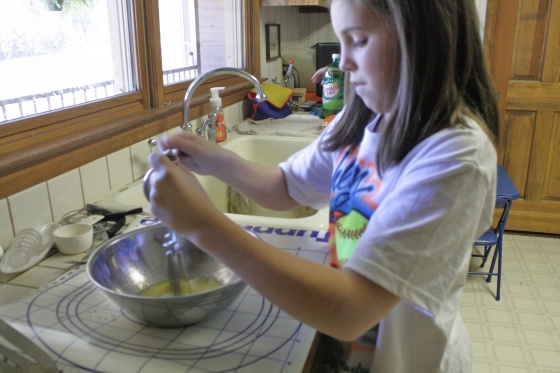 We added the sugars, salt, and butter, and then Ashlyn used her mixing tool to mix it all together.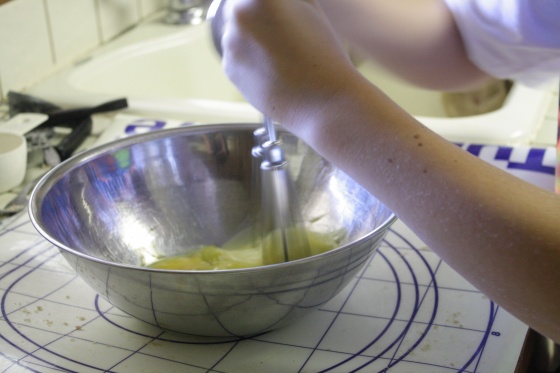 Our grandmother got her this mixing tool.  It makes it easier for her to stir things together without using an electric mixer.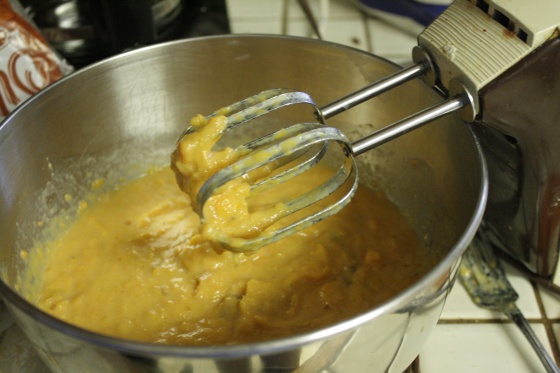 Next, we added the eggs and sugar to the sweet potato mixture and I used the hand mixer to mix everything together.  My last addition was lemon extract, which Brad loves in his mom's version of sweet potato pie, so I had to use it.  I added it last because I wasn't sure how much I wanted.  I would add it with the vanilla the next time I make this.
Last, we poured the mixture into our second pie crust.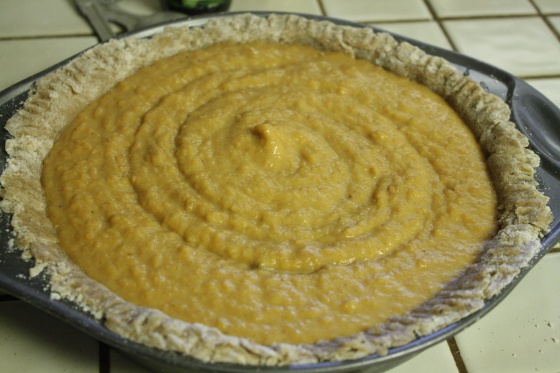 I used my well washed finger to stir a design in the top of the pie.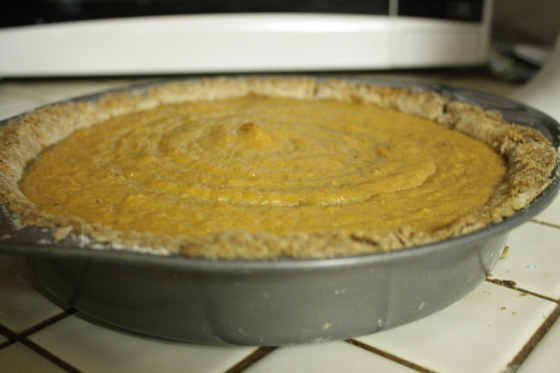 We baked until the pie was firm in the middle and the crust was golden brown.
Sweet Potato Pie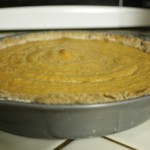 (

Serves 1 Pie

)
Ingredients
2 cups sweet potato
1/2 cup sugar
1/2 cup brown sugar
1/4 tsp. salt
1/2 cup half and half (heated)
1/4 cup butter
2 eggs
1 tsp. lemon extract
1 tsp. cinnamon
1 tsp. nutmeg
Directions
In a small mixing bowl, mix together butter, sugars, and salt. Beat eggs in a separate bowl, then add vanilla, spices, extract, sweet potato, and heated half and half. Mix both mixtures together then pour into an unbaked pie crust.
Bake at 425 degrees for 10 minutes, then at 350 degrees for 40 minutes.
I had such a wonderful time baking with Ashlyn.  Food is so wonderful when enjoyed with someone you love, but even better when it is made with someone you love.
We'll see how much these pies are loved at Thanksgiving dinner.
Happy Thanksgiving!