Falafel is one of the things that have been on my list of "things to make" for an eternity.
Every time I see it on a blog or see it at a restaurant's menu, I think, "I should really make this."
So last week, I randomly wrote Brad an email that said…
On Saturday night, I am going to make falafel and babaganoush and we are going to go to a movie.
Love,
K
And that is precisely what we did.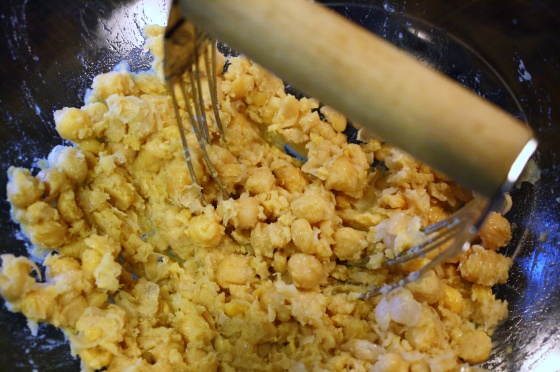 I used a pastry cutter to mash the chickpeas for the falafel.  I like this method for bean burgers too.  I tend to over-mix beans in the food processor, making the consistency way too creamy with not enough texture to hold everything together.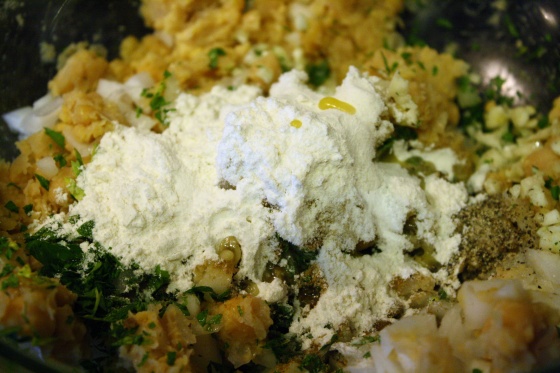 I combined chickpeas, parsley, cumin, ground coriander seed, onion, garlic, olive oil, flour, baking powder, salt and pepper…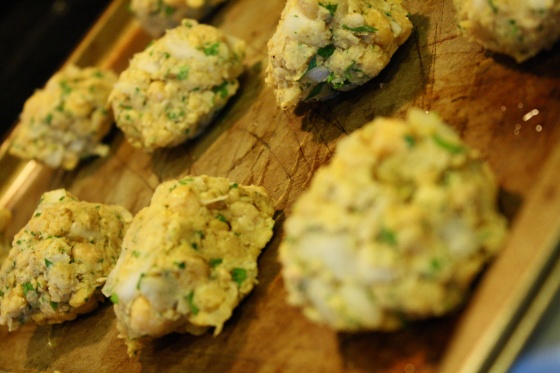 …then I shaped them into golf ball size balls on a baking sheet…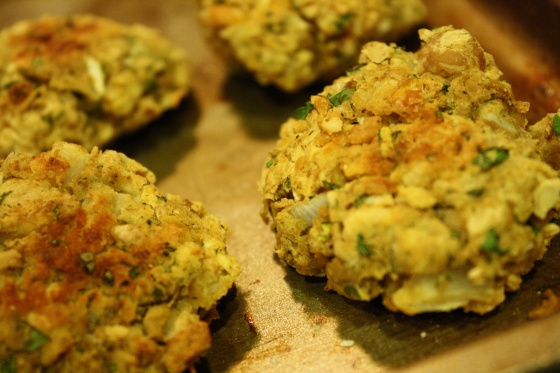 …and cooked them for 20 minutes on each side.
Falafel
1 15 oz. can of chickpeas, drained and rinsed
1/2 cup white onion, chopped well
2 cloves of garlic, minced,
3 Tbsp. fresh parsley, chopped
juice of half a lemon
1 tsp. extra virgin olive oil
1 tsp. cumin
1 tsp. ground coriander seed
1 1/2 Tbsp. unbleached all purpose flour
1/2 tsp. baking powder
1/2 tsp. sea salt
1/2 tsp. black pepper
Mash beans with a fork or pastry cutter until all individual beans are broken up, but not creamy.  Add the rest of the ingredients and mix well.  Shape into golf-ball sized balls and slightly flatten on a greased (I used olive oil) baking pan.
Cook at 350 degrees F for 20 minutes.  Flip falafel and cook for an additional 20 minutes.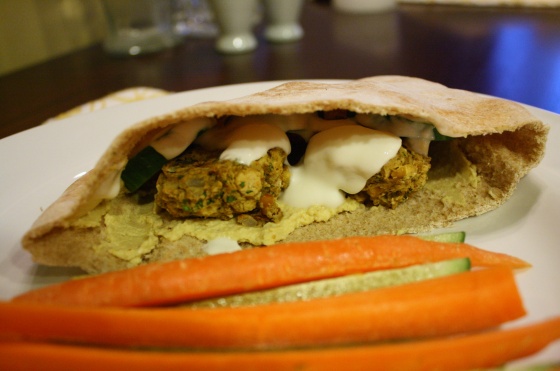 I placed two falafel balls in a warm whole wheat pita slathered with hummus on one side and plain yogurt on the other.  I also added three sliced cucumbers.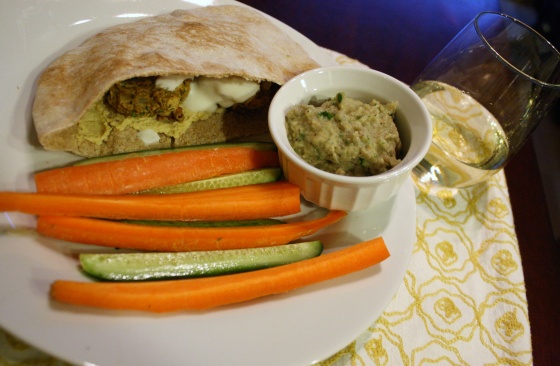 Brad and I enjoyed our falafel with carrot and cucumber sticks and babaganoush.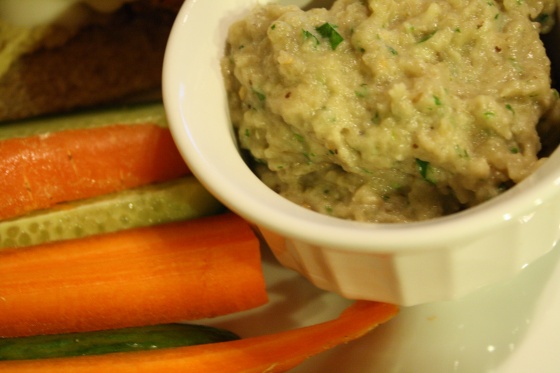 I based my babaganoush loosely off of this recipe.  I liked it but Brad thinks it's missing something, so I'm going to work on it a bit before I release the recipe here.
Only my best recipes will ever show up on the blog. 😉
After dinner, we used my Fandango Groupon to finally see Water for Elephants. I absolutely loved the book and also really liked the movie, which stayed pretty true to the original story line except for a few small changes and omissions.
Of course, books are always better.  Although, I do have to say that I liked Marlina's character in the movie better than in the book.  She was more willful and heroic in the movie, while the Marlina in the book was way more docile and weak.
I tend to like strong female characters over women who have the whole damsel in distress bit down pat.
What about you – do you prefer books over movies?  Have you read or seen Water for Elephants?  What's on your "things to make" list?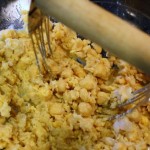 Ingredients
Directions