This little bowl of goodness doesn't look like much.  In fact, it's pretty difficult to tell what exactly is in it. But I asure you, it is amazing, it is delicious, and maybe even most important, it's easier than driving to Chipotle's.
Not that I don't love me some Chipotle or that I even set out to recreate their burrito bowls when I made this.  I do and I didn't. But it definitely cured my graving for a Chipotle-like meal (i.e. an avenue for shoveling guacamole in my face).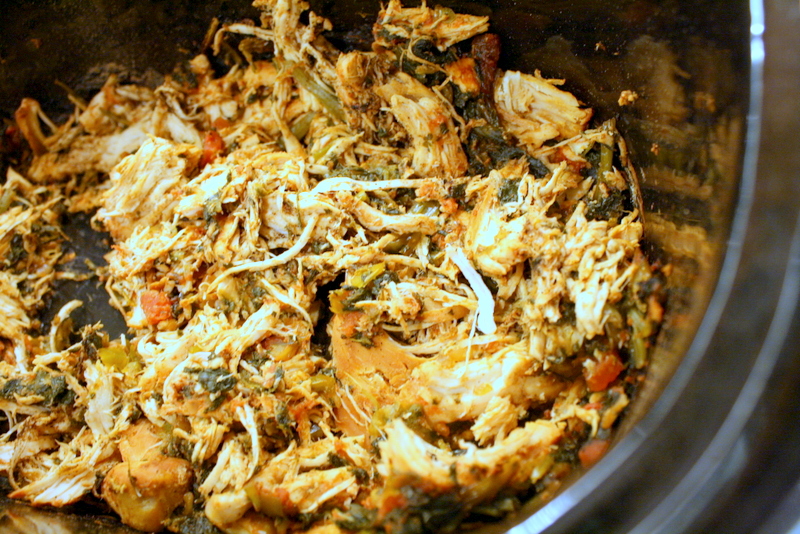 The meal prep started around lunchtime when I threw about a 1.25 pounds of boneless chicken breast into my crockpot with a bag of frozen kale, some salsa, garlic powder, cumin, and salt and walked away for about five hours.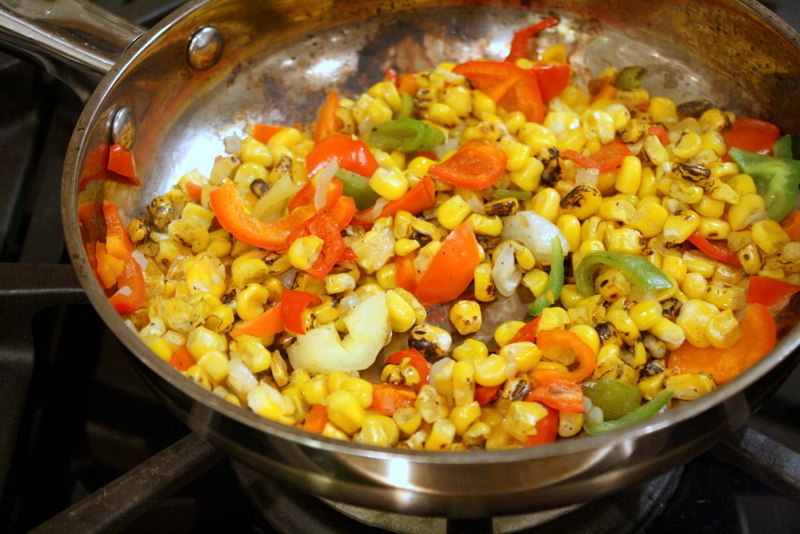 When I got home, I cooked some brown rice and sauteed some frozen pre-roasted corn and frozen peppers and onions.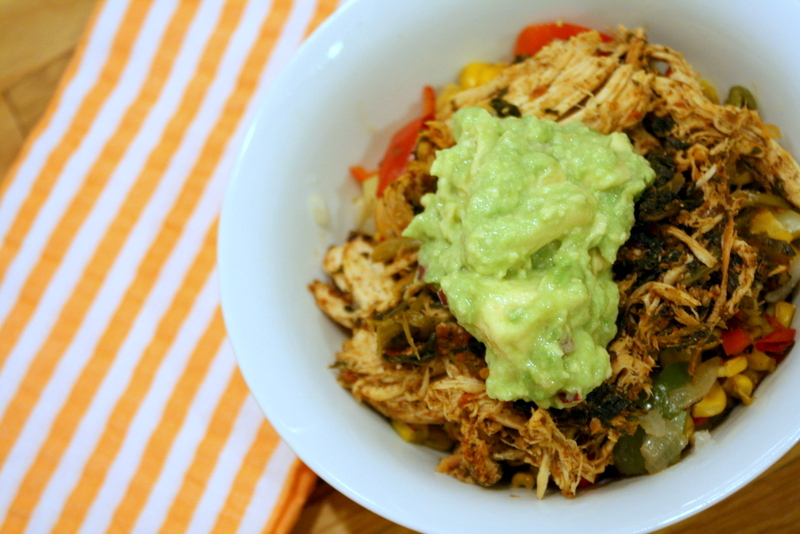 I also made some quick guacamole with nothing more than lime, red onion, and salt, then layered all of my ingredients on top of one another until I got one of mine and Brad's new favorite meals.
Chicken and Kale Burrito Bowl
(

Serves 4-6

)
Ingredients
1.25 pounds chicken breast
1 16 oz. package frozen kale
1 cup medium salsa (or spiciness of your choice)
1/2 teaspoon garlic powder
1/2 teaspoon cumin
1/4 teaspoon sea salt
1.25 cups brown rice
2 1/2 cups water or chicken broth
1 teaspoon extra virgin olive oil
1 cup fresh or frozen corn
1 cup fresh or frozen bell pepper
1 avocado
juice of 2 limes
2 Tablespoons red onion, chopped finely
Directions
Turn crockpot to high and add chicken, kale, salsa, garlic powder, cumin, and salt. Stir ingredients with a large spoon to spread the spices throughout. Allow to cook for 4-5 hours, then use two forks to shred the chicken and mix the contents of the crockpot.
Bring water or chicken broth to a boil, add rice and cook according to package directions or until rice is tender and fluffy and liquid is completely absorbed.
Heat oil in a small pan and add bell peppers. Cook until peppers are soft and add corn. Cook until corn begins to brown.
In a medium sized bowl, mix the flesh of the avocado with the lime, salt, and onion until creamy.
In a bowl layer first the rice, the corn and peppers, then chicken and kale mixture, and finally a big dollop of the guacamole.
Notes:
Frozen kale can be found at Trader Joe's in the frozen food section. If you can't find this products use about 4 cups of fresh kale. It will seem like an enormous amount but will cook down substantially in the crockpot.
Use your choice of bell pepper. I used mostly red with a bit of green as well.