I've been a little MIA for the past day or two, and it's not because I was detained at the local jail for causing a scene at Nordstrom, although that's a good guess.  My dress arrived on Wednesday night, must to my surprise and even more to my surprise a second dress arrived this morning!  Someone over there at Nordstrom does not have it together.  I really hope they didn't charge me twice because they couldn't figure out where my dress was.  Only time will tell.  I'm just happy to have something to wear tomorrow night at Brad's company holiday party.
***
Last night I went to a cookie exchange at Brittney's house.  I got there a little early because I came straight from work.  Before everyone arrived I helped her and some other early helpers arrange cookies, make guacamole, and take a part a pomegranate.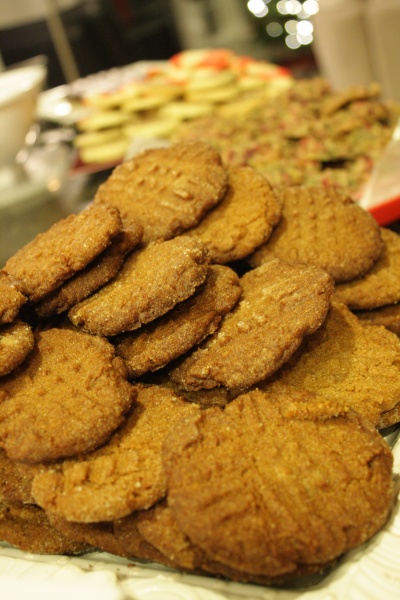 My contribution to the huge display of cookies was soft gingersnaps which is a recipe of Brad's mom, Joy.  They're so delicious, gingery, and sugary!
Soft Gingersnaps
4 cups all purpose flour (I used unbleached)
4 tsp. baking soda
1 tsp. salt
2 Tbsp. ginger
2 tsp. cinnamon
1 1/2 cups canola oil
2 cups sugar
2 eggs
1/2 cup molassas
Mix dry ingredients: flour, baking soda, salt, and spices.  In a separate bowl mix wet ingredients and sugar: oil, sugar, eggs, and molassas.  Combine wet and dry ingredients.  Refrigerate for an hour or more (I made the dough Sunday night, then cooked them Wednesday).  Roll dough into 1″ balls and roll in granulated sugar.  Place on a cookie sheet and press with a fork, vertically and horizontally for the cross-hatch look.
Bake on a cookie sheet at 350 degrees for eight minutes (6-7 if you like yours more chewy and less crunchy).
Other cookies on display for admiring and eating: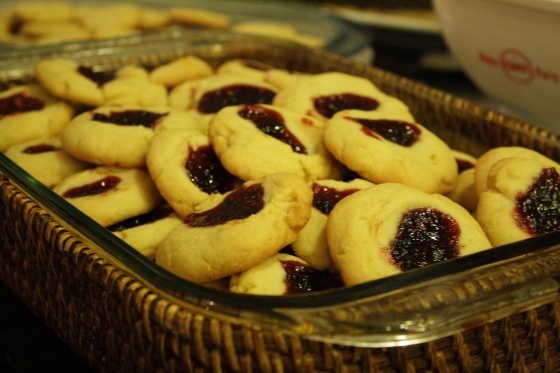 Thumb print cookies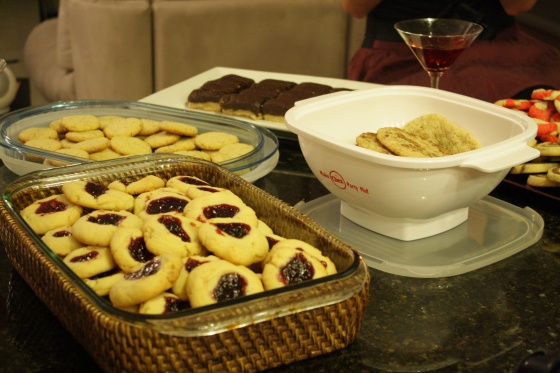 Chocolate salted caramel cookies, snickerdoodles, and lemon rosemary cornmeal cookies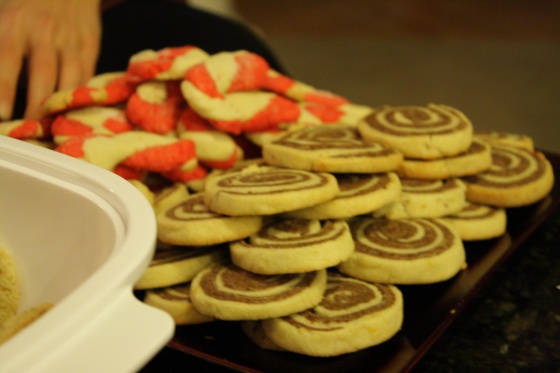 Candy cane cookies and chocolate orange pinwills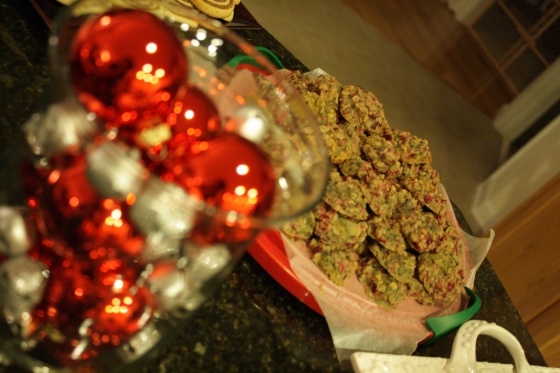 Cranberry oatmeal cookies
Iced pumpkin cookies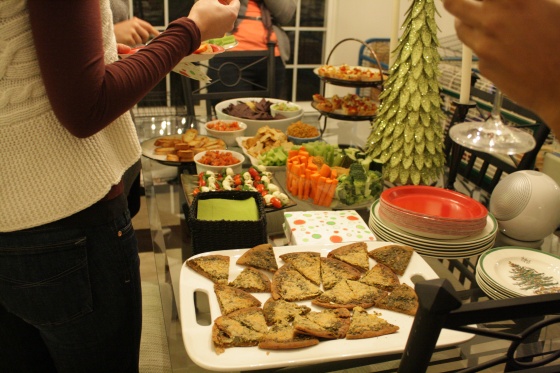 Brittney put out a huge spread of appetizers.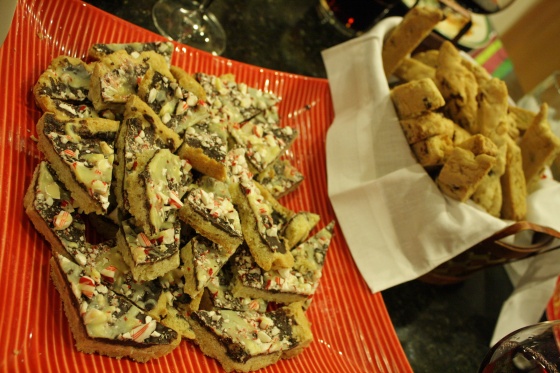 Let's not forget the chocolate peppermint bark and the cranberry orange white chocolate biscotti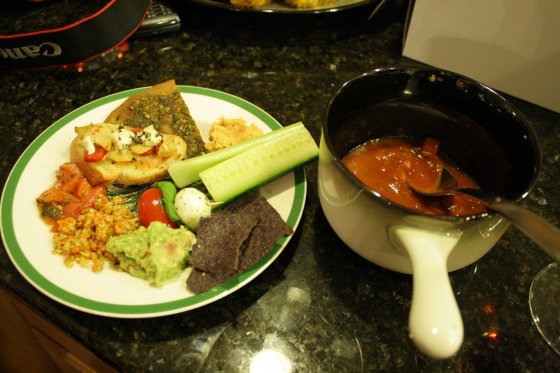 I made a small plate of "real" food so I could save room for cookies.  I also went back for another crostini with artichoke, tomatoes, and goat cheese.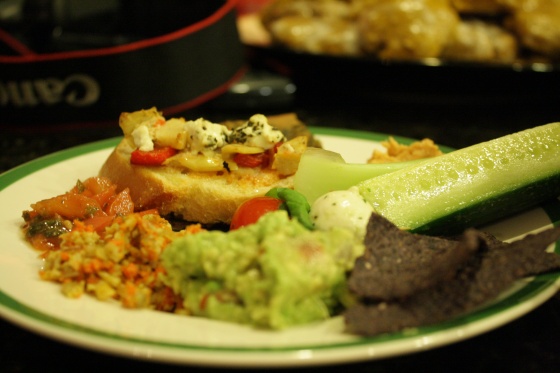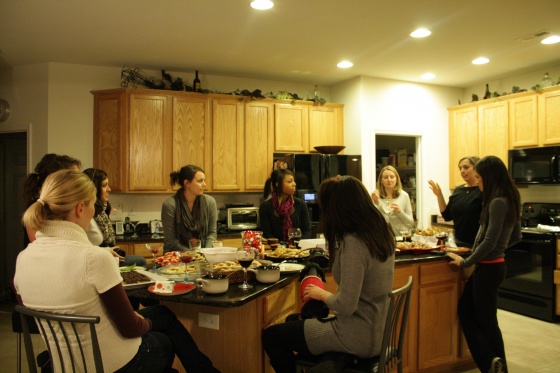 We hovered over the island full of cookies waiting for the right time to dig in.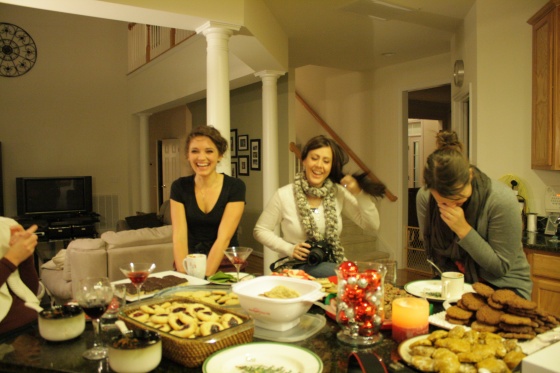 The conversation was lively. 🙂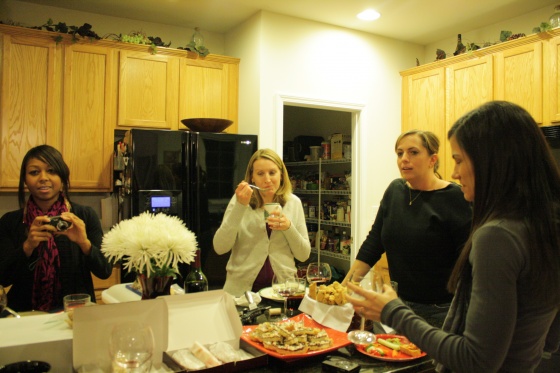 And then it was time to dig in!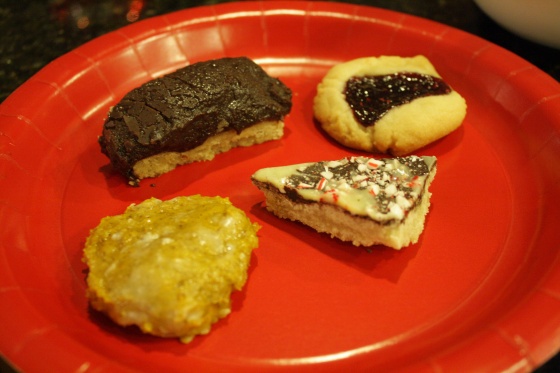 Don't let this fool you, I went back for more.  When you're with a bunch of foodie bloggers, you really should taste everything.  I ended up having almost a bite of everything.  I ate whole cookies of some and half cookies of others.  I definitely overdid it.  In college we called this a cookie coma.
But what better place to have a cookie coma than a cookie exchange?  🙂
*Updated to add the group photo: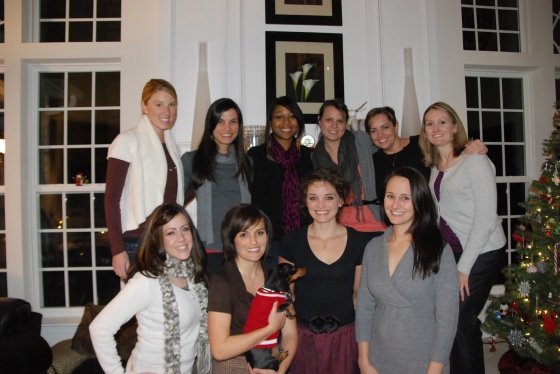 Top left to right: Jen, Jen, Andrea, Jessie, Cindi, Brittney
Bottom: Lindsay, Me holding Clyde, Katie, Caitlin
***
The project I participated in with bloggers across the country over at the Guerrilla Gourmet is up over at their blog.  The Cornucopia Project was a collaboration from bloggers in almost every state to highlight what we did during the Thanksgiving holiday.  You can read my entry by clicking on this link and scrolling down to find NC or clicking on NC on their handy dandy map.
Happy last day of the work week!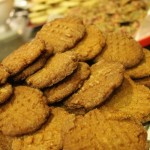 Ingredients
Directions