Britt and I had a running date planned after we got off work.  I planned ahead and packed some dried figs and a pepita trail mix from the bulk section of Earth Fare.  Besides pepitas it has almonds, dried cranberries, sunflower seeds, and dried papaya.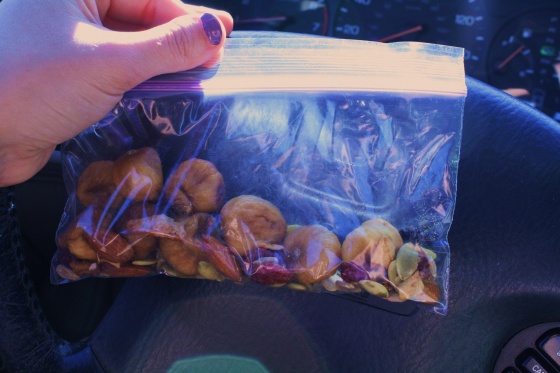 Nature's energy bar nuggets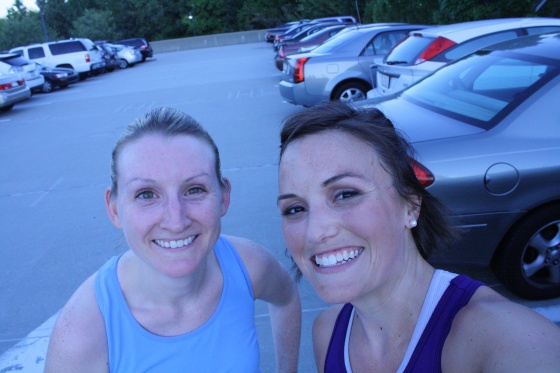 We did a five miles in South Charlotte.  It was good to catch up and decompress after a busy day.  Self portraits with the DSLR is super hard.  I need to use my self timer more.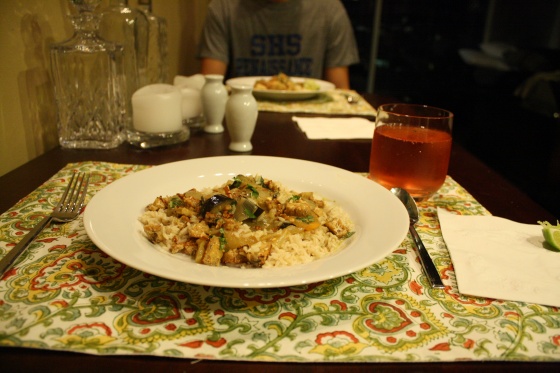 Brad was cooking up dinner when I got home.  After I showered and cooked myself some tempeh, we sat down to dinner.
Thai Green Curry and Rice (3 servings)
-3 Tbsp. green curry paste
-1 medium vidalia onion
-1 medium purple bell pepper
-1/2 cup thinly sliced eggplant
-1 16 oz can of coconut milk
– 1 can of water
-1 Tbsp. fish sauce
-zest of half a lime
-juice of one lime
-1/2 tsp. Kosher salt
-1 1/2 cups of brown jasmine rice
-2 Tbsp. grape seed oil
-1 Tbsp. ginger powder
-crushed red pepper to taste
-basil, chiffonade thinly for garnish
-protein of choice (I added tempeh to mine, Brad added chicken to his)
Sautee onion and pepper in grape seed oil for three minutes.  Add curry paste and ginger, stir and cook for two minutes.  Add coconut milk, water, salt, and eggplant; stir and cover.  Simmer for 15 minutes. If you're going to add protein, add at this time.
Cook rice with 3 cups of salted water until slightly moist and fluffy.  Serve curry over rice and top with lime juice, basil, and crushed red pepper.
Brad wanted chicken and I wanted tempeh, so I sauteed mine separately and then added it to the curry and rice on my plate.  I would have added it as stated above had I been making it myself.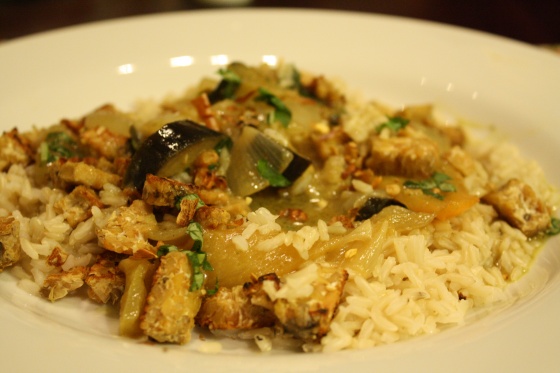 This completely satisfied our Thai cravings.  We were missing a few typical ingredients like lemon grass, but we improvised and ended up with pure deliciousness.
Plus, it was super nice to come home to a home cooked meal.
There's a spaghetti squash in the oven for tomorrow night.  It's my turn to make dinner!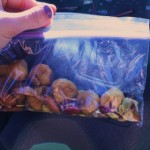 Ingredients
Directions