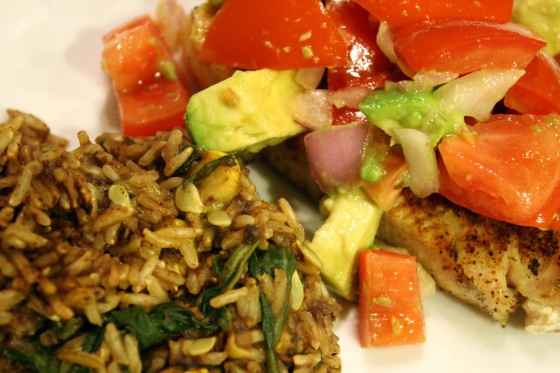 Another brain child of another run.
I don't know if it was the six mile run prior to eating, but this meal tasted fantastic.
I decided to join my running group for their Tuesday night run.  I've only ever attended their Thursday night run, but thought this choose-your-own mileage (4, 6, or 8) sounded like a good time.  If you're looking to mix up your running routine or of if you're a runner who is new to Charlotte, definitely let me know and I'll send you the group's details.  It is a great way to meet new friends, especially if you're a single female, if you know what I'm sayin'.  I am not, so I will gladly introduce you to this male-dominated group.
Okay, back to the fantastic meal I made last night.
I thought long and hard about something interesting to do with albacore tuna — the white meat tuna.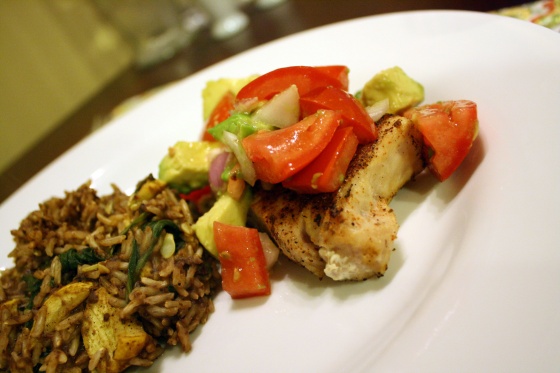 Blackened Albacore Tuna Steaks and Tomato Avocado Salsa (serves 3)
For the tuna:
14 oz. albacore tuna steaks (I used one 6 oz. and two 4 oz. steaks)
blackened seasoning*
sea salt
1 tsp. grape seed oil
For the salsa:
2 vine ripe tomatoes, chopped coarsley
1/2 ripe avocado (~1/2 cup) chopped coarsley
1/2 cup red onion, chopped
juice of half a lemon
salt to taste
Heat oil in pan on medium high.  Sprinkle the tuna generously with the blackened seasoning, coating each side heavily (you can make it a little less spicy by using less if you prefer).  Sprinkle generously with salt.  Sautee the tuna in the pan so that the seasoning turns dark brown/black and the tuna is cooked through.
Combine all ingredients for the salsa and stir a few times to mix the flavors together.  Salsa is always better if it sits for a while so this will only be better if you make it ahead of time.
Plate tuna and top with a generous amount of tomato avocado salsa.
*I can't remember the brand we use but anything labeled blackened seasoning (like this) at your local grocer will work.  You can also make your own by using a recipe like this.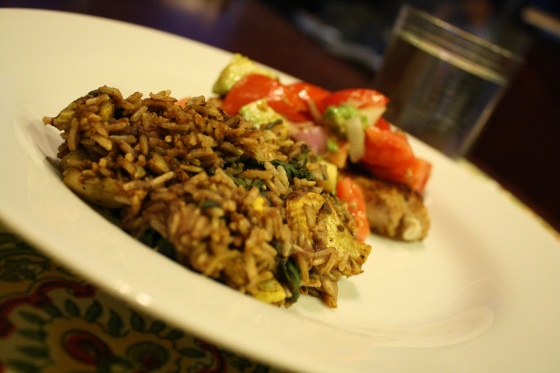 Summer Tex Mex Rice (serves 2)
2/3 cup brown rice
1 cup vegetable broth
1 yellow summer squash, chopped coarsley
1 tsp. cumin
1 cup tightly packed raw spinach
1/2 cup refried black beans
extra virgin olive oil or grapeseed oil (~1 tsp.)
sea salt
Heat broth in a medium sized pot and bring to a boil.  Add rice and allow to cook until rice has almost completely absorbed the stock.  Add spinach when there is just a bit of stock left in the pot and stir.  Test the texture and add more broth if the rice still has too much of a bite (isn't soft enough to your liking).  Cook until broth is completely absorbed, but do not allow rice to burn.  Sautee squash with a bit of oil in a hot pan with the cumin and a generous sprinkle of salt.  Add refried beans and squash to rice and stir to mix all the ingredients.  Salt to taste (~1/2 tsp.)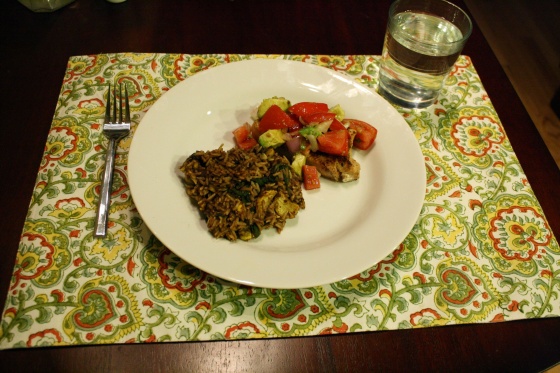 The tuna was simple, but the real winners were the salsa and the rice.  These are definitely keepers that I'll be making again.  If you can't find refried black beans (I found mine in the international section at Harris Teeter), feel free to make your own or substitute with regular refried beans or whole black beans.  Both would be just as tasty.
Are you a fish eater?  What's your favorite kind to eat?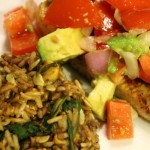 Ingredients
Directions