It occurred to me while I was walking home from work last night (through the oppressive heat that has taken over the South East), that I had plans every day this week to workout except that particular day.
So I officially declared Wednesday my day off and whispered something about how nice it would be to sit in the shade and sip beer to Brad.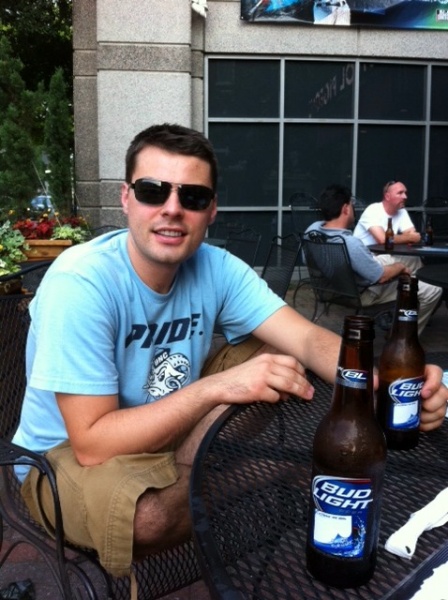 He heeded my suggestion and we headed downstairs and over to a nearby bar with cheap beer and a dog-friendly patio.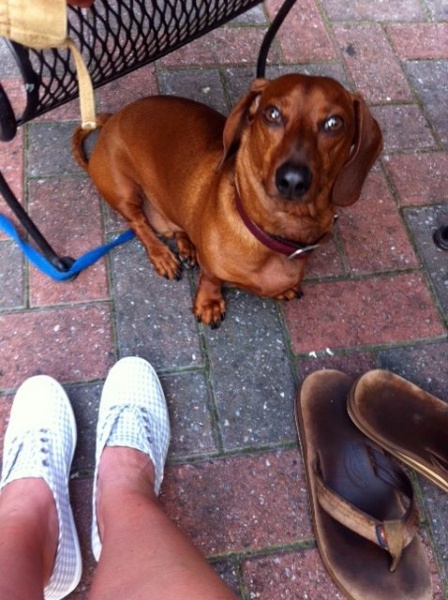 Of course, our favorite furry companion tagged a long too.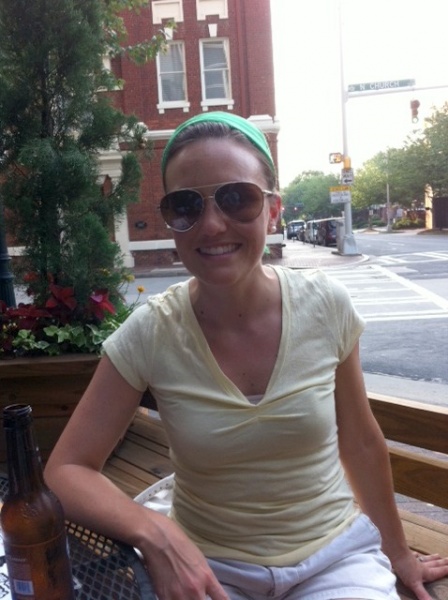 The weather was actually bearable in the shade with a cool drink.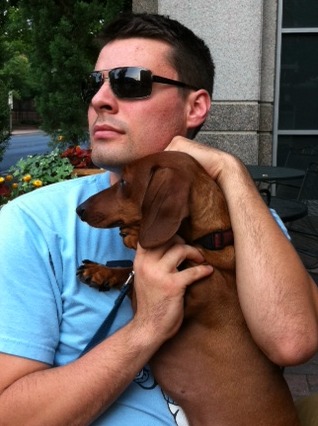 Brad said that he and Rascal were working on their glamour shot (remember Glamour Shots?)
Appetizers were half off, but I had steak marinating at home and knew that I could throw together a dinner reminiscent of bar food, but tastier and far more healthy.
Challenge accepted!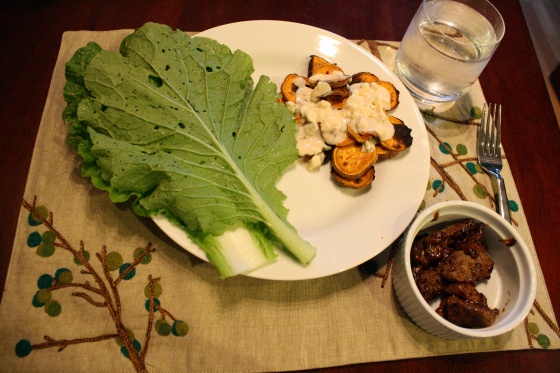 Foodie Fresh Style Bar Food Menu:
– Spicy Asian steak in Napa cabbage wraps
– Sweet potato chips with blue cheese dressing
Delicious finger-licking finger food that is good enough for any bar food lovers but healthy enough to make your mama proud. 😉
Spicy Asian Steak in Napa Cabbage Wraps (serves 2)
8 oz. grass fed top sirloin, sliced into bite size pieces
Soy ginger marinade (We like Biltmore Gourmet soy ginger marinade)
1/2 Tbsp. red pepper flakes
1 tsp. Sriracha sauce
5-6 large Napa cabbage leaves, washed and dried well
Combine marinade with red pepper flakes and Sriracha sauce.  Stir well.  Marinate steak in marinade mixture for at least an hour.  Saute in a pan on medium high heat until steak is cooked to your liking (I cooked mine through, which took about seven minutes).
Serve in small ramekins so dinner guests can assemble their own wraps.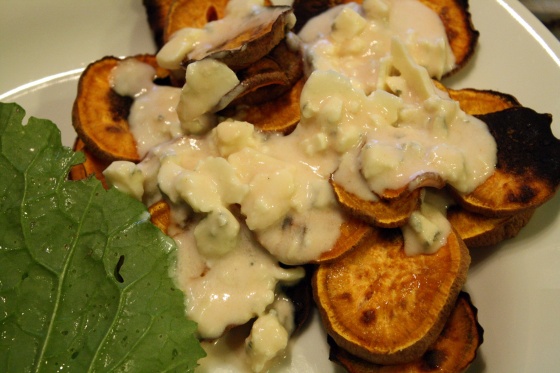 Sweet Potato Chips with Blue Cheese Dressing (chips serve 2, dressing serves 4)
2 medium sweet potatoes (I used one large and one small)
2 tsp. extra virgin olive oil
1 + 1/8 tsp. sea salt
1/3 cup Greek yogurt
scant 1/4 cup skim milk
2 oz. blue cheese, crumbled
1 1/2 tsp. Texas Pete (or your favorite hot sauce)
Preheat oven to 425 degrees F.  Slice sweet potatoes as thinly as possible.  Toss in olive oil or use Misto to spray pan and the top of the chips once place on the pan.  Place chips on pan, not allowing any of them to overlap.  Sprinkle evenly with 1 tsp. of salt.  Cook for about 15-20 minutes.  Raise temperature of the oven to 500 degrees and turn on broiler.  Cook 2-3 more minutes or until edges start to darken.  Watch them carefully because this will happen very quickly.
Combine yogurt, milk, cheese, hot sauce, 1/8 tsp. of salt.  Mix well.  Serve chilled over the sweet potato chips.
The Asian steak wraps were delicious, but if you ask me, the sweet potato chips with blue cheese dressing stole the show.  The combination of sweet, spicy, cheesy, and creamy made this definitely a "keeper" recipe.  And by using such great ingredients like yogurt and skim milk, instead of mayo or sour cream, this can be an any-night-of-the-week side.  It's definitely not going to make you feel greasy and weighed-down like bar foods can do to you.
What's your favorite greasy bar food? I LOVE nachos!  If you throw some guac on my nachos, it's all over.  I'm taking them down.
What's your favorite place to go for bar food? Thomas Street Tavern has, in my opinion, some of the best bar food in Charlotte…maybe some of the best bar food I've ever had.  Their portions are generous and beside the staples like nachos and pizza, they also have great salads and a delicious veggie sandwich.
Ingredients
Directions