Last night I found an apple that had a gigantic bruise on one side.  If bruises and bad spots bother you, the only thing left to do is bake with it.
I'm obsessed with bake oatmeal right now, so I really had no choice in the matter.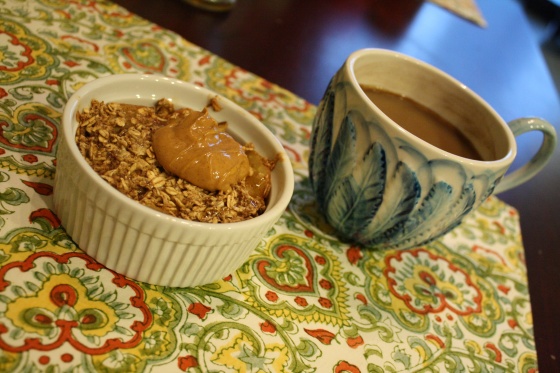 Baked Ginger Apple Oatmeal (for two)
-1 cup rolled oats
-1/2 cup almond milk
-1 apple, chopped and baked or nuked until cooked through
-1 tsp. cinnamon
-1/2 tsp. ginger powder
-1/4 tsp. baking powder
-1/4 tsp. salt
-1 cap of vanilla extract
– Stevia to taste
Cook or nuke apples (I nuke for 2 minutes).  Add all ingredients together.  Mix well and put into two ramekins.  Cook at 400 degrees F for 20 minutes.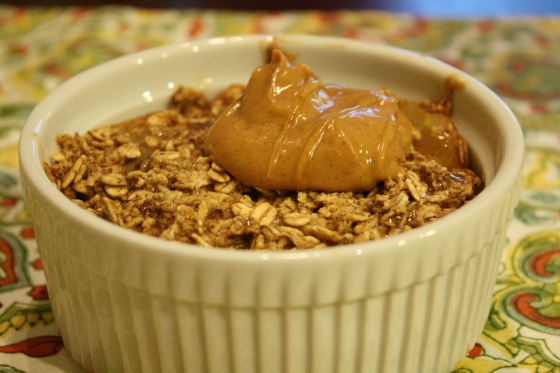 I topped with TJ's organic crunchy PB.  So delicious!  But so hot!  I had to blow each bite to get them down.  I was too hungry and impatient to wait.  Definitely a keeper…like every baked oatmeal recipe so far. 🙂
I had a busy morning.  I love Fridays because I can start work early without having to put appropriate clothes on because I work from home.  Late morning I went to the closest Social Security Office to get the paperwork started to change my name.  I've decided to keep my middle and maiden name, plus my new married name.  So in a few weeks I'll have four names, but I'm not going by my original middle name.  I just couldn't bear to part with it "legally".
After a quick stop by the farmer's market for some fresh veggies will I will be using tonight (stay tuned for something delicious!), I found out Brad and some coworkers were meeting at Molly MacPherson's for lunch.  It was our friend (also Brad's coworker) Megan's last day with the company.
Molly MacPherson's is a Scottish pub with Scottish pub fare and classic sandwiches and salads as well.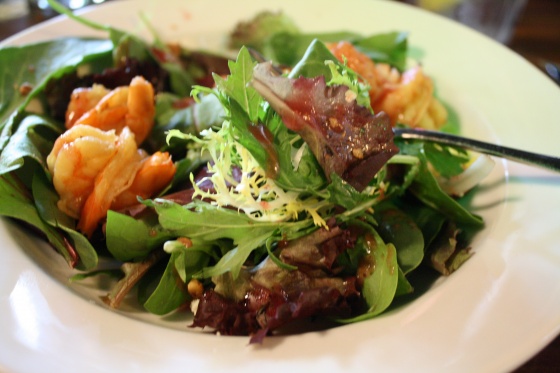 I had the Higland Salad and added shrimp: Mixed greens with candied hazelnuts and gorgonzola cheese, tossed in a light raspberry walnut vinaigrette.
It was light and delicious.  But to be honest I should have ordered a small appetizer to share with the table.  My long run is tomorrow and I can't fuel around with small lunches for fueling purposes.  There most definitely will be a snack later.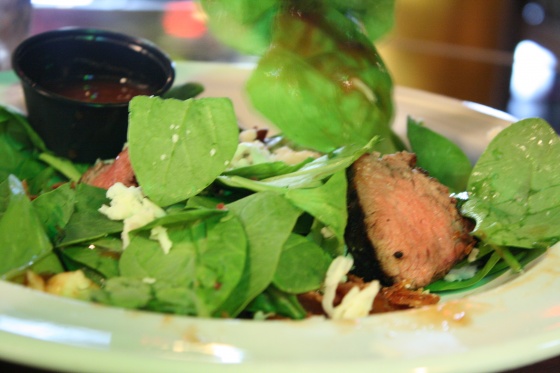 Brad had St. Andrew's Steak & Spinach Salad: Sliced Highland sirloin on a bed of baby spinach topped with mozzarella, bacon, and a sun-dried tomato vinaigrette.
This photo has "movement" because Brad was eating as I was snapping.  I didn't even bother to ask him if he liked it because he was done before I was even half through my salad…per usual.  He is the fastest eater I've ever known.
Do they make these for husbands?
Ingredients
Directions