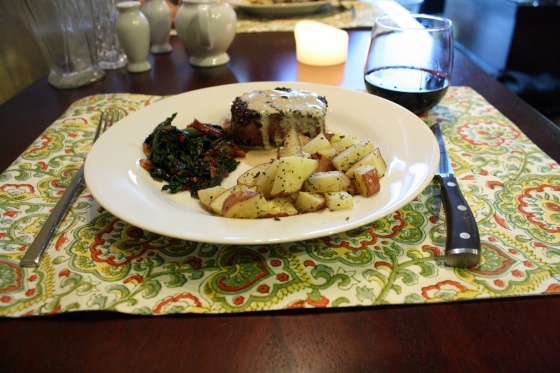 On Saturday night, we stayed in and devoured this lovely meal.
Between bites, we chatted and remarked how delicious our dinner was.  It was the kind of dinner you can get in only the "fancy-type" restaurants, except ours was remarkably cheaper because we made it at home.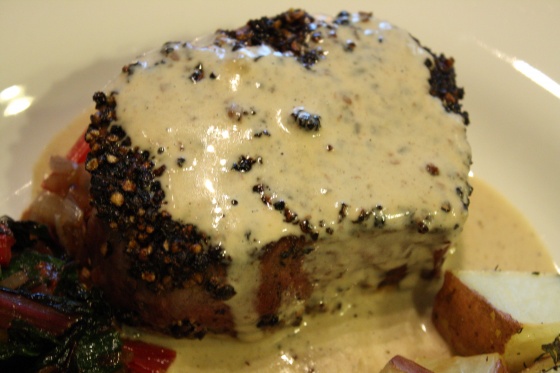 I can't take all the credit.  In fact, most of the credit goes to Brad and Alton Brown.
Brad followed this recipe for Steak Au Poivre to a T, except for substituting bourbon for the cognac.
I could live without most cuts of steak for the rest of my life, but I do love a good filet mignon.  Brad's execution of Alton's recipe might just be one of my favorite ways to eat it.  Not that Alton Brown is relying on my approval, but you should really try this recipe if you're a steak eater or if you love someone who is.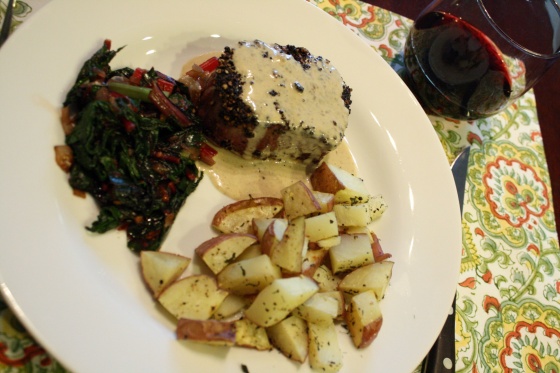 Since Brad took the most difficult part of the meal, I told him I would handle the sides.
I kept it simple with some herbed potatoes – so simple, I almost feel silly writing this as a recipe.
Fresh Herbed Potatoes (serves 2)
2 large red skin potatoes
1/2 tsp. sea salt
1 tsp. extra virgin olive oil
2 Tbsp. fresh chopped herbs*
fresh ground pepper
Chop potatoes into bite size pieces, leaving the skin.  Toss in olive oil and sprinkle with herbs, salt, and pepper. Bake on 425 until softened (~20 minutes), then turn on the broiler to crisp and brown the edges for about 5 minutes.
*Use whatever fresh herbs you have on hand.  Fresh herbs make this recipe so much more fresh and delicious.  I used fennel and oregano, but rosemary, basil, parsley, dill, chives, or thyme would have been delicious as well.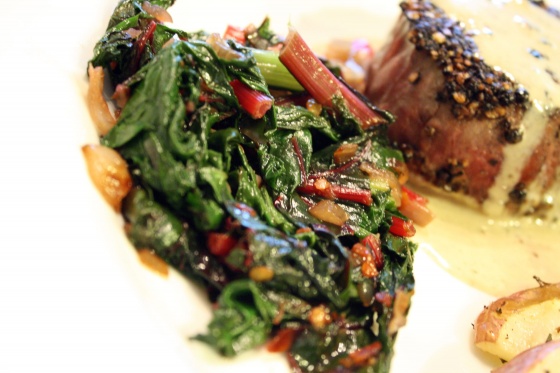 The potatoes were tasty, but my best contribution to the meal was a sweet and spicy raibow chard dish.
Maple and Spice Rainbow Chard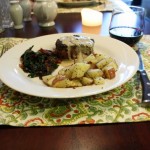 (Serves 2)Kelly Davis2011-05-23T17:30:36+00:00PT0H10MPT0H10M
Ingredients
3 cups chopped rainbow chard
1 tsp. maple syrup
1/2 tsp. extra virgin olive oil
1/4 tsp. salt
1/2 tsp. red pepper flakes
1/4 tsp. ground ginger

Directions
Heat a pot or a pan to medium heat and add oil. Add chard and stir until almost completely wilted. Add syrup, salt, red pepper, and ginger. Stir and allow to cook for about three additional minutes. Serve immediately.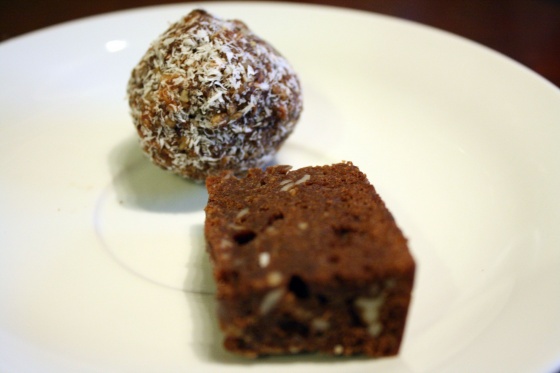 Every restaurant-worthy meal deserves a sweet finish.  Thanks to Jenn, we had bite size date truffles and brownies to share.
It just goes to show that you don't need to spend a lot of money at a fancy restaurant on a Saturday night to have a "date night".  If you can follow a recipe, you can make a meal worth savoring.
You might even change out of your ninth best t-shirt, for a more restaurant-worthy outfit.  It has maple syrup and bourbon cream sauce on it anyway. 😉
We followed up our romantic meal with a not-so-romantic movie: The Virgin Suicides.  And yes, the title states specifically what it is about.  Not exactly a date movie, but interesting nonetheless.
Do you ever stay in and cook for "date night"? Do you ever prepare a meal with your significant other or does one person always handle the cooking?