I learned something this morning about strawberry shortcake:
There are about a million different ways to make it.
But, I also learned, scouting the internet for recipes, that there are four main components to every strawberry shortcake recipe.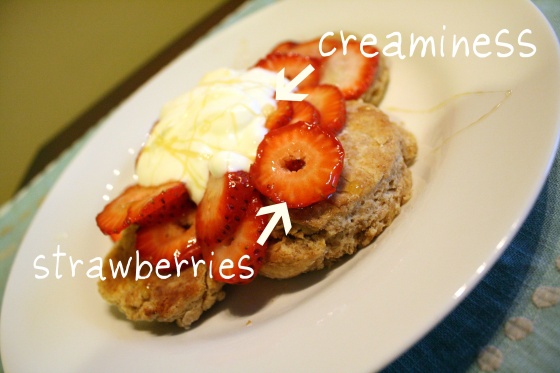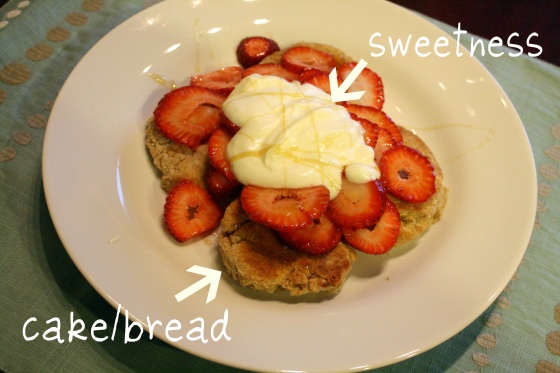 And from this education, my healthier version of strawberry shortcake was born.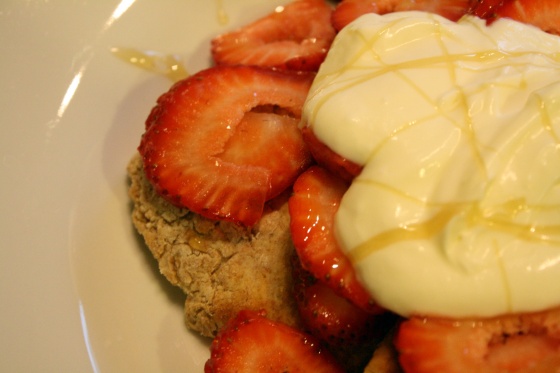 Strawberry Shortcake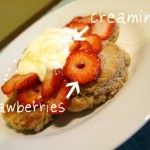 (

Serves 3

)
This version has less sugar, incorporates whole wheat, and uses a lighter cream than most varieties. But I assure you, it's still incredibly tasty.
Ingredients
SHORTCAKE RECIPE:
3 whole wheat biscuits (recipe follows)
1 pint fresh sliced strawberries
3 Tbsp. creme fraiche
1/4 cup lowfat plain yogurt
1 Tbsp. honey
WHOLE WHEAT BISCUIT RECIPE (makes 9 fluffy biscuits)
1 cup whole wheat flour
1 cup unbleached all purpose flour
1 Tbsp. baking powder
1/2 tsp. baking soda
2 tsp. sugar
1/2 tsp. sea salt
1 cup cold salted butter, sliced into thin pieces
1 cup skim milk
1 Tbsp. lemon juice
Directions
Mix together dry ingredients: flours, baking powder and soda, salt, and sugar. Cut butter and and use pastry cutter to cut the butter into the dry mixture. Continue cutting the butter until butter chunks are no bigger than a centimeter wide. (My grandmother says to do this until they look like peas.) Slowly add milk and lemon juice and mix. Try to avoid mixing to much. To avoid over mixing, I don't use a stand mixer, I manually mix with a fork Turn onto a floured surface and need about five times. Work into a ball and roll out with a rolling pin until biscuits are about 1 in thick. Use a biscuit cutter to cut into about 9 biscuits. Sometimes I end up with 10, depending on how thick I left the dough when I rolled it out.
Transfer biscuits to a well greased (I used olive oil in the Misto) baking sheet. Cook at 450 degrees F for 10-12 minutes or until their tops begin to turn a golden brown.
SHORTCAKE ASSEMBLY:
Cut three biscuits in half and plate with two halves on each plate. Mix together the creme fraiche and yogurt in a bowl. Top biscuits with 1/3 of the strawberries each. Top with creme fraiche and yogurt. Drizzle honey evenly on each. Enjoy!
Note:
If recipe is made as is, there will be six remaining biscuits to enjoy later.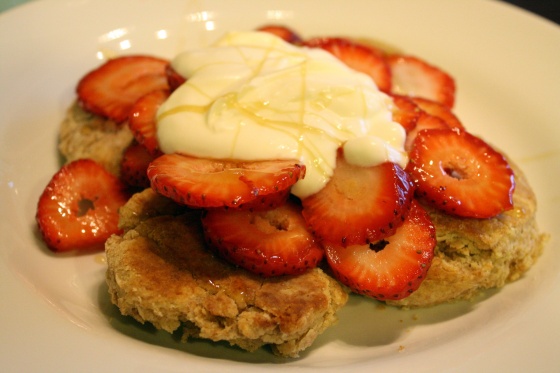 (2 servings shown)
Brad's exact words were "This is incredible."  I'm going to take that as a sign that this recipe is a keeper.
Nutrition facts for this recipe:*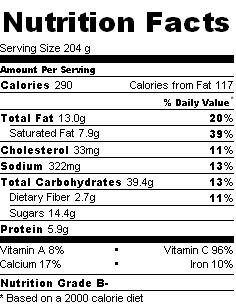 *We ate this for breakfast, but for a light dessert, use half of a serving (1/2 a biscuit, 1/3 cup sliced strawberries, 1 Tbsp. cream, and just a drizzle of honey.
You will be seeing a lot of strawberry concoctions on Foodie Fresh in the next week or so.  In celebration of strawberry season California Giant Berry Farms shipped me a huge crate of strawberries, which you can see I'm already starting to put to good use.
Also, in celebration of strawberry season, California Giant Berry Farms has kicked off Put Some Spring in Your Step.  Here, you can learn 20 different ways California Giant Berry Farms can put a "spring in your step".  In other words, how their berries can help you to be healthier and have fun in the kitchen.  I especially love their tip to put berries in the bottom of your water for a little kick of flavor, plus there are recipes and other fun ways to eat berries.
Click over to their site and you can enter to win $100 grocery gift card, plus they'll gift an additional $100 to a worthy charity.
I love it when companies provide matching winnings to charities.  It gives you a chance to win and in addition, help out a great cause.  A double win!