I'm quite proud of the meal I made last night.  I always enjoy making things up completely from my head.  There's something about relying on shear creativity that makes a meal much more fun.  🙂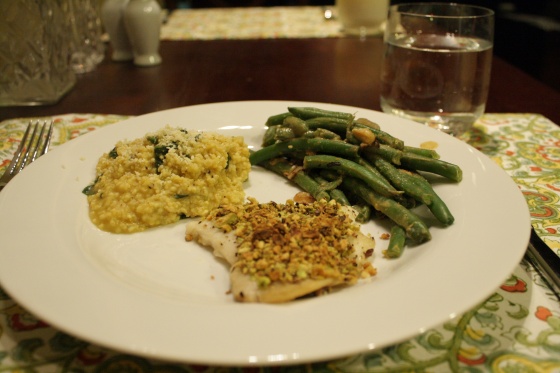 On the menu: pistachio crusted Dover Sole, parmesan and spinach millet, and Dijon green beans.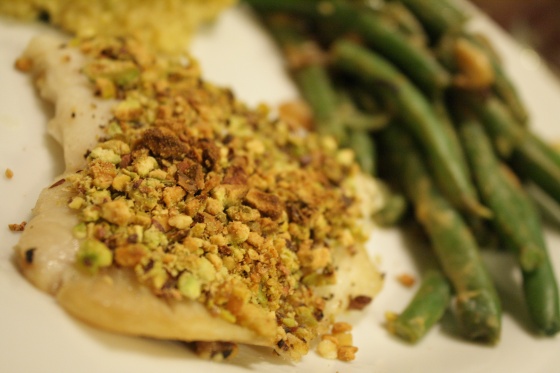 Pistachio Crusted Dover Sole (serves 2)
10 oz. Dover Sole
1 oz. shelled pistachios
salt and pepper
non-stick spray
Crush pistachios in a blender or food processor.  Use non-stick spray to coat a baking dish.  Place fish in baking dish and sprinkle evenly with pistachios, mashing the nuts into the fish flesh with your hand.  Sprinkle with salt and pepper.  Omit salt if pistachios are salted.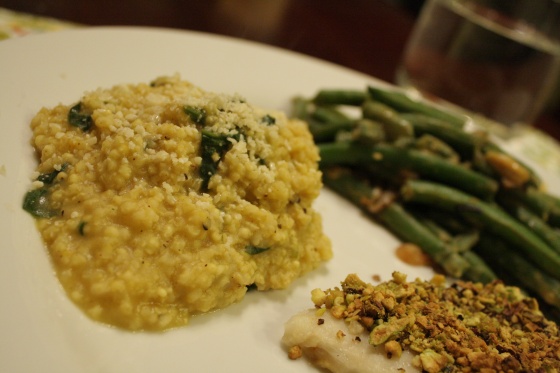 Parmesan and Spinach Millet (serves 4-6)
1 cup of millet
3 cups of vegetable or chicken stock
2 cups of spinach
4-6 tsp. of parmesan cheese
1 tsp. ground nutmeg
1 tsp. Garlic Gold (or garlic powder)
salt and pepper
Bring stock to a boil, add millet, reduce heat, and simmer for 25 minutes, stirring occasionally.  Add spices.  Salt and pepper to taste (~1-2 tsp. salt).  Plate and top with 1 tsp. parmesan cheese.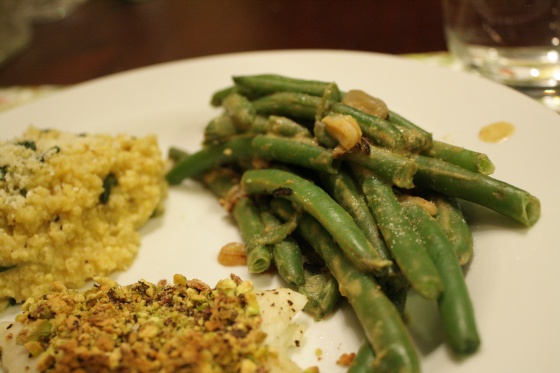 Dijon Green Beans (serves 2)
2 cups green beans
1 large shallot
1 Tbsp. Dijon mustard
1 Tbsp. red wine vinegar
1 Tbsp. almond milk
1 tsp. agave syrup
1/4 tsp. salt
fresh ground pepper
Cook green beans until al dente in boiling water.  Sautee shallots in nonstick spray or a bit of olive oil.  Whisk the last six ingredients together in a small bowl.  Drain green beans and toss with shallots.  Pour dijon sauce over green beans and shallots and toss again.
I swear this meal took only about 35 minutes to prepare.  Super easy and super good. The best of both worlds.  🙂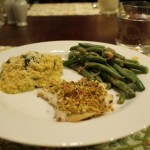 Ingredients
Directions