Around 8:30 am I woke up this morning with one thing on my mind: what to do with the apples going soft in my fruit bowl.
I decided to have Pancake Sunday.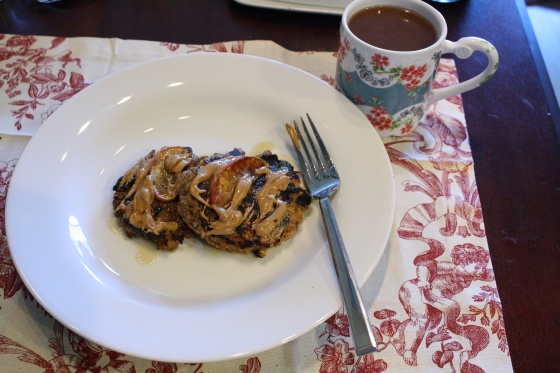 Apple cinnamon pancakes to be more specific.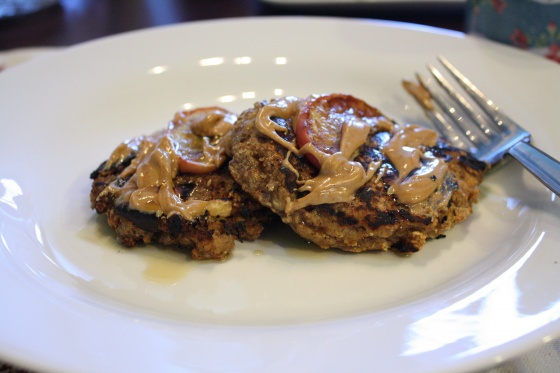 Apple Cinnamon Pancakes (makes 8 medium sized pancakes)
-3/4 cup Hodson's Mill Whole Wheat Buttermilk Pancake Mix
-3/4 cup toasted oat bran
-2 apples sliced (with skin), reserve 8 thin slices for decoration
-1 cup almond milk
– 1 egg
-1/2 cup applesauce
-1/4 cup walnut pieces
-1/4 tsp. baking powder
-3/4 tsp. cinnamon
-1/2 tsp. nutmeg
-1/4 tsp. salt
Put apples in microwaveable safe container and microwave for two minutes (or put in a pot on the stove with a little water and cook until they begin to soften).  Mix together dry ingredients.  Add almond milk (more or less depending on thickness preference) and egg and mix well.  Add cooked apples and walnuts and stir well.
Preheat oven to 400 degrees F.  Put a skillet or pan on medium heat and add a small sliver of butter for each pancake or cooking spray.  Pour a heaping 1/4 cup of pancake batter to the pan and cook on both sides until dark brown.  When pancakes are all cooked on both sides, place on baking sheet in the oven for 10 minutes at 400 degrees F to ensure pancakes are thoroughly cooked.  Cook reserved 8 slices of apples in skillet.  Once pancakes are cooked thoroughly garnish each with one apple slice.
I found that the apples made the pancakes so thick, it was difficult to cook them thoroughly without baking them in the oven.  These turned out perfect.  They were very hearty and pretty with the apple slice garnish.
Toppings:
-1/2 Tbsp. AB
-2 Tbsp. real maple syrup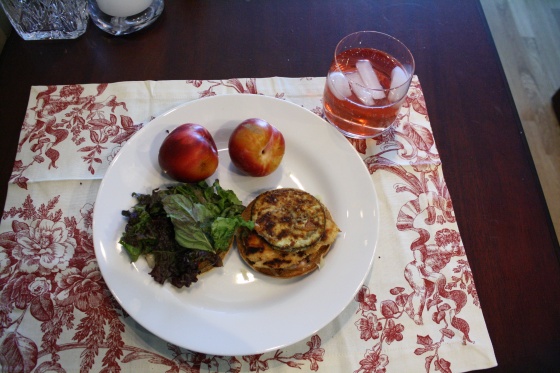 After a long morning of grocery shopping (Earth Fare and TJ's), plus a disappointing finding that the Kings Street farmers market was not open, I returned to this.
Brad was so excited about the sandwich he had just made, that he offered to make me one and then finish putting the groceries by himself.
This sandwich was DE-licious.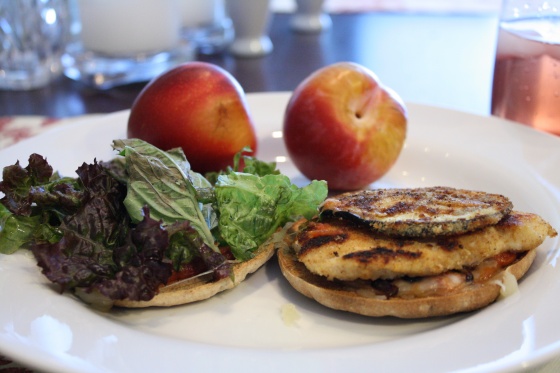 He battered thinly sliced eggplant and chicken breast in egg and bread crumbs and then sauteed them in grape seed oil.  Then he toasted a sandwich thin and layered eggplant, chicken, basil, tomato sauce, and red leaf lettuce on the bread.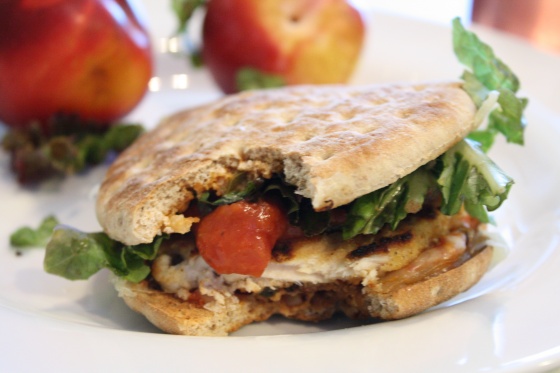 After one bite, I went back for more tomato sauce.  I like sauce oozing out of my sandwich like so.  Two red plums on the side made this lunch amazing.
I have such a sweet husband. 🙂
After lunch, I got crackin' on using the leftover baked sweet potatoes from two nights ago by making…
Sweeeet potato biscuits 🙂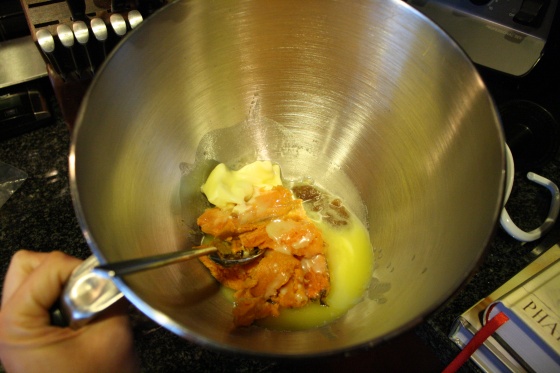 Combine 1 cup of cooked sweet potato with 1 stick of butter (1/2 cup) and two Tbsp. of brown sugar.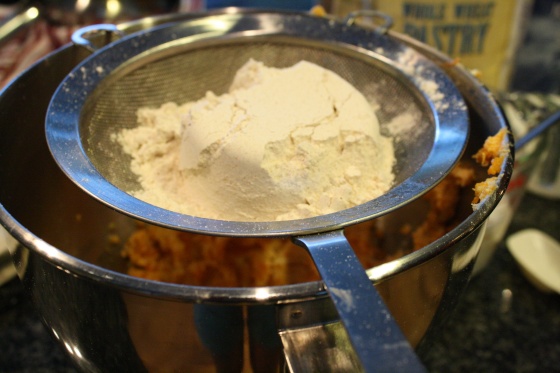 Sift one cup of whole wheat pastry flour and one cup of whole wheat flour into wet mixture.
Dissolve 2 1/2 tsp. of baking powder, 1/4 tsp. of baking soda, and 1/4 tsp. salt into one cup of buttermilk (or one cup regular milk + 1 Tbsp. lemon juice as I did for a substitution).
Pour milk mixture into dough.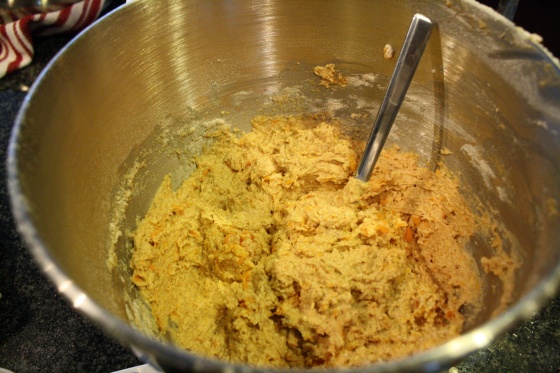 Stir well, but not too much…biscuits are funny like that.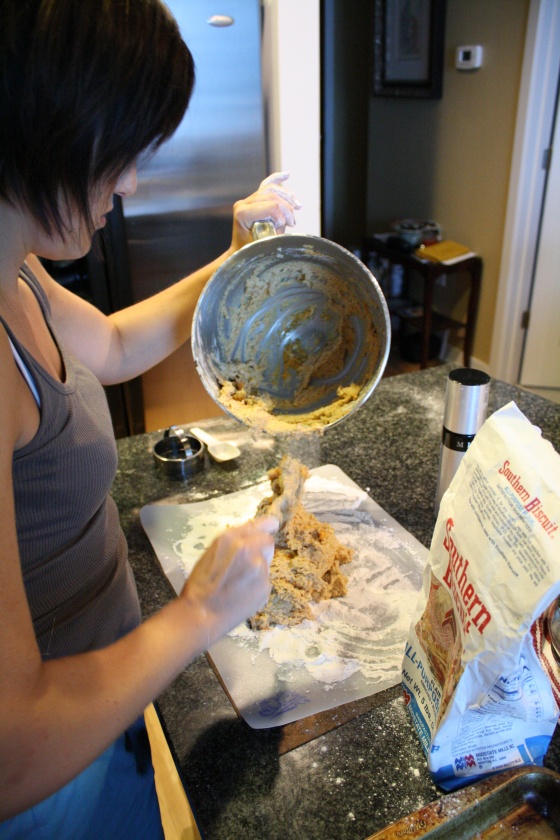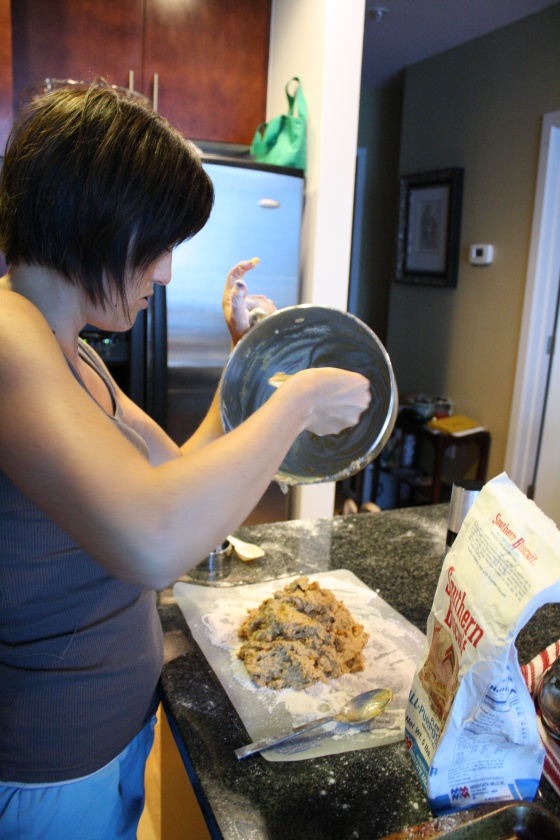 Put dough onto a floured surface.  I always use plastic cutting boards for this and I always use white flour for dusting because I have so much of it.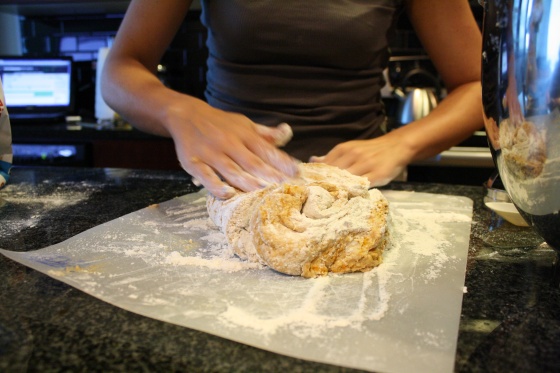 Knead no more than 8 times.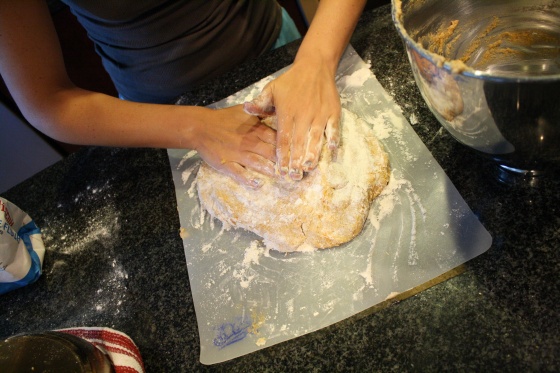 Use a rolling pin to roll dough out until it is 1/2 inch thick.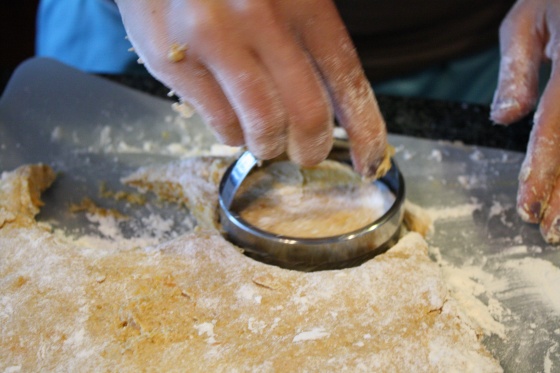 Use a biscuit cutter (or round cookie cutter) to cut into biscuits.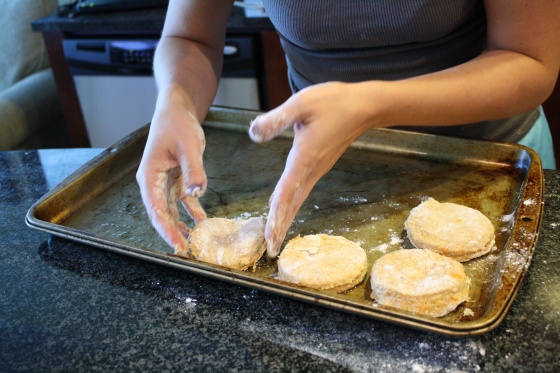 Dough will be sticky so be careful as you pick up and place on pan.  You can reform it with your hands if you need to.
Keep at it until all of the dough is cut into biscuits.  Reform scraps and roll out to use all of the dough.  I usually form the last one or two biscuits with my hands.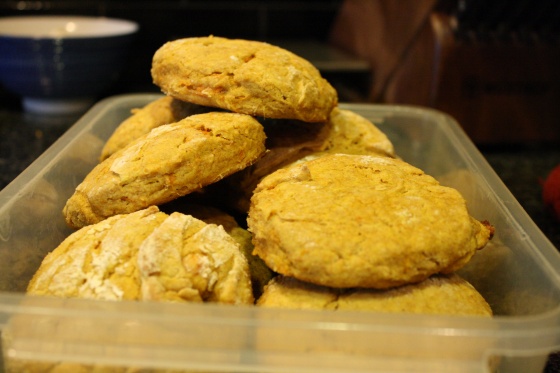 Cook on 400 degrees F for 18-20 minutes (mine cooked for 20).
Whole Wheat Sweet Potato Biscuits (adapted from my mother-in-law Joy's sweet potato biscuit recipe)

-1 cup cooked sweet potato
-1 stick butter (1/2 cup)
-2 Tbsp. brown sugar
-1 cup whole wheat pastry flour
-1 cup whole wheat flour
-1 cup buttermilk (or 1 cup milk + 1 Tbsp. lemon juice)
-1/2 tsp. salt
-2 1/2 tsp. baking powder
-1/4 tsp. baking soda
Because this is an adaptation, I'm going to work on it a bit more.  Next time I'll add more sweet potato (maybe another 1/2 cup) and 1/4 more tsp. of salt (1/2 tsp. total).  Even still, Brad approved and that's what matters.
After some blog work and cleaning up the kitchen, I had a quick snack.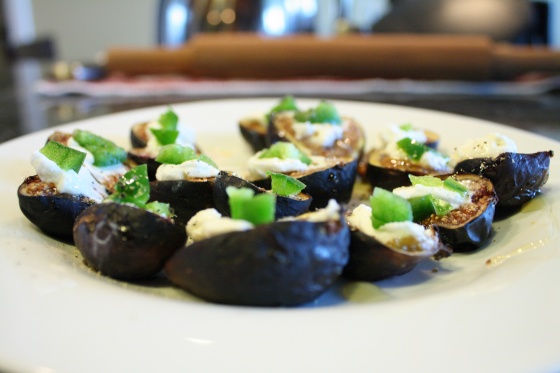 I shared this plate of Figs á la Claire with Brad, then headed out the door to join Jessica for a walk around Dilworth with Rascal in tow.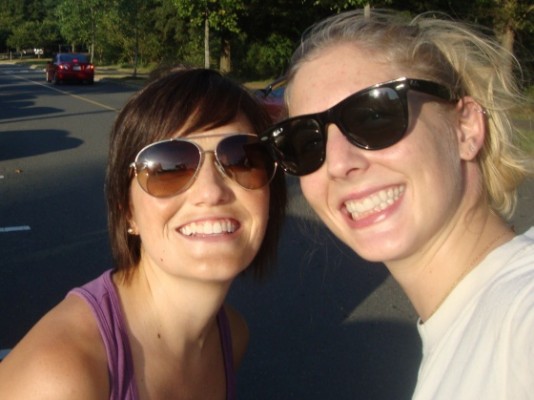 I showed Jess our new house, but somehow wasn't able to get inside with the key Brad gave me.  I'm key challenged sometimes, but I think he just gave me the wrong key.  We walked a little over two miles which was a perfect light exercise for the day after a long run.
Sundays are for resting after all.  🙂
Ingredients
Directions