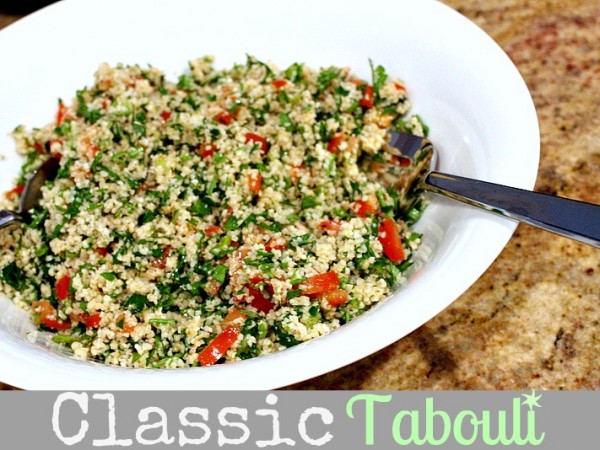 Currently…and I say currently, because this changes monthly…Middle Eastern food is my very favorite kind of food. And I feel so silly saying "Middle Eastern" food because recently when I was on a munching tour, the group with me discussed how the term is a blanket statement over many different types of cuisines.
When I say I love Middle Eastern food, I'm mainly talking about hummus, dolmades, pita, tzaziki sauce, falafal, and tabouli.
Gosh, I just love tabouli.
It's just so refreshing and delicious.  I love how the tartness of the lemon juice compliments the freshness of all that parsley.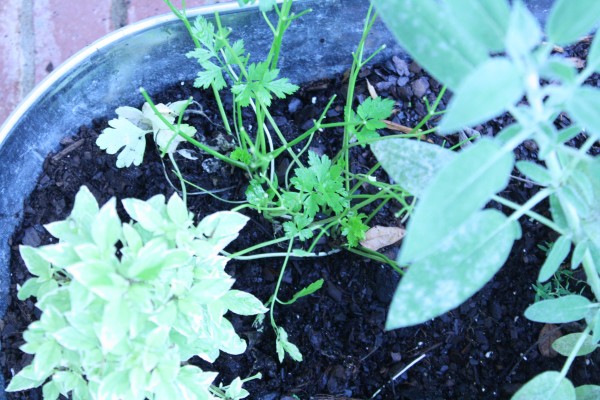 But gosh you need so much parsley!
Brad recently asked me if I used all the parsley in my herb garden or if we have a hungry bunny in our back yard. Note: this photo of my parsley plant was taken several days after I stole all of its leaves, so a few have grown back.
Even after stripping my parsley of all of its leaves, I had to make a trip to the store for more parsley!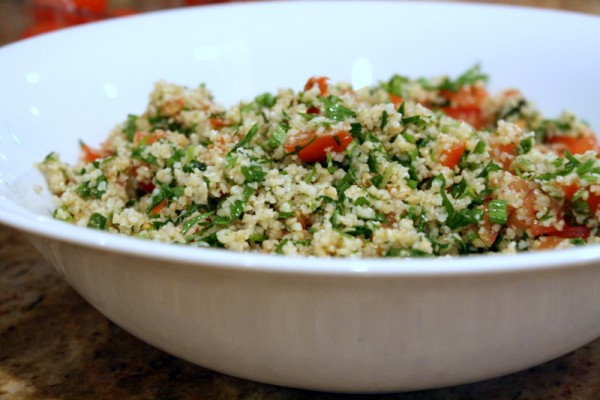 The end result was so worth the inconvenience.
Classic Tabouli (serves 4-6)
This classic recipe for tabouli is an excellent and delicious way to enjoy a whole grain dish with plenty of fiber and other nutrients.  Parsley is the main star in this dish and is so light and refreshing with the acidity of the lemon juice.
1 cup uncooked bulgar
1 cup water
2 cups parsley, finely chopped
1/4 cup green onion, finely chopped
1/2 cup tomato, chopped
3 Tablespoons lemon juice
1/4 cup extra virgin olive oil
1/4 – 1/2 teaspoon sea salt
Pour uncooked bulgar into a large bowl.  Bring water to a boil over the stove, then pour over uncooked bulgar.  Allow bulgar and water to set for five minutes or until water is completely absorbed. Add parsley, onion, tomato, lemon juice, and olive oil and stir well to combine.  Add 1/4 teaspoon of salt, stir well, and taste to see if more is needed.  Add the remaining 1/4 teaspoon a little at a time, stirring well each time, until you are satisfied with the taste of the dish.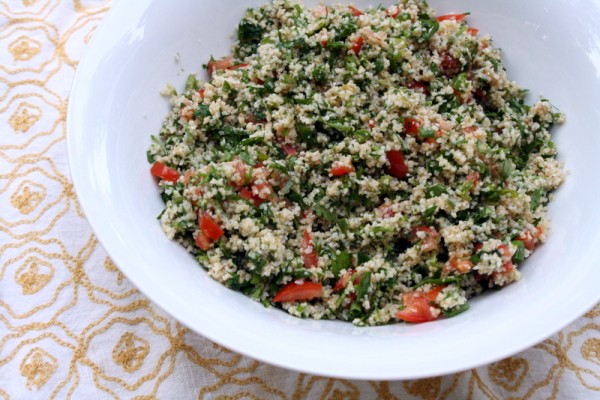 I can't wait to recreate my favorite wrap from Common Market with this, which is a whole wheat wrap with tabouli, hummus, red bell pepper, and spinach.
Did you know that sometimes bulgar is referred to as a "perfect food?"Find out why by checking out my latest blog post on SavorNC.
Have you ever made homemade Middle Eastern food? Any suggestions for what I should make next?