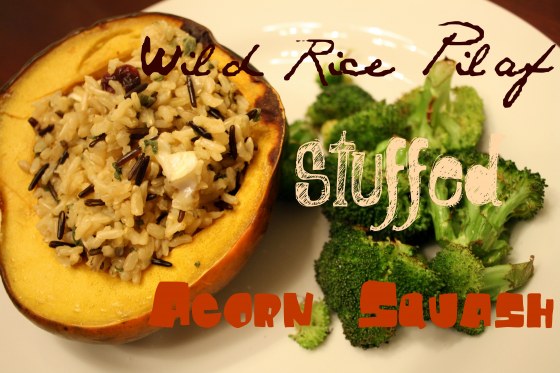 I did it!
I finally did something with acorn squash besides slicing it, roasting it, sprinkling a bit of salt, and devouring it.
It wasn't easy folks.
I've planned to make stuffed acorn squash for two weeks now.  And when the time finally came, I almost reverted to my slicing and roasting method.  It's my favorite after all.
But sometimes you have to branch out and try something different.
Okay, you don't really have to, but it makes for a more interesting life…or in this case, a more interesting dinner.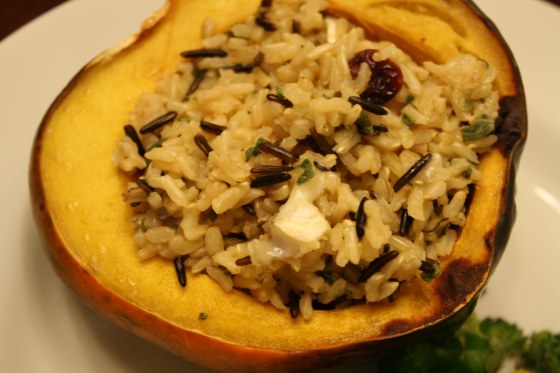 This recipe can be adapted to whatever ingredients you have on hand.  It's easily customizable to your taste and dietary preferences.  Keep reading and you'll see what I mean.
Wild Rice Pilaf Stuffed Acorn Squash (serves 2, with additional rice pilaf for leftovers)
1 acorn squash, halved and seeds removed
1 cup wild rice and brown rice mixture
3 cups vegetable broth
1/4 cup fresh sage, chopped
1 1/2 ounces goat Brie, chopped
1/4 cup dried cranberries
1/4 teaspoon sea salt
Preheat oven to 400 degrees F.  Place acorn squash face up on a baking sheet and bake for about 30 minutes or until the acorn squash flesh begins to brown (see photo).
Meanwhile, bring rice mixture and broth to a boil.  Allow to simmer for about 30 minutes, adding additional broth as necessary to reach desire consistency.
Stir in sage, goat Brie, and cranberries into rice.  Remove acorn squash from the oven and lightly sprinkle the flesh with sea salt.  Scoop wild rice pilaf into the cavity of the acorn.  Reserve remaining rice pilaf for leftovers.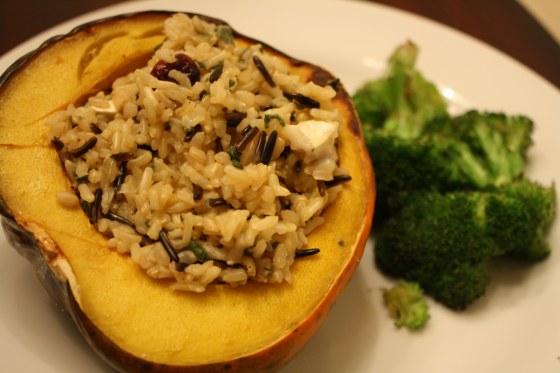 Other rice/grain pilaf ideas:
– couscous, golden raisins, almonds, and parsley
– orzo, sun dried tomatoes, basil, mozzarella,
– millet, feta, quartered cherry tomatoes, rosemary
– quinoa, walnuts, goat cheese, roasted beets
I could go on forever…
…but I won't.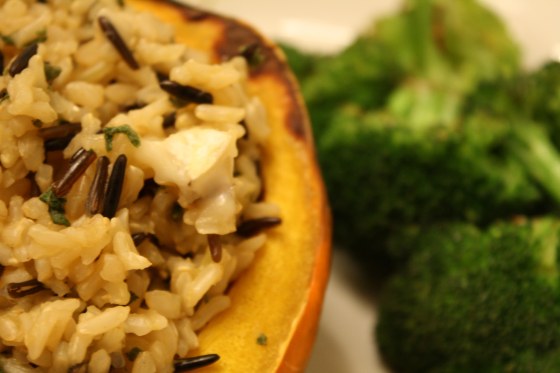 If I hope you learn anything from my little space on the interweb, it's that you should trust yourself in the kitchen to make dishes that you love. You don't need me to give you step-by-step ingredients and instructions.
Inspiration is so much more fun than instruction.
So go make this now, but make it your own.
Are you a step-by-step recipe follower or do you completely disregard all rules, like me?