When we last left off, I had gone to bed utterly exhausted on Saturday night.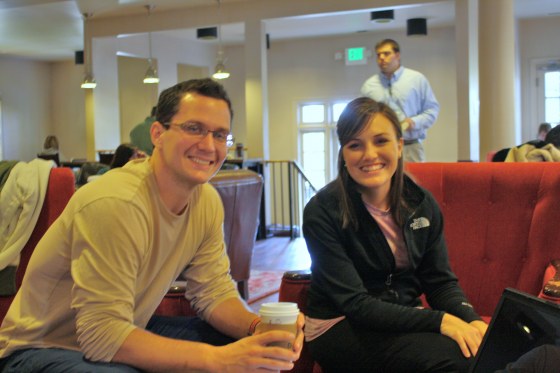 On Sunday morning, I met Jon at Starbucks to talk about blog stuff.  Jon is new to blogging and has been working really hard on his blog, Elements2Lead, to make it what he wants.  You should check it out!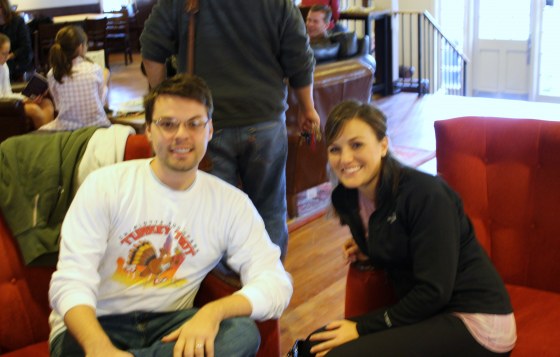 Brad and I answered some content and technical questions Jon had, while I worked on my umpteenth cup of coffee.
We left Starbucks, then dashed off to the new Carolina Ale House uptown to "tailgate" with friends before the Panther's game.  But we had no plans to attend the game.
Oh no, we had way more important things to do.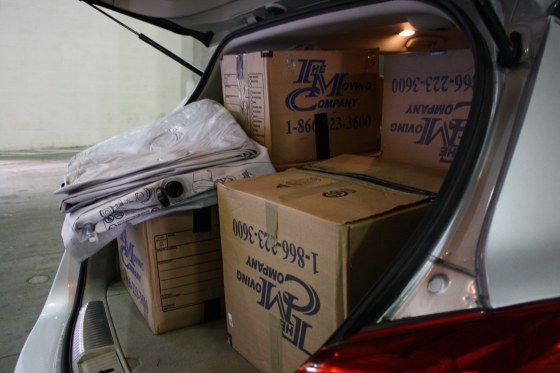 Like moving!
After owning and working on renovating our house for over a year, we are finally moving!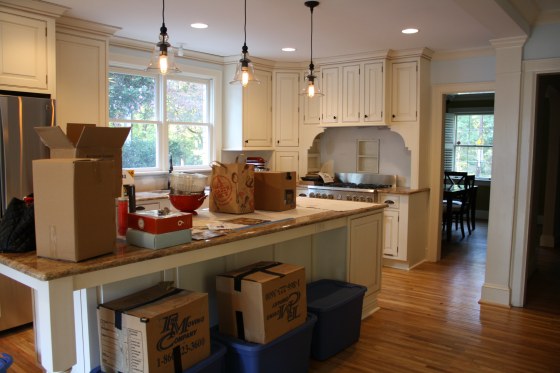 Although a little bit of work has been done in at least every room of the house, the kitchen is by far the biggest change.  I gave an update a few months ago when we got our kitchen cabinets, but now with lighting and appliances, the kitchen has a more finished look.
On Sunday, we moved a lot of odds and ends, but mainly focused on kitchen stuff we don't use on a daily basis.  I thought this would be a good time to show you some of the kitchen details, I haven't shared yet.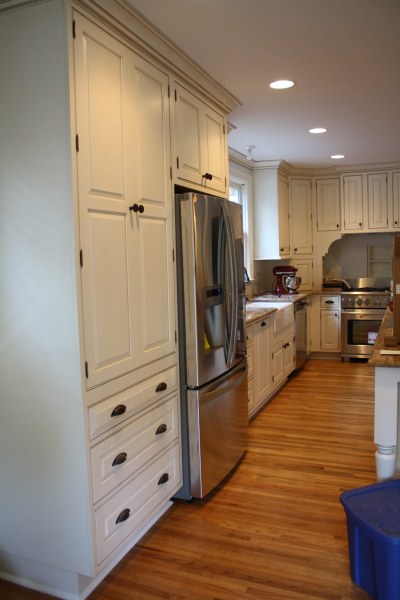 To the left of the fridge is the pantry, which has a bunch of built in sliding shelves.  Can you believe we actually had to send our original fridge back because it didn't fit?  Brad and I weren't too happy about that.  But I'm just glad to have a fridge that doesn't jut out a foot past the cabinets, now.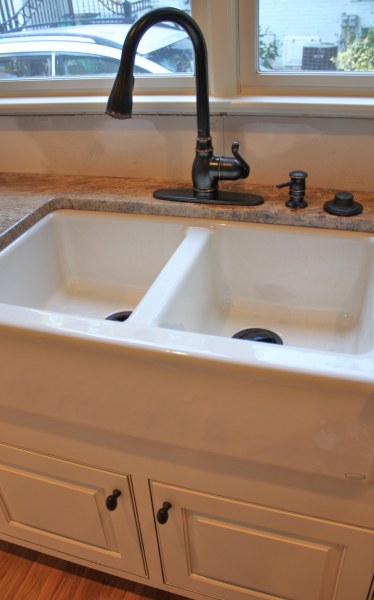 Our sink is a porcelein farmhouse sink with an apron front and bronze fixtures.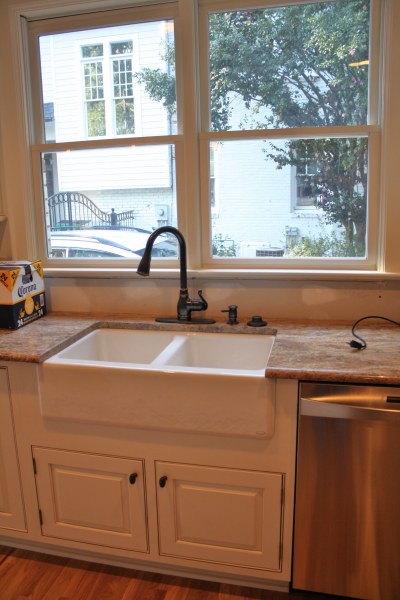 This window used to be a single window, but we had it enlarged to have more natural light.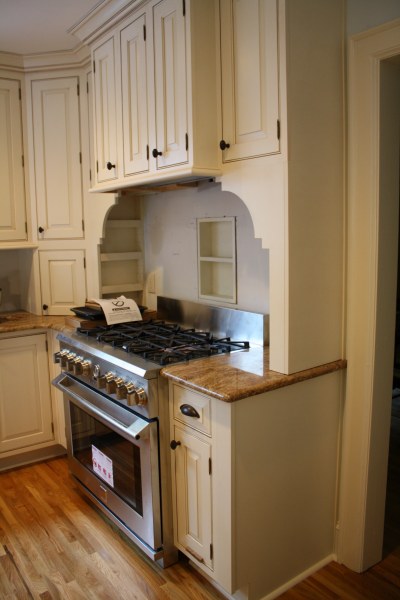 I am in love with this oven and have been dreaming about the wonderful things I can make in it.  On either side if the stove are built-in spice racks and to the left of the stove is an appliance garage.
You probably notice that we have yet to tile the back splash.  We decided that this could be done after we move in.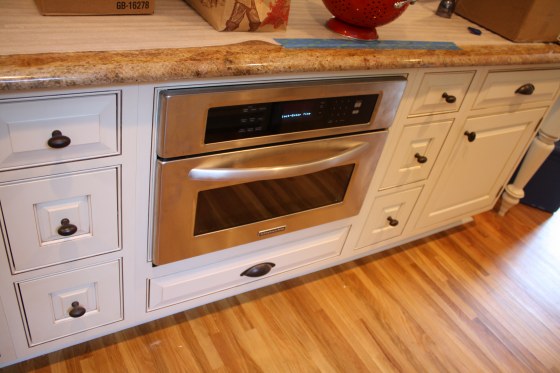 We also have a convection oven/microwave below our bar, which I think is a neat way to hide an appliance.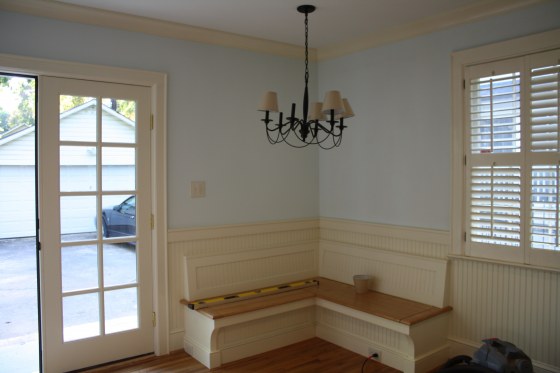 Last, but not least, is the breakfast nook.  We had this L-shaped bench built to go with our current table in our condo.  I've always wanted a breakfast nook, so I'm really excited about this. The bench lids lift for storage.  Also, there used to be one single door here, but we had the door frame moved and widened to make room for French doors.
Our moving plan is to move everything we need to live in the house this upcoming weekend and actually spend the night at our new house on Saturday or Sunday to stay, just in time for Halloween.  Can you believe I've never passed out Halloween candy?
On Saturday, Brad also moved my bedroom suit, which has been in storage at a friend's house.  Two of our friends helped us move on Saturday and Sunday, which was just so incredibly helpful.  I'm so thankful we have such amazing friends that lend a hand when we need it.
After an entire year of chipping away at improvements to the house, I can't believe we're actually moving.  Granted, it will probably be a few years before the house is exactly what we want it to be — future renovations are a part of the plan.  But I am incredibly ecstatic to live here.  This has been mine and Brad's baby for the past year.  We have definitely experienced some ups and downs.  Things have gone well and things have gone wrong, but we got through it.  I knew it would all be worth it in the end, and it feels amazing to have our hard work pay off.
The condo was our first home, but this house feels so much more like a real home — a place where a family lives, where meals are shared, children grow up, and memories are made.
I can't wait to get in there and turn it in into our home.