My best friend, Candace, and I have been planning a girl's trip to the mountains for a couple of months and this weekend was the weekend.  I was really excited to spend some quality time with my friends and it didn't hurt that this weekend was slated to be one of the most beautiful weekends of the fall in the N.C. mountains.
Trust me. I checked the almanac.  There are only a couple of peak weekends when the fall foliage is at its peak and this weekend was one of those.
We got off to a rocky start when we missed a turn, then the GPS led us to a barricaded road that was completely impassable.  There we were, three gals with no cell phone signal, at a dead end, at 11 pm on a long winding mountain road with no gas stations, and no way of knowing how to get to the our destination.  We did a complete 180 and thank goodness, the GPS rerouted and we found our way.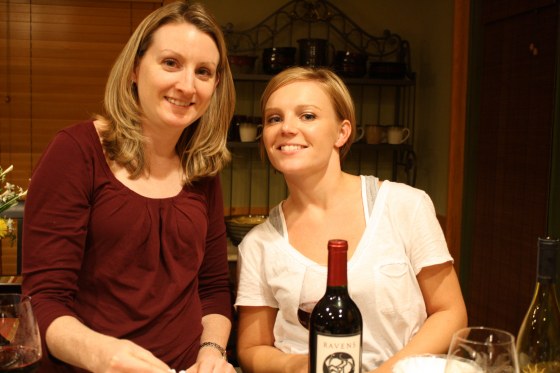 We definitely needed a glass of wine once we arrived.  How ever did people survive car trips without cell phones?
Our destination was Candace's grandparents' cabin in West Jefferson.  Brittney, Candace, and I stayed up chatting until after 1 am, then headed to bed.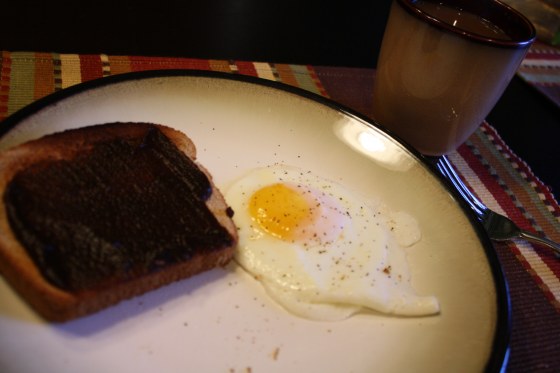 We slept until after 8 am the next morning.  That's so late for me! Breakfast was eggs (scrambled for Britt and Candace, and over easy for me), plus toast with apple butter.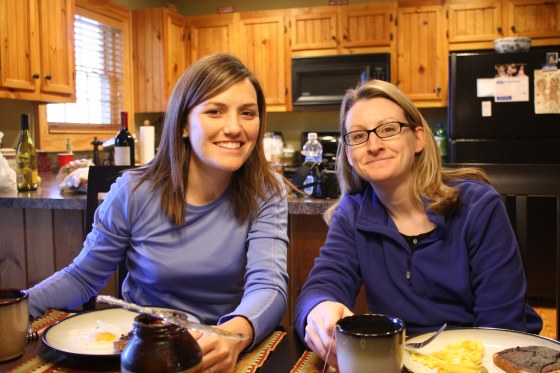 I also had two big cups of Starbucks French Roast.  We came to the mountains with all the necessities.
Brittney was a good sport and took a photo with me pre-makeup.
After finally figuring out that the reason we had no hot water because the breaker to the power was flipped, we took showers and got ready to head into town.  I have to mention that this was after we crawled into the crawl space looking for the water heater and bothered the neighbors.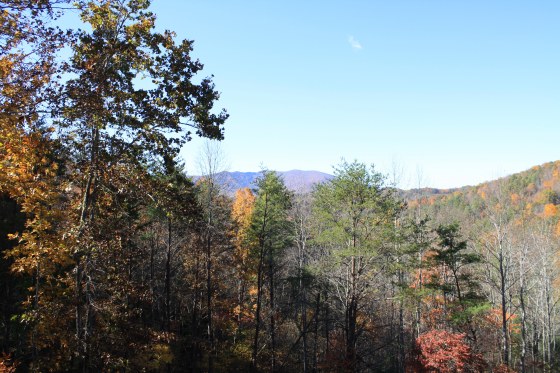 After getting ready, Brittney and I took a few moments to take photos of the gorgeous view off the back deck of the cabin.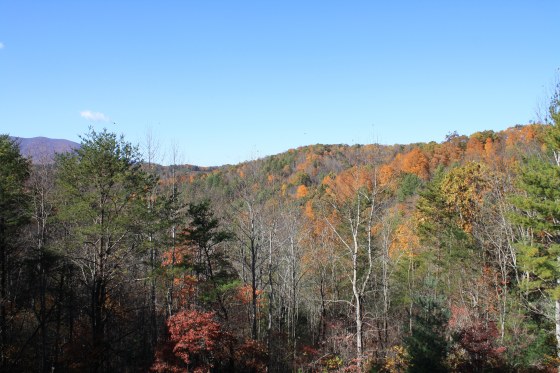 Gosh, the NC mountains are gorgeous this time of year!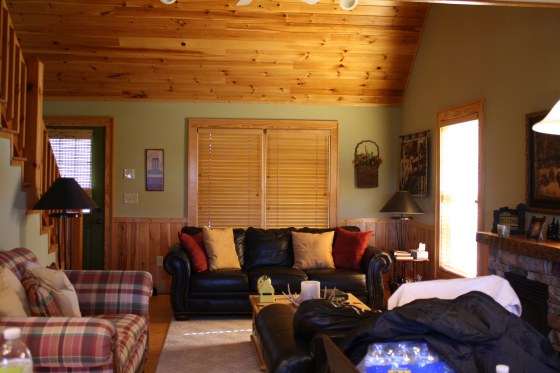 The cabin is a pretty cute hideaway.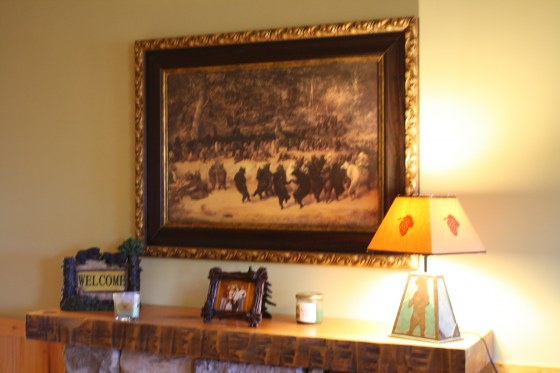 It's decorated with wildlife.  Mainly bears…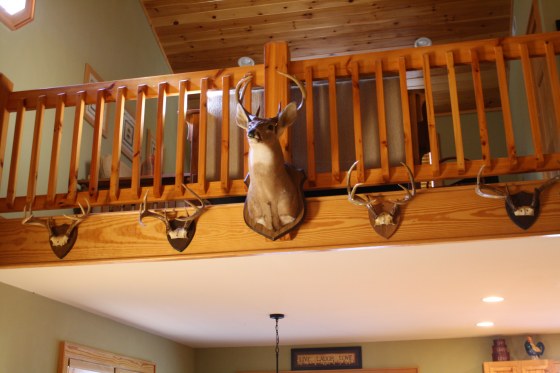 …and deer.  Daddy Sonny (Candace's grandfather) is an avid hunter.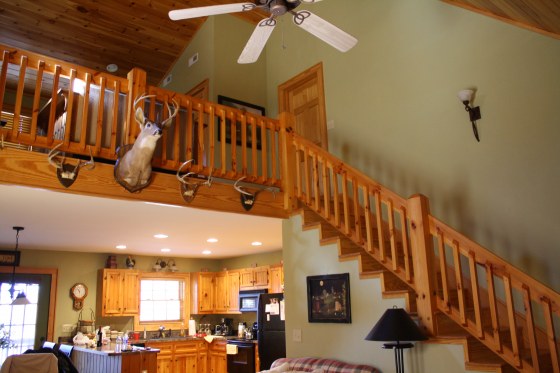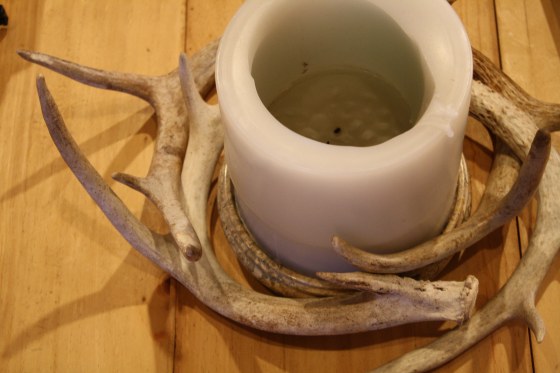 The cabin might be decorated in very outdoorsy things, but it also has a woman's touch…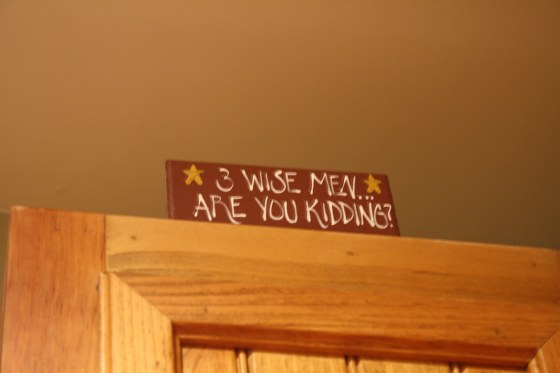 …courtesy of Mama Jan (Candace's grandmother).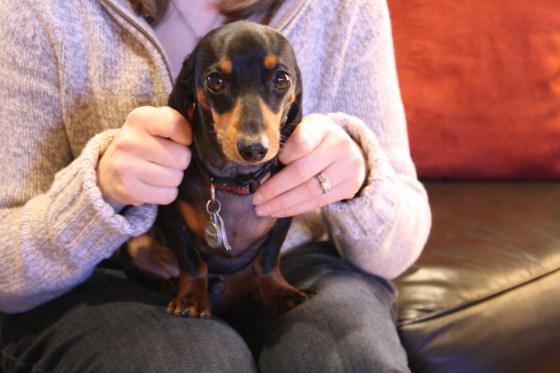 We brought our own wildlife along.  After about some umpteen attempts to photograph Clyde, Brittney finally found a way to get him to pose for a photo.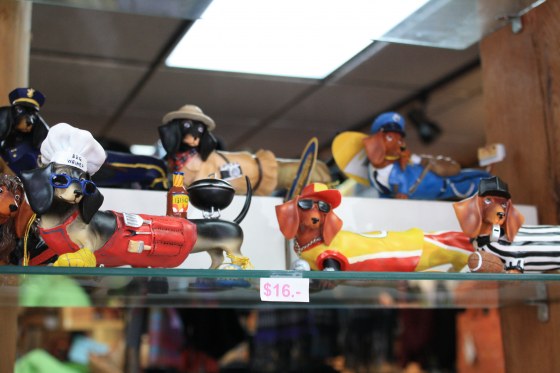 We left Clyde at home to venture into West Jefferson, but spotted some of his cousins in a small boutique of collectibles.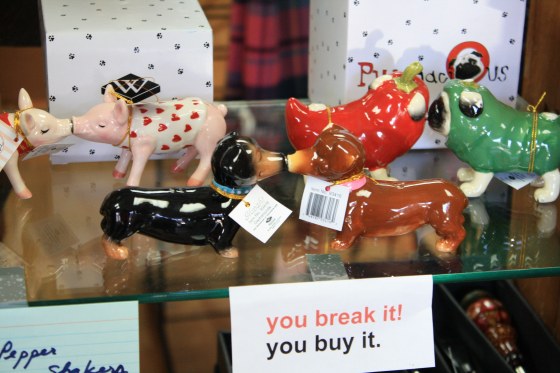 What could be cuter than kissing dachshund salt and pepper shakers?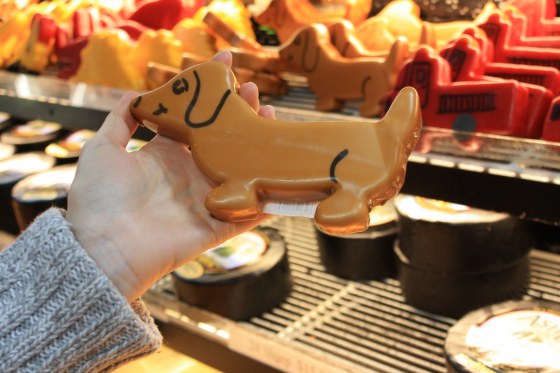 How about cheddar cheese in a dachshund mold?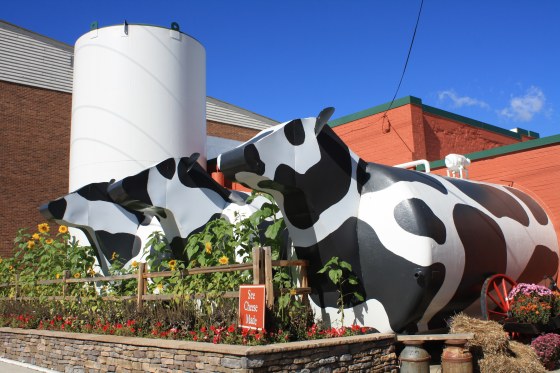 Ashe County is known for its homemade cheese, so of course we did a little sampling and a little shopping.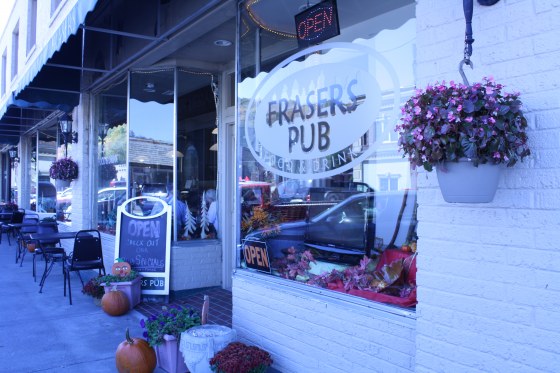 All that poking around in antique stores and cheese factories made us work up an appetite.  I'm pretty sure we looked at the menus of every restaurant on that street and finally settled on Fraser's Pub.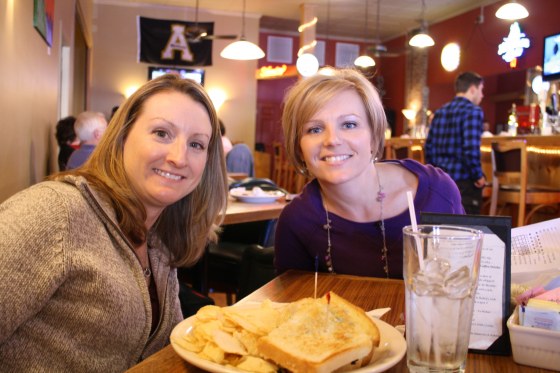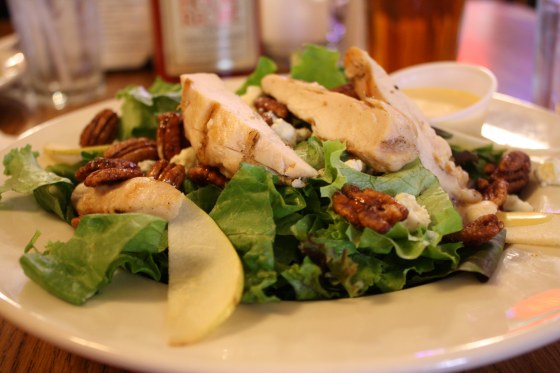 I had a salad with candied pecans, pears, and grilled chicken.  It was tasty and just the right size.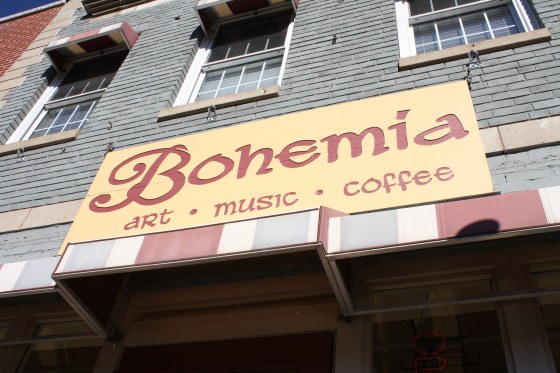 After a few more hours of window shopping, we stopped by the Bohemia for a coffee.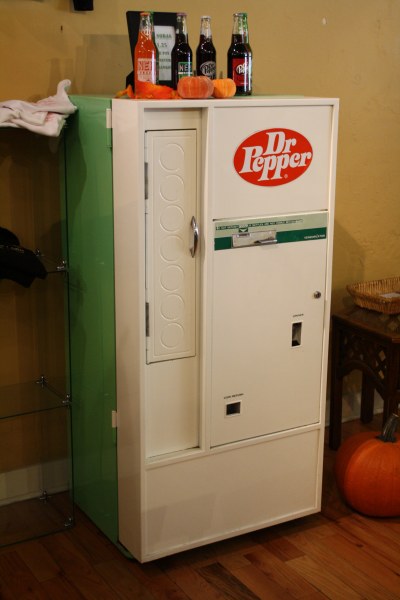 They had the coolest antique Dr. Pepper machine.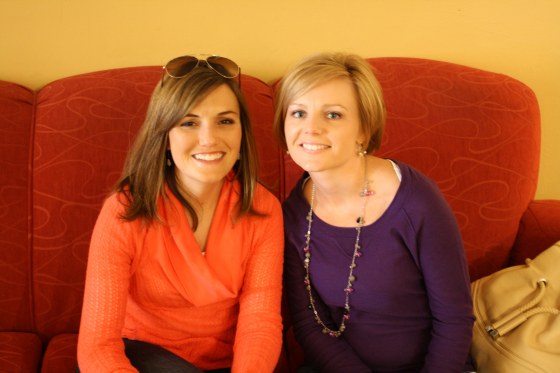 Brittney and I both ordered the pumpkin latte, while Candace had the vanilla latte.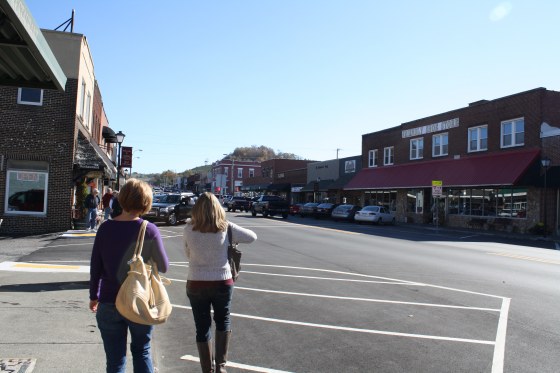 After a hard day of browsing, we finally packed it in and headed back up the mountain.  We took a short walk with Clyde, then read and took naps.
Walking Clyde and shopping were my cross training this weekend.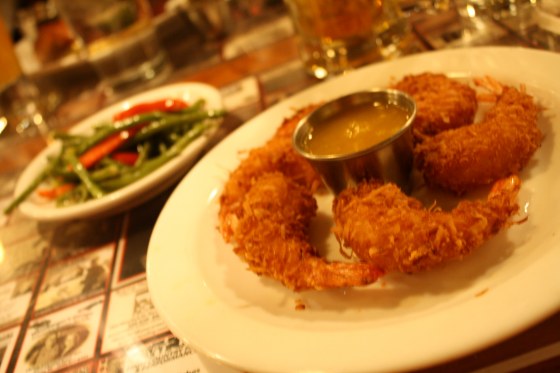 We headed back into town to eat dinner at J&J Chophouse.  I was in the mood for something tasty but small and after seeing coconut shrimp on the second menu that day, I couldn't pass them up.  I also had some green beans and red peppers.
After chatting a bit and playing Dirty Minds (guess who won), we called it a night.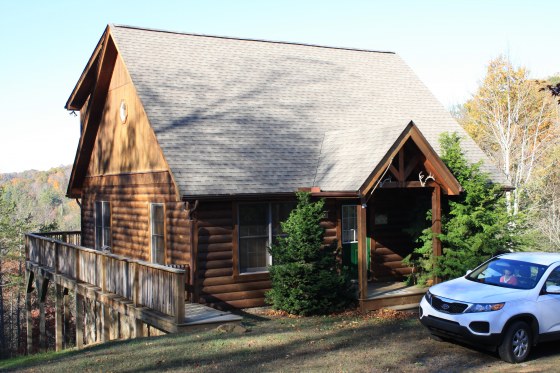 The next morning we said goodbye to the cabin after a breakfast of grilled banana French Toast…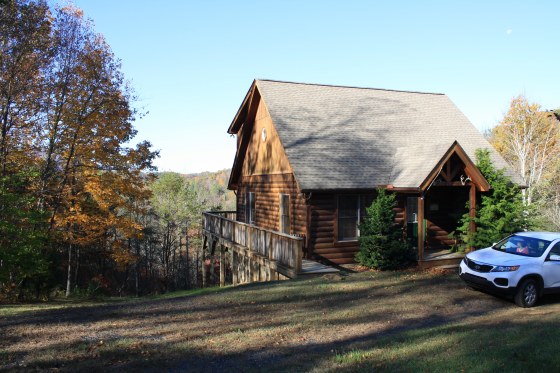 …and goodbye to the amazing views and headed to Blowing Rock for a bit of outlet shopping.
We scored some great finds at the Tanger Outlets then headed southeast to make it home in time for dinner.
I couldn't have asked for a more relaxing and fun time in the mountains.  The scenery was beautiful and the company was even better.