While running on the treadmill the other morning, dreaming of the breakfast that awaited me afterwards, I decided what I really needed was some French toast.
Alas, it was a week day.  And who has time to make French toast on a work day?  I already skip washing my hair more days of the week than not.  There's really not any more time I can spare, unless I'm willing to give up the 10 minutes I spend staring blankly into my closet each and every day.
So, I tried to think of other breakfast options…oatmeal, eggs, yogurt…but none of them would stick.  I still wanted French toast.
The most time consuming part of making French Toast is standing over the pan, waiting for your toast to brown, and checking every few seconds to make sure you don't burn it.
But why couldn't you make that process less involved by baking the toast instead of cooking it in a pan?
Who says you can't?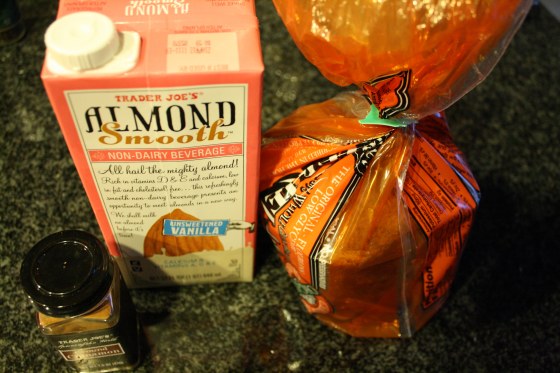 I gathered up my typical French Toast ingredients, including the new TJ's Unsweetened Vanilla Almond Milk I'm subbing in for Almond Breeze.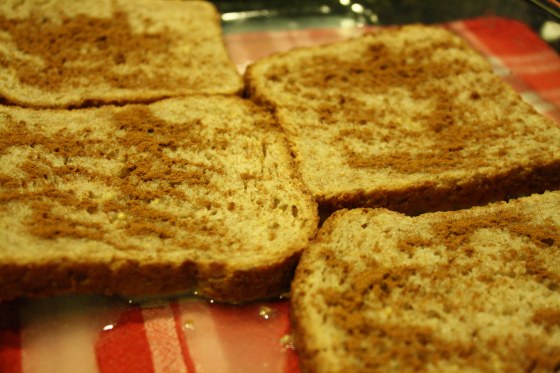 I whisked everything up in a bowl, assembled my toast in a casserole dish (a little squooshing was required), then poured the eggy substance over the toast.  I flipped the toast to make sure the egg mixture was soaked up on both sides.  Then I sprinkled cinnamon over the sides facing up.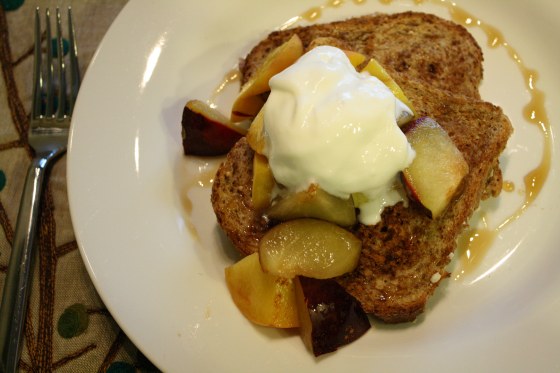 After baking for 25 minutes, I was quite pleased with the results.
Baked French Toast with Stone Fruit (serves 2)
4 pieces of hearty bread (I used Ezekiel)
1/2 cup egg whites
1/4 cup unsweetened vanilla almond milk
10 drops NuNaturals Vanilla Stevia*
pinch of salt
1/4 tsp. almond extract
1 medium peach
1 large plum
cinnamon, to taste
In a bowl, combine egg whites, almond milk, Stevia, salt, and almond extract and mix well with a whisk.  Assemble bread in a casserole dish, so that none overlap.  Pour egg mixture over the bread.  Flip bread over in the dish and sprinkle the side facing up with cinnamon.
Bake on 350 degree F for 15 minutes. Flip toast and cook an additional 10 minutes.
While toast is baking, cut peach and plum into bite size pieces.  Cook in a small pot on medium high heat for about 10 minutes until fruit starts to become juicy or you can also nuke in the microwave for 1 -1 1/2 minutes.
Plate French toast and top with fruit.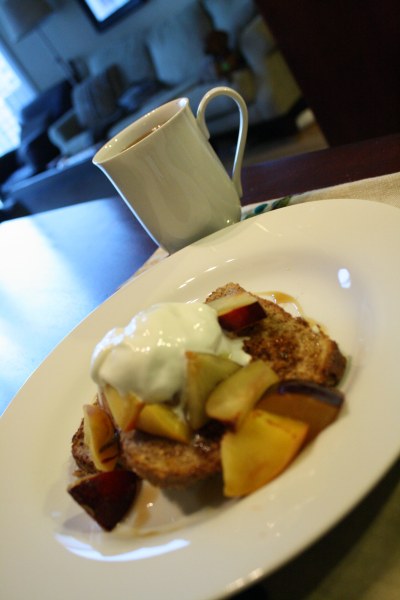 I also topped mine with a drizzle of real maple syrup and a big dollop of Greek yogurt.
(Can you spot the creeper staring me down as I ate my breakfast? Look closely. :))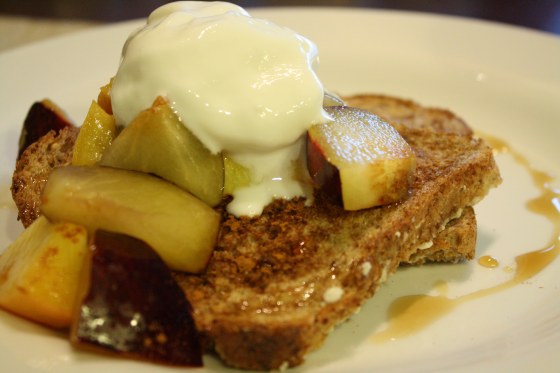 This was one of those easy peasy meals that take no extra effort to double, so I made enough for Brad as well.  Making him breakfast is about the only way I can get him up out of the bed before I leave in the morning.  Usually he's still snoozing when I leave at 7:45 am.  Must be nice, right?
It was really nice to be able to eat a weekend-y type breakfast on a work day morning.  And although I will always prefer French toast in the traditional way of making it, this was a great substitute for when I'm pressed for time.