For all you runners out there…or anybody that works out, for that matter…
Do you ever find yourself daydreaming of what you're going to eat after you exercise in the middle of your workout?
Some of my best ideas come at these times.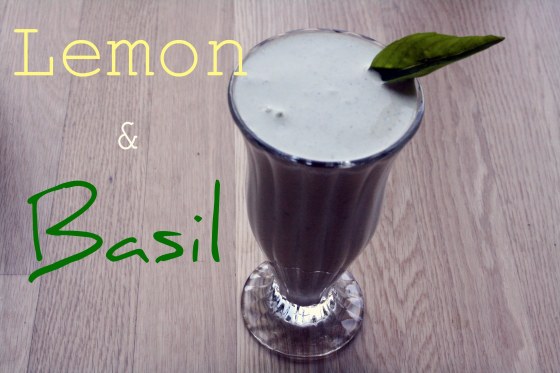 During my 10 mile run on Sunday, the lemon basil smoothie was born.
It was the perfect recovery drink — smooth, creamy, cold, and full of protein.
The basil added just a touch of interest and the lemon gave it a little twangy kick.
Lemon Basil Smoothie
1/2 frozen banana
1/2 cup skim milk
juice of 1 lemon
1 Tbsp. lemon zest
1/4 cup (tightly packed) fresh basil
1 tsp. chia seeds
1 scoop vanilla whey protein
4 pieces of ice
Blend all ingredients together and serve.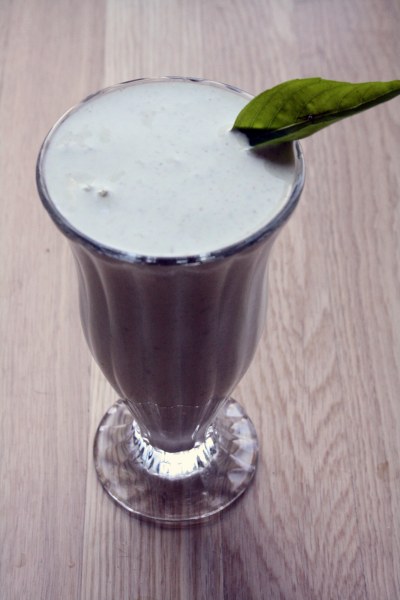 What a yummy summery drink!
Brad had a little sip of my smoothie for quality assurance purposes and really liked it too.
After my very hot run (my visor was dripping sweat…yuck) this was the absolute perfect drink.
Are those bubbles in my smoothie? Or the craters from little droplets of sweat spilling off me as I stood over my smoothie for this photograph?
What do you think? 😉