I woke Brad up this morning and said, "I want to make you breakfast.  What would you like?  I can make omelets, pancakes, French toast, or muffins."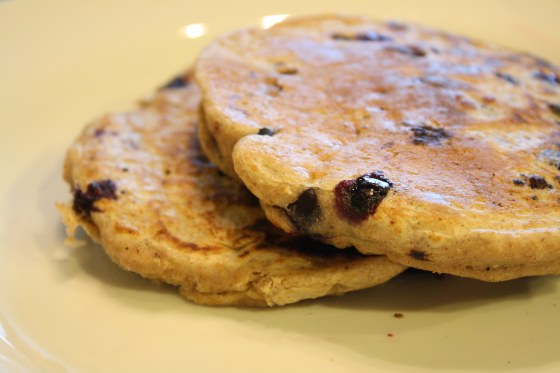 Obviously, he chose omelets.  😉
Blueberry Pancakes (makes 7 dense fluffy pancakes)
1 cup whole wheat flour
1/2 cup unbleached all purpose flour
1/2 tsp. baking powder
1/4 tsp. salt
1 1/2 Tbsp. NuNaturals Stevia baking blend (or equal amount of sugar)
1/4 cup egg whites
1/2 tsp. vanilla extract
1 1/2 cups almond milk (or milk of your choice)
1 cup fresh blueberries
oil (canola, grape seed, or another oil without flavor)
Combine dry ingredients: flours, baking powder, salt.  Add Stevia/sugar, egg whites, and vanilla extract and mix well to combine.  Slowly add almond milk a little at a time. Stir and add more a little at a time until it is incorporated throughout.  Add blueberries and stir well.
Heat a pan or skillet to medium high temperature and use a bit of oil or a Misto to grease the pan.  Put about 1/3 cup of batter onto the pan for one pancake.  Cook 2-3 minutes or until thoroughly cooked on one side.  Flip over to cook the other side.  Press each pancake down after flipping with spatula, which is necessary to make sure it cooks thoroughly since the pancake is quite dense.  Cook an additional 2-3 minutes or until the pancake is cooked throughout.  Keep finished pancakes warm in the oven on the lowest temperature while the other pancakes are prepared.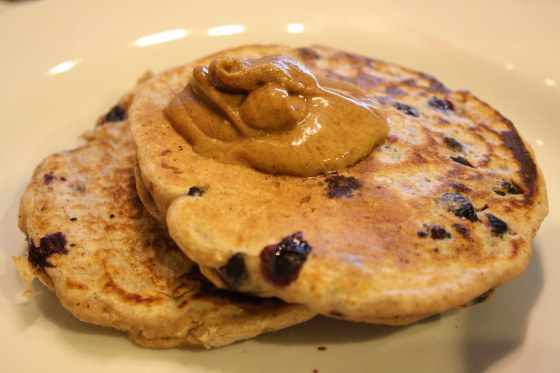 I topped mine with almond butter…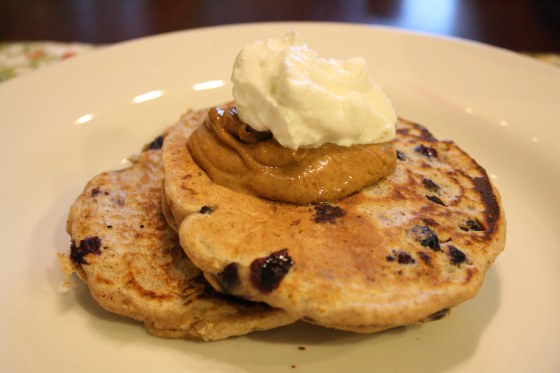 then Greek yogurt….
…and last, real maple syrup.
Obviously the pancakes were dreadful.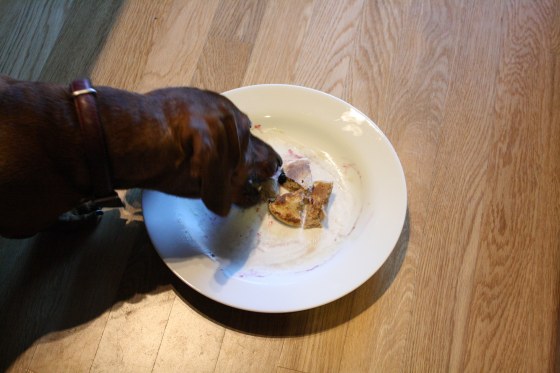 Rascal, per usual, got a mini pancake for himself.
I may have cut it up in bit size pieces for him.
Clearly, I am not a crazy dog lady and Rascal also hated the pancakes.
Hope you are having a lovely relaxing Sunday!